Literary Legacy: Margaret C Anderson
Introduction
Shortly after founding The Little Review, Margaret C. Anderson found herself lacking funds. Believing in the need for The Little Review to continue publication Anderson and her staff lived on the shores of Lake Michigan - the exact location is unknown - for about six months.
Images
Little Review founder, Margaret C. Anderson in her later years.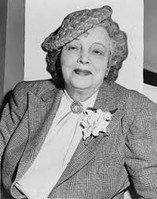 Volume 1 Number 1 of the Little Review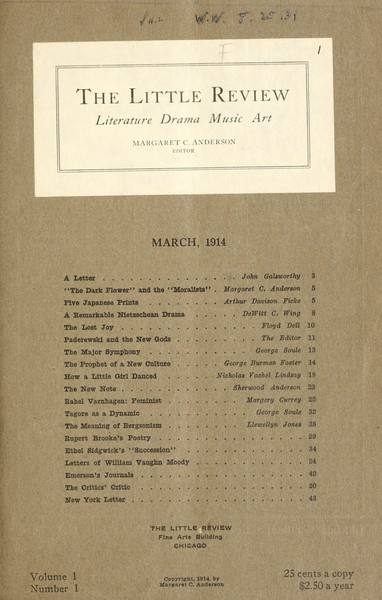 Backstory and Context
   During the Chicago Literary Renaissance, Margaret Anderson saw a need for a literary magazine that made "no compromise with the Public Taste". Having worked at another prominent literary magazine, The Dial, Anderson was aware of the needs both for operation purposes and within the publishing environment. Anderson's standards for quality were so high that in volume III number VI of the Review she printed 13 blank pages because "The Little Review hopes to become a magazine of Art. The September issue is offered as a Want Ad". Anderson later explained that none of the submissions that had been received were worthy of publication. In Anderson's mind it was better to publish nothing than to publish lackluster material.
   Though based in Chicago, Anderson featured not only local artists but also national and international artists. The list of writers published in The Little Review includes, but is not limited to: H.D., Sherwood Anderson (no relation), Maxwell Bodenheim, Ford Madox Hueffer (later changed to Ford Madox Ford), Ezra Pound, and James Joyce. The last is especially notable because for two years, 1918-1920, The Little Review published Joyce's Ulysses in a serialized format. Unfortunately, in 1920, Anderson was cited and prosecuted for violating the Comstock Act which prohibited distribution of obscene material. Thus began a nearly fifteen year long battle in the United States regarding the censorship and literary merit of Ulysses. All because Margaret Anderson knew it needed to be published and cared not whether it would be seen as obscene.
   While it is fun to imagine all this happened while Anderson lived on the shore of Lake Michigan, the truth is that most of this occurred after her time living there. Still, it should be noted that the persistence of Anderson in times of financial trouble are what allowed the flourishing of the magazine later on. And yet, without the Chicago literary community Margaret Anderson would not have had the opportunities to develop The Little Review to its fullest extent – if at all; however, without Margaret Anderson the literary scene as we know it today would likely be vastly different.
Sources
Rooney, Kathleen. "The Outsized Influence of Margaret Anderson's Little Review." Chicagotribune.com, 24 Nov. 2014, www.chicagotribune.com/lifestyles/books/ct-prj-margaret-anderson-chicago-literary-hall-of-fame-20141120-story.html
Anderson, Margaret C. My Thirty Years' War; an Autobiography. Greenwood Press, 1971.   
Joyce, James, et al. The Little Review "Ulysses". Yale University Press, 2015.
Pinkerton, Jan, and Randolph H. Hudson. Encyclopedia of the Chicago Literary Renaissance: Facts On File, 2004.
Additional Information