George Newton House
Introduction
This handsome Italianate home was built in 1865 by its namesake, George Newton (1810-1836), a prominent local and state politician during the 19th century. Designed in the Italianate style and listed on the National Register of Historic Places, it is one of the finest homes in the county and it symbolizes the Newton family's prominent status in the community. The house features some original furniture and numerous artifacts dating to the mid-1800s such as tools, clothes, and stoves. The house is owned by the Cass County Historical Society, which offers tours the first Sunday of the months of June, July, August, and September.
Images
The George Newton House was built in 1865 in the Italianate style.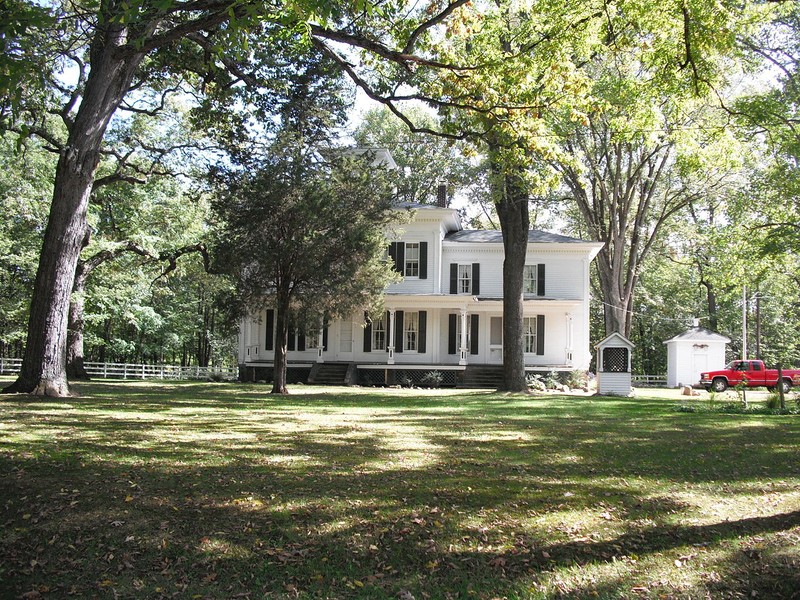 Backstory and Context
Newton's father, James (1777-1844), immigrated with his family to Pennsylvania from England when he was a young boy. He spent the majority of his childhood in New Jersey before earning a living as a farmer. in Cincinnati, Ohio. At some point, he joined the U.S. Army and served under General Harrison, holding the rank of orderly sergeant, in the War of 1812. He then commanded two forts in Ohio and earned the rank of colonel.

In 1832, he and his family moved to what would become Cass County. He built a log cabin and in the next year was awarded 400 acres of land. He became township supervisor, then Cass County delegate to the state constitutional convention, and then served a term as a state representative from Cass and Van Buren counties.

George inherited his father's property and became the area's largest landowner (he had already owned 180 acres before his father's death). George followed his father's footsteps, serving as township supervisor and as a state representative. He built the house in 1865 and his son had a two-story addition built in 1868.

The house remained in the family until 1930, at which point it was bought by a man named Fred Russ. Russ donated the property, which contained hundreds of acres of old-growth trees, to Michigan State College (now Michigan State University) as a forest preserve. The University leased the house and a few acres to the Cass County Historical Society in 1974.
Sources
Cotman, Charles. "George Newton House." National Park Service - National Register of Historic Places Nomination Form. May 12, 1982. https://catalog.archives.gov/OpaAPI/media/25339084/content/electronic-records/rg-079/NPS_MI/82002830.pdf.

Yoakum, Ted. "Historical Society offering tours of Newton House." Leader Publications. May 23, 2017.
https://www.leaderpub.com/2017/05/23/historical-society-offering-tours-of-newton-house.

Photo: Wikimedia Commons