E.M. Kohl Building
Introduction
The E.M. Kohl Building was created and maintained by Ernst Martin Kohl, a German immigrant who came to the U.S. in 1885. This building was originally operated as a saloon, then as a grocery store, conveniently located near the railroad shop district. It later became the Hotel Travels Home for a few years before Ernst's death in 1935.
Images
E.M. Kohl Building in 1976 Northwest side.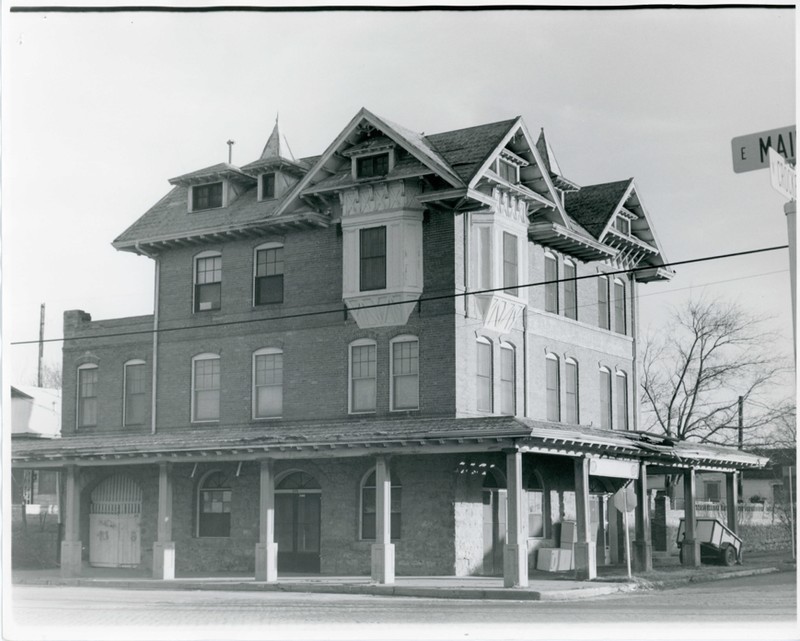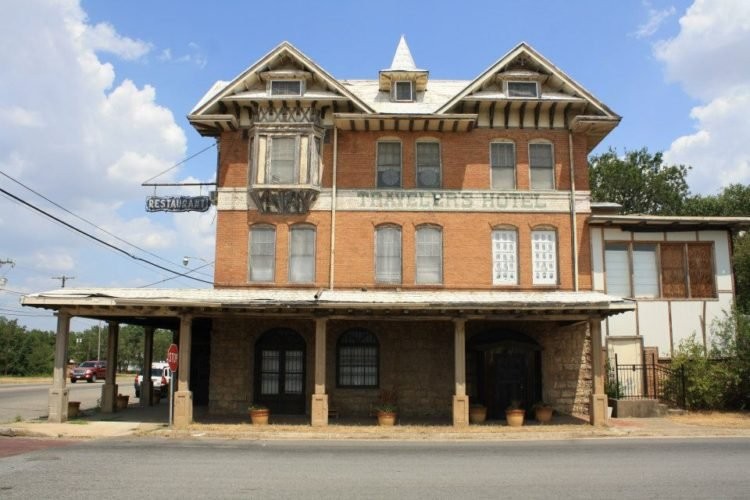 E.M. Kohl Building historical plaque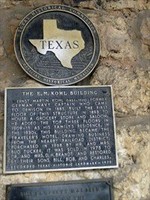 Backstory and Context
Ernst Martin Kohl was a captain and a merchant marine in the German navy who immigrated to Texas in 1885, where he was involved with the construction of the state capitol in Austin. His immigration to Texas was most likely thanks to the establishment of the Adelsverein in 1842 that sought the safe establishment of German immigrants to Texas. Kohl and Adele Rozyana Brockman married in 1887 and chose to settle in Denison, Texas, where he later constructed a grocery store and saloon on the first floor in 1893.

The building's first floor was first built with stone and later, when the top floors were built, they used brick. Thanks to this, he was later able to add three more floors to his building by 1910, making it his domicile for years before moving out and making the top three floors the Hotel Travels Home.
This transition from residence to business was mostly in part due to the Great Depression and the influx of people the railroad business brought with it. Shortly after, in 1933, the E.M. Kohl building was made into a hotel for travelers after the grocery store and saloon were closed. Two years later, in 1935, after the opening of the Hotel Travels Home, Ernst Kohl died. Without him, the hotel business did not last long, and was closed before 1940. The first floor of the E.M. Kohl building was later rented out to the Interstate Fine Arts Society from 1949 to 1951. This was the only commercial business in the building after the closure of the hotel.
The building was sold to the Tucker family in 1968 by Ernst M. Kohl's daughter, Mrs. Erna Wilson. The Tucker family used the space as a storage unit for their antiques dealership. The building was sold again to Dr. and Mrs. D. H. Brandt and restored by their sons, Bill, Bob, and Charles in 1975.
Sources

Dorsey, Bronson. Lost, Texas. Lost-Texas.com. Nov 9, 2017. Nov 20, 2018. https://lost-texas.com/2017/11/09/denison/.

E.M. Kohl Building. Texoma Connect. . Nov 20, 2018. https://texomaconnect.com/business-directory-5/e-m-kohl-building/.

NATIONAL REGISTER OF HISTORIC PLACES INVENTORY -- NOMINATION FORM. Jul 12, 1976. Nov 20, 2018. https://atlas.thc.state.tx.us/NR/pdfs/76002035/76002035.pdf.

The E. M. Kohl Building - Texas Historical Markers. Waymarking.com. Jan. 01, 2011. Nov. 20, 2018. http://www.waymarking.com/waymarks/WMAH1M.


Additional Information