Lynching of George Hughes
Introduction
The lynching of George Hughes was one of the most gruesome examples of the crime in Texas history and marred Grayson County history forever. The rioting mob that lynched Hughes continued its violence against Black residents of Sherman, resulting in a declaration of martial law in Sherman for two weeks.
Images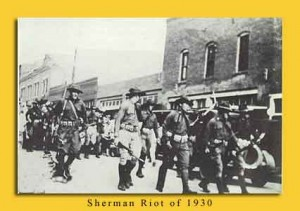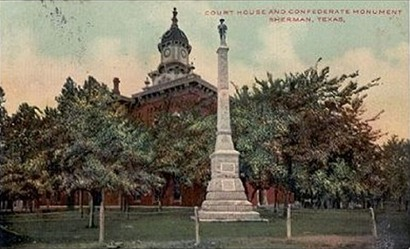 Backstory and Context
On May 9, 1930, a mob of white residents of Grayson County and its surrounding areas burned down the Grayson County Courthouse. The mob's anger was fueled by an event that had allegedly taken place six days earlier, five miles southeast of Sherman, Texas. On May 3, 1930, George Hughes, a Black hired farmhand, went to collect wages from his boss at his home and only found his employer's wife present. According to the unidentified woman, Hughes left, returned with a shotgun, raped the woman, then shot at officials when they arrived at the scene.
By May 9, 1930, the general belief was that Hughes was guilty of sexual assault, having "mutilated the woman's throat and breasts."1 White residents of the county were enraged and gathered around the courthouse during Hughes' trial. George Hughes pled guilty and was locked in the courthouse's vault with guards outside to protect him from the angry mob that had quickly formed outside. At the time, Texas Rangers General, Francis A. Hamer, who was in charge of the situation, was under the belief that Governor Dan Moody had instructed him to not let his men shoot at any citizen while protecting George Hughes from the mob. The Texas Rangers fighting against the mob had to retreat in order to protect themselves. However, days after the incident, Governor Dan Moody released a statement claiming that he had not sent that message and asked newspapers to correct the miscommunication. The supposed confusion of orders limited efforts to defend Hughes.
The angry mob of more than 3,000 people set fire to the courthouse and cut the hoses when firefighters tried to put the fire out. After many hours, the mob retrieved George Hughes' burnt corpse from within the fireproof vault and tied it to the back of a truck. The mob continued to drag the body of George Hughes for miles. After the dragging of the body, the mob proceeded to set fire to and completely destroy three blocks of the local Black community.
The mob later threatened to attack the jail to free rioters which resulted in Governor Moody calling martial law to rule Sherman, Texas. A total of 39 arrests were made, and troops were sent to the area; however, not one of these people faced lynching charges and only two actually faced jail time and each got only two years. It is clear that martial law was used in Sherman, not because of the attacks of the mob against Black citizens but because of their threats to attack the jail. Martial law lasted from May 10, 1930 to May 24, 1930.
Sources
[1] Handbook of Texas Online, Nolan Thompson, "SHERMAN RIOT OF 1930," accessed November 27, 2018,http://www.tshaonline.org/handbook/online/articles/jcs06.
[2] STATEMENT BY GOV. MOODY. New York Times, May 18 1930.

[3] TROOPS FIRE ON TEXAS MOB, WOUNDING TWO IN BATTLE AFTER BURNING OF NEGRO. New York Times, May 10 1930.

[4] "TEXAS MOB OF 3,000 BURNS BODY OF NEGRO." New York Times, May 17 1930.
[5] MARTIAL LAW REIGNS AT SHERMAN, TEXAS, TO END RULE BY MOB. New York Times, May 11 1930.