Forest Home Cemetery
Introduction
Founded in 1847, the Forest Home Cemetery in Milwaukee, Wisconsin is the oldest rural cemetery in the Upper Midwest. Today it encompasses 200 acres and is home to some of Milwaukee's founders, Civil War soldiers and several notable decorative crypts. The landscape follows Victorian ideals of space and design utilizing 300 species of trees to intentionally create a feeling of restive grandeur. Forest Home Cemetery was added to the National Register of Historic Places in 1973, as well as being listed as a Milwaukee Landmark. The first burial was in 1850, however, the site is known to have had effigy mounds and American Indian burials.
Images
Landmark Chapel at Forest Home Cemetery. Built in 1890 out of Wisconsin sandstone and designed by architects George Ferry and Alfred Clas. [1]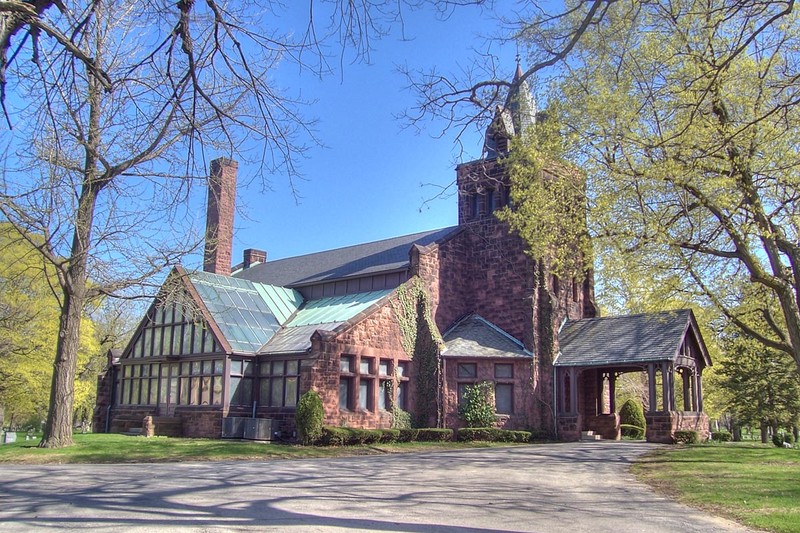 Ornate mausoleum of prominent brewer Valentin Blatz. The baroque structure has several imperial design features and is from the late 1800s. [1]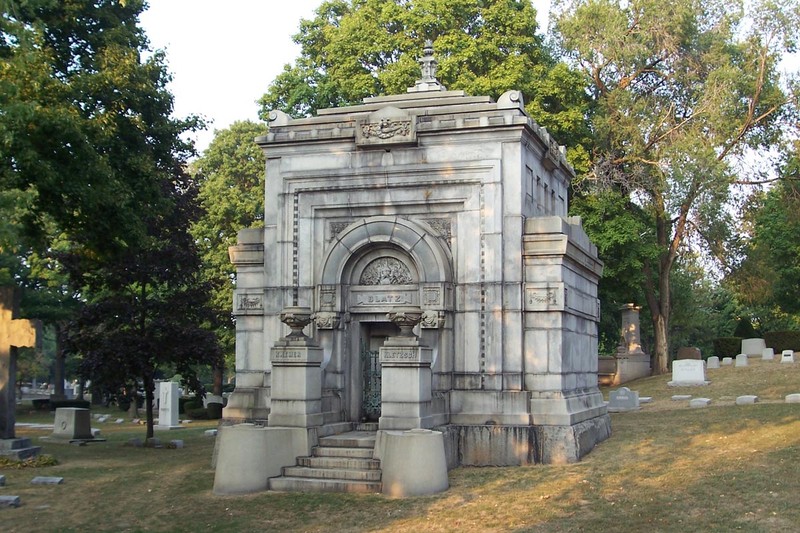 Large funeral markers, like Joseph Schiltz's towering obelisk, were meant to reflect the prestige and wealth of their patrons. Like the other major brewing families, this marker is from the late 1800s. [1]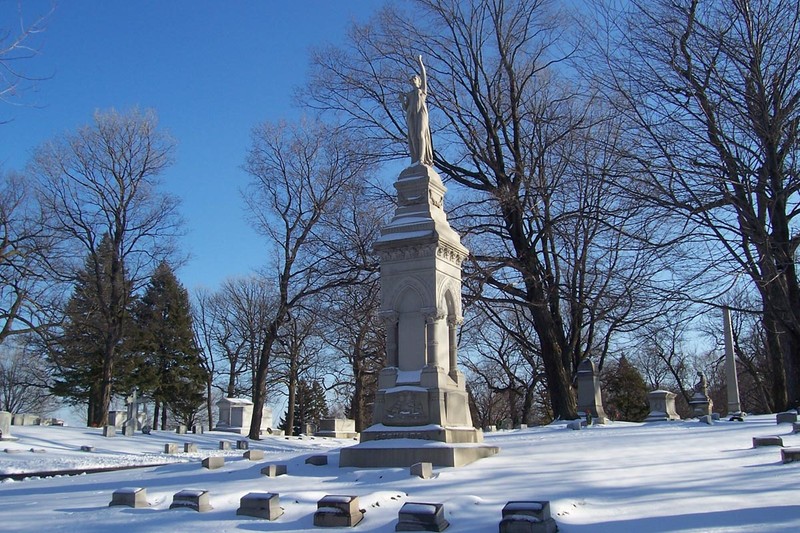 One of the many military burials at Forest Home, this tombstone is unique because it is not part of the military cemetery but rather a family marker. [1]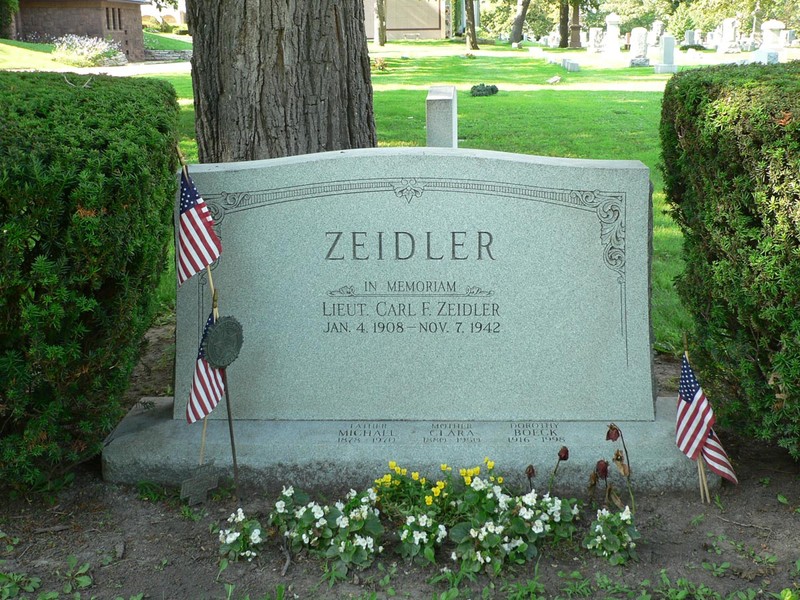 Backstory and Context
Milwaukee quickly became an established town in the 1840s due to its access to regional rivers and lakes. Historically, it is known for the beer, wheat and railroad barons who brought the city wealth and fame. The rapid growth of Milwaukee, and its need for funerary pomp to reflect this wealthy population, led to the establishment of the Forest Home Cemetery in 1847. The initial 72 acres were procured in 1850 and the cemetery was expanded to its current 200 acres by the early 1900s.
Intended to follow the Victorian ideal of a rural cemetery layout, the space includes tall tree coverage, rambling paths, large funerary monuments and decorative statues. Since its founding, Forest Home has expanded in size and added several sections with specific purposes and unique histories that deviate from that traditional landscape style. The soldier's plot contains 21 Union soldiers from the Civil War and is laid out in a traditional war cemetery style with the burials in precise lines. The Newhall House fire Monument marks a mass grave containing 64 people who died in the 1883 hotel fire. The land that the cemetery currently sits upon was also known to have had over 60 American Indian earthen works. These were catalogued by a pioneer scientist and included burial mounds. Today, none of these are visible.
At Forest Home, there is a gothic chapel and two prominent mausoleums. The chapel was built in 1890 and designed by George Ferry and Alfred Clas. It is Gothic in design, uses sandstone from the region in its structure and houses a historic tropical plant collection. Both of the mausoleums are active, one of which one contains an educational "Hall of History" for visitors of the cemetery.
Sources
Find A Grave. https://www.findagrave.com/cemetery/87956/forest-home-cemetery.
"Forest Home Cemetery." Wikipedia. June 01, 2018. https://en.wikipedia.org/wiki/Forest_Home_Cemetery.
Giguere, Joy M., 1980-. Characteristically American : Memorial Architecture, National Identity, and the Egyptian Revival. Knoxville :The University of Tennessee Press, 2014.
"Historic Preservation Association." Forest Home. http://foresthomepreservation.org/.
Milwaukee Area Cemetery Records. https://milwaukeegenealogy.org/cemeteryRecords.php.
Milwaukee Public Television ; produced by Dan Jones. Forest Home Cemetery, Milwaukee, Wisconsin. [Milwaukee, Wis.] :Milwaukee Public Television, 2000.
Picture Sources:
[1] By The original uploader was Sulfur at English Wikipedia. - Transferred from en.wikipedia to Commons by Royalbroil using CommonsHelper., CC BY-SA 3.0, https://commons.wikimedia.org/w/index.php?curid=8315914
Additional Information