Princeton World War II P.O.W. Camp
Introduction
World War II brought many challenges to the United States for several reasons, including how to house the thousands of German soldiers who were surrendering at a rapid rate as U.S. troops advanced in Europe. One branch camp for these prisoners of war was located in Princeton, Texas. This farm town had already constructed a migrant worker camp complete with bunks and accommodations that could be easily converted to house the German prisoners.
Images
This invoice documents that German prisoners housed in Princeton, TX, were hired by local farmers and paid a wage for their services. These POWs were a valuable resource to the local farming community because they were in need of more labor.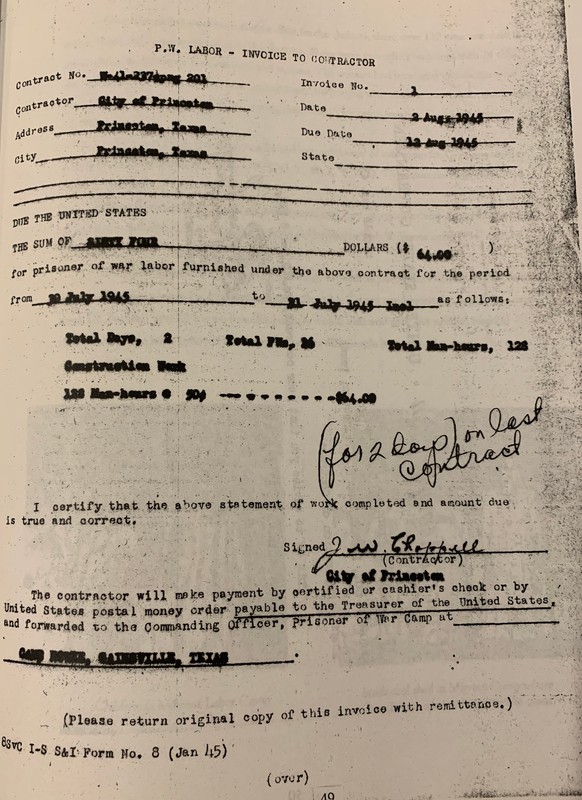 This document shows the U.S. government was under contract to house a prisoner of war camp in Princeton, TX, which was designated as Branch Camp #2. The contract expired in August, 1945.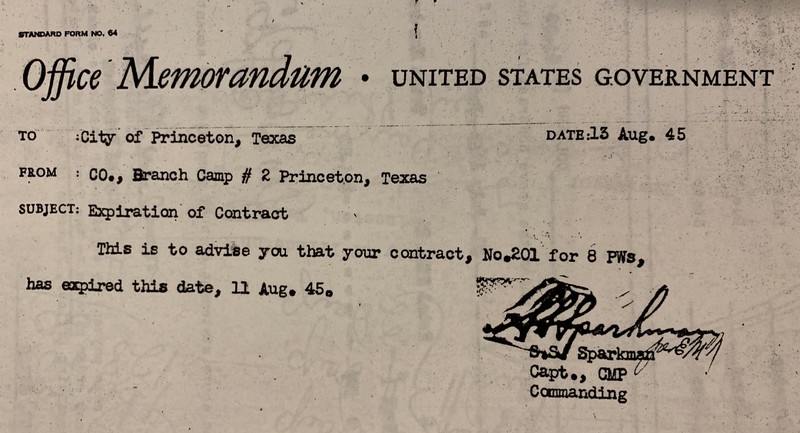 This is the original site layout of the Princeton POW Camp, which was originally constructed as a migrant labor worker camp. It was easy to convert because it was already equipped with bunks to properly house a large number of people.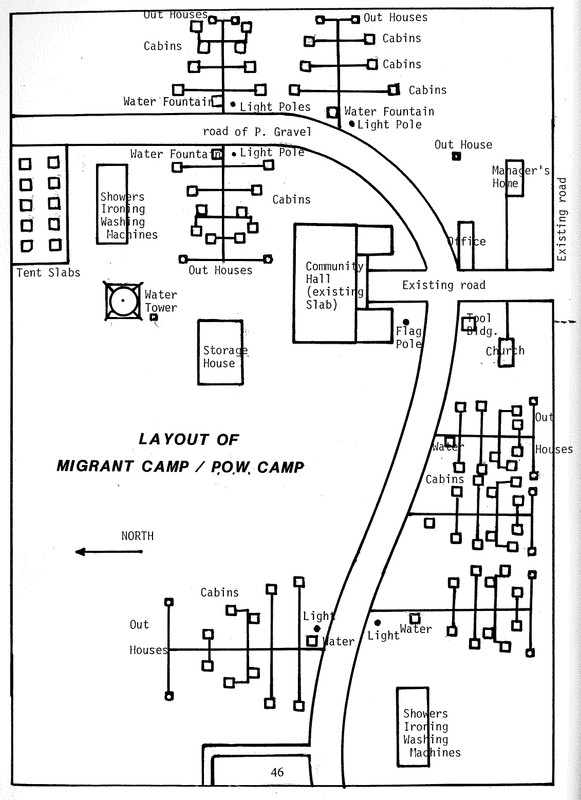 Backstory and Context
Toward the end of World War II, prisoners of war were arriving in the United States at a rate of 30,000 a month. By the last few months of the war, that rate had increased to 60,000 per month. Ultimately, the United States was forced to house as many as 425,000 enemy troops in prisoner of war (POW) camps. There were 511 POW camps located across the country. Texas was home to twice as many of these camps as any other state. By the end of the war, there were approximately 78,982 enemy prisoners being held captive in Texas alone. One of these POW camps was located in the small town of Princeton, Texas.
Princeton was an obvious choice for one of these camps. The town was already home to a facility built to be used as a migrant worker camp, and time pressure was a significant consideration given how fast enemy troops were being captured. Transitioning the migrant camp to a POW camp was cost effective because the government did not have the expense of building a new facility. And Princeton was the fact it was a small farming community with nowhere to hide should any prisoners escape. So in February 1945, the Princeton POW camp opened for prisoners. According to the book Princeton: 1881-2000, the Princeton POW camp was known as Branch Camp #2, an extension of the Camp Howze base camp in Cooke County.
Like most POW camps in the United States, the Princeton facility featured barracks-like shelters with beds and wood stoves, as well as 139 concrete slabs for tents. There were also two utility buildings, complete with 24 wash tubs, clotheslines and showers. These camps were typically operated like military training sites, and prisoners had a strict schedule to follow.

Collin County historians say that townspeople and members of the Princeton community surprisingly did not mind having this POW camp here. Interviews with residents showed there were good relationships between those people in the community and the prisoners held there, and the townspeople would bring gifts to the prisoners. The reason behind the good will shown to the prisoners from the local farmers centered around the fact these men were good for the economy. The local farmers would often drive their trucks to the POW camp and pick up a few prisoners accompanied by a guard and take them to their land to do manual labor. The farmer got cheap help and the prisoners got to leave the camp and were often fed by the farmers. The base pay for a day's work was around one dollar and fifty cents. This also benefited the government, because a portion of this wage went directly to the camp to help pay for camp operations including food, clothes and facility maintenance.
At the end of war later, the prisoners were shipped back to Germany, by way of France and Britain so they could help repair the war-damaged European countryside along the way. When Branch Camp #2 closed, eight months after it opened, it returned to its original operation as a migrant worker camp until it closed for good in 1969. The migrant labor/POW camp still welcomes visitors as the J.M. Caldwell Community Park, and its grounds have been converted to feature ball fields and picnic areas. The original concrete slab that was once the community hall is still present, now a pavilion for community gatherings, and the old water tower sits in the distance as a landmark for the onetime POW camp.
Sources
1 Krammer, Arnold P. German Prisoners of War. Texas State Historical Association. June 15, 2010. Accessed November 27, 2018. https://tshaonline.org/handbook/online/articles/qug01.

2 POW Camp. Collin County History. . Accessed November 27, 2018. https://www.collincountyhistory.com/pow-camp.html.

3 Exploring Plano's Markers No. 2: Collin County Historical Markers.. The Plano Conservancy. February 19, 2018. Accessed November 27, 2018.

4 Princeton, 1881-2000. Edition 1. Vol. 1. Princeton, TX. Princeton ISD, 2001.


Additional Information