Clay Cemetery and Park
Introduction
The Clay Cemetery and Park is a memorial to the family of Mitchell Clay, who surveyed and settled what is now Mercer County, West Virginia. In 1775, Mitchell settled an area on the Bluestone River then known as Clover Bottom. Eight years later his family fell victim to a Shawnee Indian attack. The cemetery and historical marker are located between what in present day is known as Kegley and Lashmeet, at the junction of US Route 19 and State Route 10.
Images
Historical Marker located on Rt. 10. (photo by Steven Hart)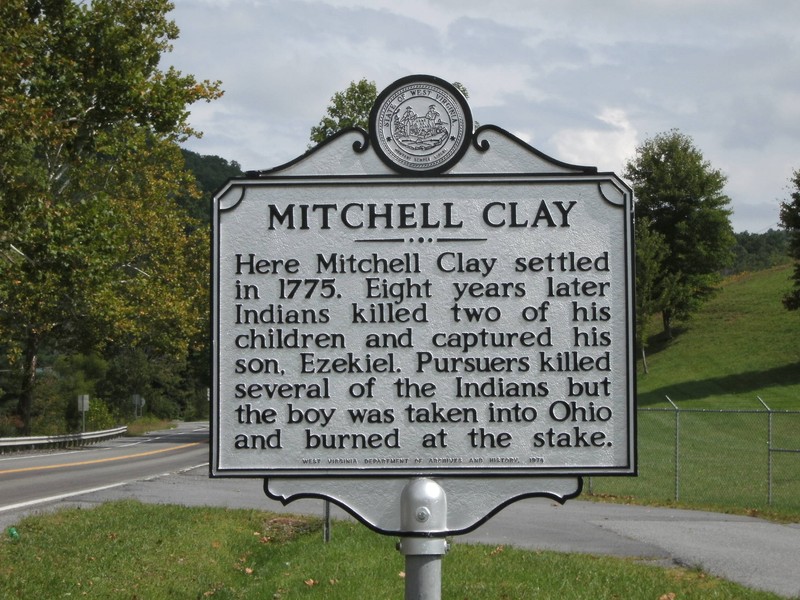 Clay Cemetery and Park (photo by Steven Hart)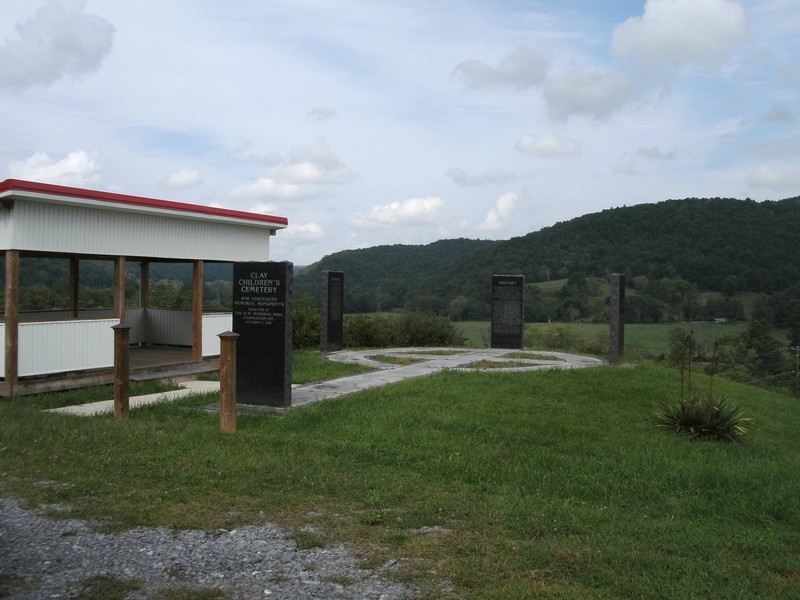 Backstory and Context
In August 1783, Shawnee Indians attack Clay's home while he his two eldest sons were away. During the attack two of his children were killed (son Bartley and daughter Tabitha) and one son, Ezekiel, was kidnapped. Ezekiel was taken to a Shawnee village in Chillicothe, Ohio where he was burned at the stake. Mrs. Clay and the surviving children escaped and went to the home of James Bailey, her nearest neighbor who lived six miles away. After the attack Mitchell moved his family to an area on the New River now known as Pearisburg, Virginia. 1
This was not the first tragic run in with Indians the Clay family had. In 1774, Mitchell, his father William, and brothers Ezekiel and David were members of the Army serving under General Andrew Lewis. While marching to the Battle of Point Pleasant, William was killed by British allied Indians while hunting for food for the troops. David Clay was killed in action in the battle. In 1777, Mitchell's brother Ezekiel was killed by Shawnee Indians on the Bluestone River near the Clover Bottom area.
Clay Cemetery and Park is located at the junction of US Route 19 and State Route 10. There is a historical marker for "Mitchell Clay" approximately 1/10 mile North of junction on the left. The Cemetery is on top of the hill above the marker, and you can drive to the cemetery. Follow signs from marker up Broken Arrow Drive, turn left on Phoebe Street and a left on Mitchell Court. At the park you will find four granite pillars that tell the story of the Clay family and who is buried there. There is a picnic shelter but no tables. From the site you get a beautiful view of Clover Bottom and the Bluestone River.
Sources
1) http://familytreemaker.genealogy.com/users/c/o/o/Dana-M-Cooke/FILE/0001page.html
Additional Information