E. B. White House
Introduction
Built in 1795, this farm was the residence of author E. B. White from 1934 until his death in 1985. Not only did he write many of his works here, the location also served as inspiration for one of his most acclaimed and well-known works: Charlotte's Web. While it remains a privately-owned property, the farm has served as a field trip destination for many children of the local schools. The location was registered as a National Historic Place in 1986. The house is also known as Holden House, after its first resident.
Images
E. B. White with his dog, Minnie, on the coast of Maine. Photo by White Literary LLC via Wikimedia Commons.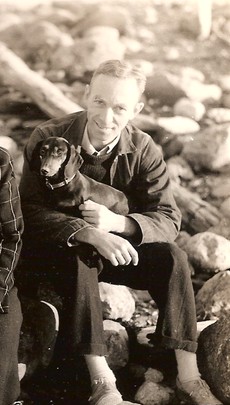 Backstory and Context
E. B. (Elwyn Brooks) White was born on July 11, 1899 in Mount Vernon, New York. After graduating from Cornell University in 1921, he worked as a reporter and copywriter before joining the New Yorker as a writer and contributing editor. White won numerous awards, including the National Medal for Literature, the Presidential Medal of Freedom, and the Newbery Honor.
White was strongly influenced by Henry David Thoreau and was particularly inspired by his work Walden. In 1934, in an attempt to live closer to nature and return to his rural roots, White and his wife, Katharine Sergeant Angell, bought a salt water farm in North Brooklin, Maine. The couple split their time between New York and Maine until moving to the farm permanently in 1938, where they began raising farm animals. White wrote numerous essays during his time in Maine, of which topics range from nature to politics and from city life to country life. One collection of essays, One Man's Meat, follows his day to day life on the farm.
The author also wrote three children's novels during this period. His beloved and acclaimed children's novel, Charlotte's Web, was inspired by his life on the farm, where he raised pigs, geese, chickens, and sheep. He has stated that the seed of inspiration for Charlotte's Web came from his feeling sorry for his pigs that would inevitably be slaughtered, as well as from a real spider he named Charlotte. White has referred to Charlotte's Web as his "hymn to the barn."
The house was built by Captain Richard Allen for William Allen Holden in 1795 and became a registered historic place in 1986. The late 18th century farmhouse has two and a half stories with a gable roof and clapboard siding. There is an attached barn that stands at one and a half stories with a gable roof and shingle siding. The property overlooks Blue Hill Bay, with a view of Cadillac Mountain and Acadia National Park in the distance. The farm was purchased by E. B. White in 1934 and became his permanent residence in 1938 until his death in 1985. Lawns, hedges, and other landscaping reflect the period of E. B. White.
While subsequent owners have made small modifications, such as installing additional windows to enhance lighting, the farm remains very much the same. Details of note are the rope swing that features in Charlotte's Web and the author's writing desk in the small boathouse on the property.
Selected Works by E. B. White:
The Lady Is Cold (poems), Harper, 1929.
Alice through the Cellophane (pamphlet), John Day, 1933.
Every Day Is Saturday, Harper, 1934.
Farewell to Model T, Putnam, 1936.
The Fox of Peapack and Other Poems, Harper, 1938.
A Subtreasury of American Humor, Coward-McCann, 1941, (co-editor with wife, Katharine Sergeant White, and author of introduction)
One Man's Meat, Harper, 1942.
Stuart Little, Harper, 1945.
Here Is New York, Harper, 1949.
Charlotte's Web, Harper, 1952.
The Second Tree from the Corner, Harper, 1954.
William Strunk, Jr., The Elements of Style, Macmillan, 2nd edition, 1959, 3rd edition, 1979 (editorial supervisor and contributor).
The Points of My Compass: Letters from the East, the West, the North, the South, Harper, 1962.
The Trumpet of the Swan, Harper, 1970.
Letters of E. B. White, edited by Dorothy Lobrano Guth, Harper, 1976.
Essays of E. B. White, Harper, 1977.
Poems and Sketches of E. B. White, Harper, 1981.
A Gift from Maine, Guy Gannett, 1984 (one of many contributors).
Sources
1. Allen, Mel. The House at Allen Cove: E.B. White House Tour. New England Today. December 20, 2017. Accessed November 02, 2018. Retrieved from https://newengland.com/today/living/homes/eb-white-house-allen-cove/.

2. "E. B. White." Contemporary Authors Online, Detroit, MI: Gale, 2007. Literature Resource Center. Accessed November 2, 2018. http://link.galegroup.com.ezproxy.library.wisc.edu/apps/doc/H1000105505/LitRC?u=wisc.madison&sid=LitRC&xid=a2ef34f6.

3. "E.B. White House." National Register of Historic Places. September 22, 1986. Accessed November 2, 2018. https://npgallery.nps.gov/NRHP/AssetDetail?assetID=e1afa3bb-e03d-4113-831c-5aa9f590386a.

4. "National Register of Historic Places Inventory: Nomination Form." National Park Service. September 22, 1986. Accessed November 2, 2018. https://npgallery.nps.gov/NRHP/GetAsset/NRHP/86002467_text.

5. Sims, Michael. The Story of Charlotte's Web: E. B. White and the Birth of a Children's Classic. London: Bloomsbury, 2011.


Additional Information