The Manning Dairy Farm
Introduction
The Manning farm in Dalton is a small family run farm serving the best homemade ice cream in the area. They have stores all over northeast Pennsylvania. They have many flavors and types that can accommodate all the taste buds that walk through their doors.
Images
Manning's main dairy farm in Dalton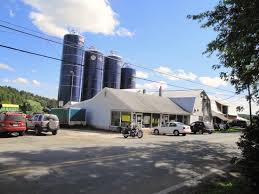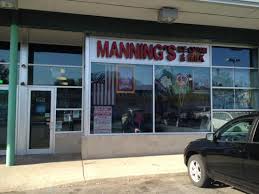 President Bush in 2006, handing out ice cream in Manning's store in Clark Summit.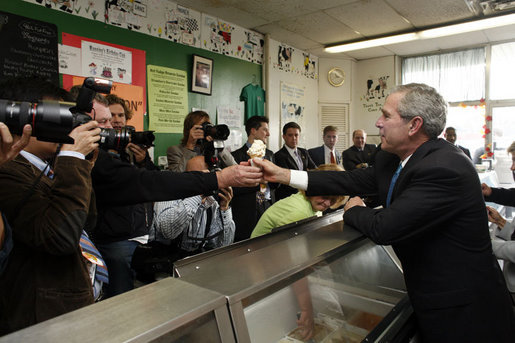 Backstory and Context
Manning Farm Dairy
Doing things, the old-fashioned way
The Manning Dairy Farm is in Dalton Pennsylvania, and is a family owned business who believe in doing things the old-fashioned way. The family, Paul and Jean Manning, and their sons, Brian, Ken, and Kevin are all in charge of their own part of the family farm.
The farm got its start in 1920 when Ken Manning and Louise Manning, Paul's parents, started up their business. In the late 1930s the couple begin to produce enough milk to start delivering. This wasn't enough for the family though, because Ken Manning had a love for ice cream. Jean Manning said, "Ken was probably ahead of his time, thinking we could help out income and help farming." In the mid-1970s, Paul and Jean took over the farm, and during this time the business was growing. This was due to the fact that the price of milk, the main ingredient for ice cream, was staying pretty steady, while prices in most other things were increasing.
Sense then the Manning's have accumulated over 400 acres of land for their farm. They have seventy-five cows that produce milk and another 75 younger cows. The milk that their cows produce go into over one hundred flavors of ice cream, frozen yogurt, ice cream cakes, and seasonal egg nog.
One thing that makes Manning's different from everyone else is the detail they take in every aspect of dairy experience. It all starts with what they feed their cows, which is all grown on their own farms to ensure their cows are getting healthy food and food that they like. They do this to keep their cows happy and according to the Manning's, "happy cows are productive cows."
When it comes to ice cream, the manning's do it right. the experience is amazing and the people are very accommodating. The next time you find yourself in Northeast Pennsylvania, do not forget to stop by one of their many shops and try some of their delicious ice cream.

Sources
. . http://www.manningfarm.com/.

. . https://www.happeningsmagazinepa.com/2014/06/10/scoop-manning-farm-dairy/.