Willowbrook Ballroom
Introduction
The Willowbrook Ballroom, formerly the Oh Henry Ballroom, was a Chicagoland dance hall. The ballroom existed in some form from 1921 until it burned down in a multi-alarm fire in 2016. As the Oh Henry Ballroom, it was the backdrop of Chicago's most famous ghost story. It is often cited as the last place that famous Resurrection Mary danced before she died.
Images
The Willowbrook Ballroom Circa 2006. Used under Creative Commons Attribution-ShareAlike 3.0 License.

The Willowbrook Ballroom Marquee. Used under Creative Commons Attribution-NonCommercial-NoDerivs 2.0 Generic license.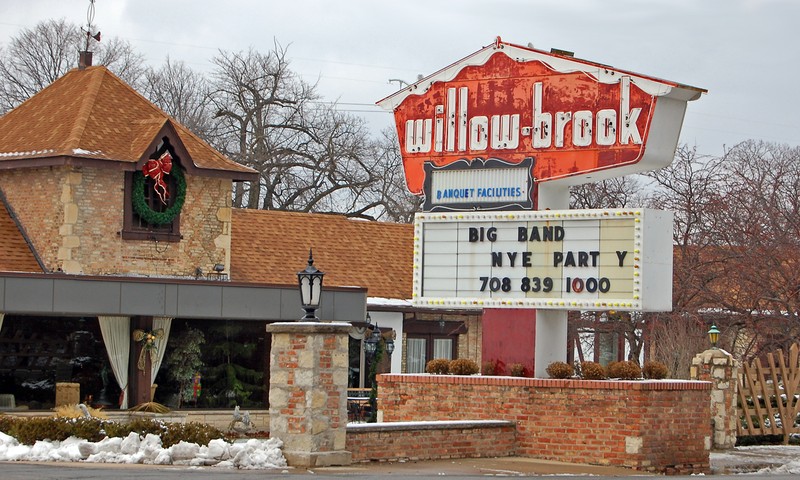 Backstory and Context
Built in 1921 as the Oh Henry Park, it was originally an all wooden dance pavilion. In 1923, the pavilion proved so popular that it was enlarged and a per-dance fee of ten cents was implemented. The spot proved so successful that even after the pavilion was destroyed by a fire in 1930, the owners had enough money to hire 200 carpenters to build a new dance floor by the following Saturday and drew even larger crowds by marketing the idea of "dancing under the stars."
The ballroom opened in 1931 and cost $100,000. The ballroom thrived in the big band era hosting some of the most famous band leaders of the time and boasting weekly attendance rates of around 10,000 dancers. As the big band era waned, the ballroom maintained its popularity by bringing in contemporary music as well as the traditional big bands. The ballroom remained popular until the building was gutted by another fire on October 28th, 2016. Efforts are under way to rebuild the ballroom.
According to local legend, a young woman was dancing at what was then called the then Oh Henry Ballroom when she got into an argument with her date and ran out into the night. Shortly thereafter she was the victim of a hit and run accident and died. As soon as the 1930s people began reporting picking up a blond-haired girl in a long dress hitchhiking for on Archer Avenue.
Sightings have occurred from the late 1930s until the present. They follow a similar pattern. A driver, generally male, sees a beautiful, young, blond woman. The driver stops to pick her up. The driver and the young woman drive down Archer Avenue, but something strikes the driver as strange. As they pass the nearby Resurrection Cemetery, she either disappears, or, perhaps more chillingly, exits the cars and runs toward the cemetery gates of Resurrection Cemetery before vanishing at the closed metal gates.
Sources
"Resurrection Cemetery (Home of "Resurrection Mary")." Ouija: Not a Game. Accessed December 06, 2018.
http://www.ghostresearch.org/sites/resurrection.html.

"Willowbrook Ballroom." Wikipedia. October 24, 2018. Accessed December 06, 2018.
https://en.wikipedia.org/wiki/Willowbrook_Ballroom.

"Willowbrook Ballroom Restoration." Danceoflife. Accessed December 06, 2018.
https://www.danceoflifefoundation.com/copy-of willowbrook-ballroom-restor.

Additional Information