Resurrection Catholic Cemetery
Introduction
Established in 1953 and today spanning over 40 acres in size, Resurrection Cemetery serves the Catholic population of Dane County, Wisconsin. Located across the street from Forest Hill Cemetery at Regent Street and Speedway, Resurrection Cemetery hosts the graves and memorials of Madison's German, Irish, and Italian Catholic populations, as well as a number of notable historic mausoleums and structures. Some of the cemetery's buried residents include multiple Madison bishops and other well-known persons, including renowned American comedian Chris Farley.
Images
Sign for Resurrection Cemetery, located at the corner of Regent Street and Speedway Road. Photo by Peter Wagner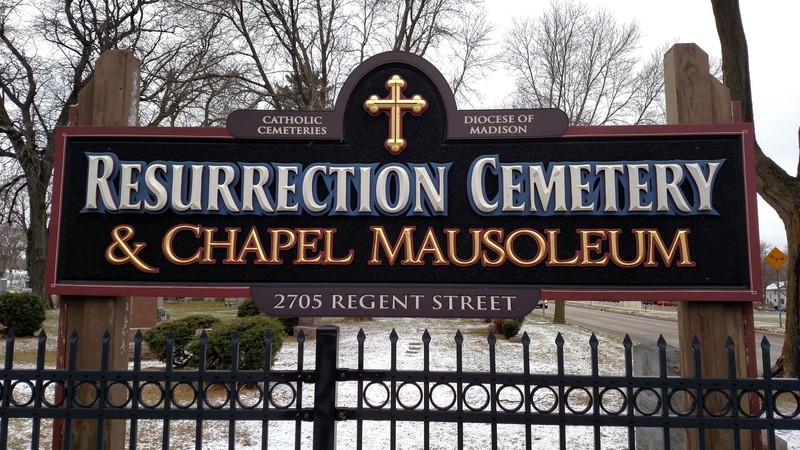 View of the cemetery from Speedway Road. Photo by Peter Wagner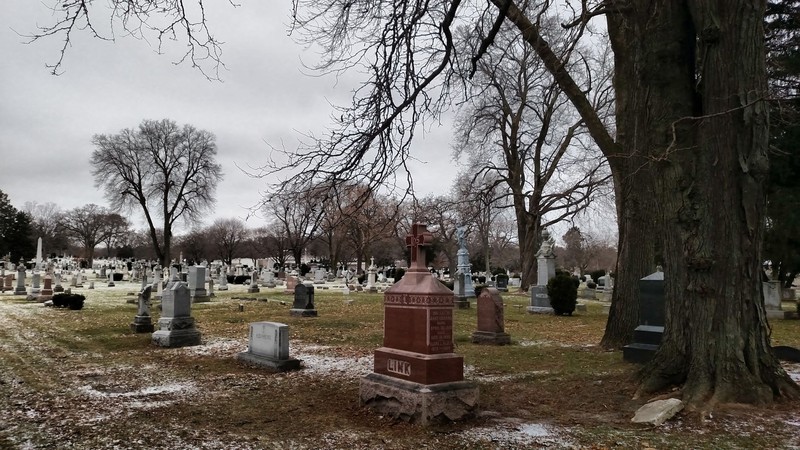 Original gate of Holy Cross Cemetery, which has been preserved despite Holy Cross having been combined with Calvary Cemetery to form Resurrection Cemetery as it is known today. Photo by Peter Wagner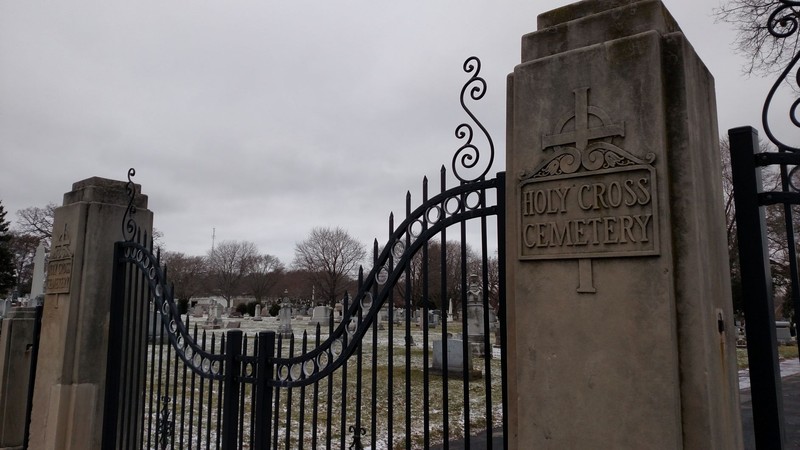 Historical marker at the site of reburial of Greenbush Cemetery's unidentifiable remains. Photo by Peter Wagner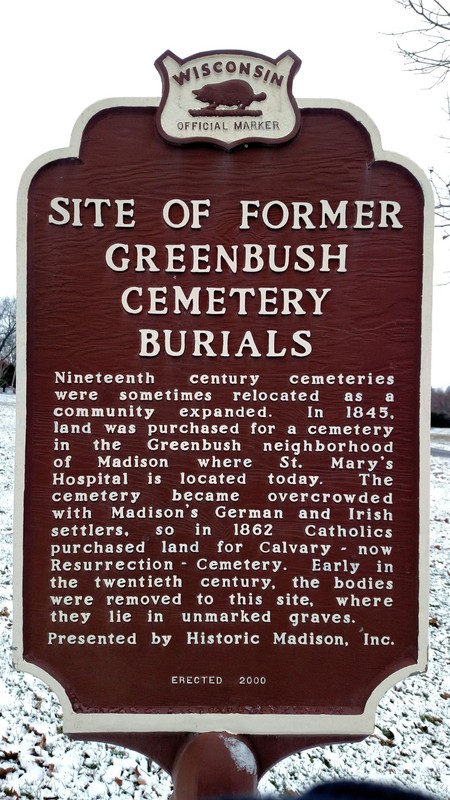 Gravesite of the Lemberger children. Annie, the earliest of those buried here, was kidnapped and murdered in 1911, at the age of 7. Her murder sparked years of speculation and controversy in Wisconsin newspapers. Photo by Peter Wagner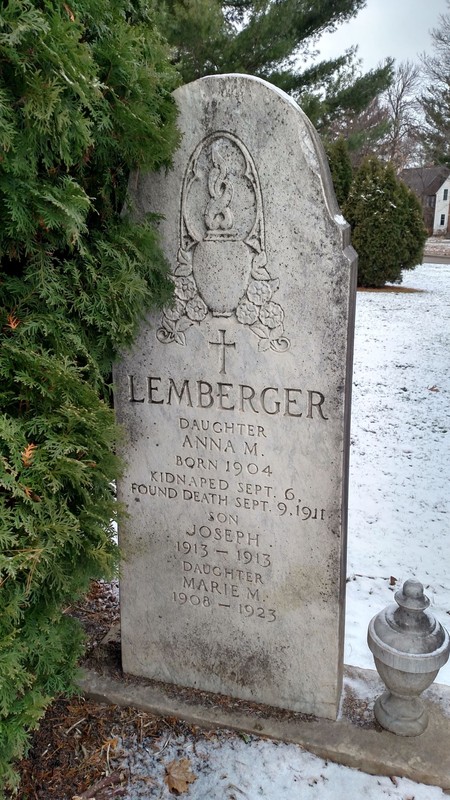 Backstory and Context
The origins of Resurrection Cemetery begin with its predecessor Calvary Cemetery, built on the same site in 1863. At the time, the smaller Greenbush Cemetery, located on the isthmus between Lake Wingra and Monona Bay, had become heavily overcrowded, and the Catholic parishes purchased 18 acres of land just north of Forest Hill Cemetery for the purpose of creating a new burial ground. Over time, many of the bodies buried at Greenbush were moved by family members to Calvary, while many others remained at Greenbush because their families lacked the funds necessary to transfer them. By the early 20th century, the remaining bodies at Greenbush were moved to Calvary so that the land could be leveled for gravel to pave Madison's streets. Almost all of these bodies were too decayed to be identified, and today the approximate area of their re-burial at Calvary is marked with a historical marker. The first person to be buried in Calvary Cemetery was Dan Hurley in 1865; any grave with a date of death prior to this date represents a person who was originally buried at Greenbush Cemetery.
In its initial state, Calvary Cemetery was strictly divided along ethnic lines: sections of the cemetery were originally reserved for German and Irish families, and until the 20th century, only one Irish person, Farrel O'Bryan, was allowed to be buried in the German section of the cemetery. Some years after the cemetery was built, Italian Catholics were given sections in the cemetery grounds in which to bury their dead, though the areas given to them had initially been used to dump dead flowers and other refuse. Today these ethnic boundaries are no longer strictly enforced for new burials, but the original sections still remain and can be ascertained based on the names on gravestones.
By the 1920's Calvary Cemetery was becoming full. The Catholics had purchased more land to the west and south of Calvary Cemetery, and in 1923 a new cemetery, Holy Cross, was built on this adjacent property. These two cemeteries would remain for another 30 years. Following the formation of the Diocese of Madison, the decision was made to combine Holy Cross Cemetery and Calvary Cemetery in 1953, creating the singular Resurrection Cemetery. Additional land was bought along Franklin Street for the cemetery, giving Resurrection its current form.
Resurrection Cemetery is home to several well-known grave sites, including:
· Bishop William O'Connor (1886-1973): First bishop of the Catholic Diocese of Madison, who served as Bishop when Resurrection Cemetery was first established.
· Annie Lemberger (1904-1911): A young girl who, in September of 1911, was kidnapped from her home and murdered, her body being found three days after her disappearance. A man named John "Dogskin" Johnson was initially convicted of her murder, but was acquitted ten years later, and suspicion was placed on her father, Martin Lemberger, as the possible murderer. No proof was ever found of Martin being involved in his daughter's death, but the claims that he was Annie's killer followed his family for the rest of his life. Annie's case led to massive amounts of media speculation and controversy, and her murder garnered particularly intense attention in Wisconsin newspapers for years following her death.
· Chris Farley (1964-1997): A legendary comedian and actor, Farley attended Edgewood High School, and earned a BA from Marquette. His comedy career began with the Second City comedy troupe in Chicago, and he won an Emmy for his work in the 1992-1993 season of Saturday Night Live. Farley also starred in such movies as Black Sheep and Tommy Boy, and had supporting roles in a number of other comedy films. His funeral was attended by over 700 people, and his memorial in Resurrection Cemetery can still be visited today.
Sources
"Resurrection Cemetery." Catholic Diocese of Madison, Accessed 10/25/2018. https://madisondiocese.org/resurrection-cemetery
Bishops to bootleggers : a biographical guide to Resurrection Cemetery, Madison, Wisconsin : more of the ordinary and the famous women and men who shaped Madison and the world. Historic Madison, Inc. Resurrection Cemetery Committee. Madison, WI : Historic Madison, Inc., 1999.
Falkenstein, Linda. "Where the bodies are buried in Madison." Isthmus Publishing Company, October 28, 2010. Accessed 10/25/2018. https://isthmus.com/news/cover-story/where-the-bodies-are-buried-in-madison/
Gajewski, Mark. "Resurrection Cemetery." Historic Madison, Inc. of Wisconsin, Accessed 10/25/2018. http://www.historicmadison.org/Madison's%20Past/connectingwithourpast/resurrectioncemetery.html
"Resurrection Cemetery Lost to History." Historic Madison, Inc. of Wisconsin, Accessed 10/25/2018. http://www.historicmadison.org/Madison's%20Past/People/resurrectionlost.html
Additional Information