Malone Hood Plaza Marker - South Face: The Autherine Lucy Clock Tower
Introduction
When the United States Supreme Court ruled in Brown V The Board that segregation in public schools was unconstitutional it became illegal. Governor Wallace of Alabama had won election on the campaign of continuing segregation and he intended to do just that. In June of 1963 Wallace himself flanked by two state troopers blocked he refused to allow two African American to register. President Kennedy in response federalized the National Guard and forced desegregation in the college.
Images
Incription on the Autherine Lucy Clock Tower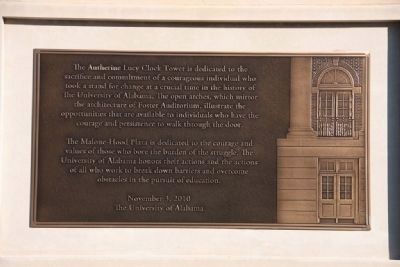 Inscription on the Malone Hood plaza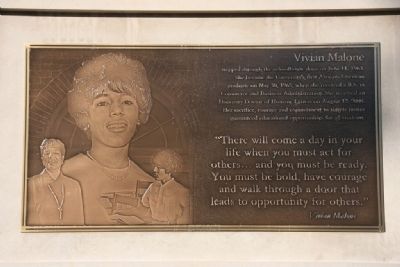 Backstory and Context
Segregation had been deeply rooted throughout the country especially in the deep south. There had been many bloody face-offs with people refusing to allow desegregation. However in 1954 when the United States Supreme Court ruled in Brown Vs The Board of Education that segregation in public schools was unconstitutional. Governor Wallace of Alabama won election on a platform off continuing segregation .Including a speech promising to continue the policy of segregation against Federal rulings. So when the University of Alabama was being forced to desegregate and admit two African Americans the stage was set for a showdown.
In June of 1963 Vivian Malone and James Hood was attempting to register for classes at the University of Alabama. However, their path was blocked by Governor Wallace himself and two state troopers who refused to let them register for classes. In response on June 10th President Kennedy federalized the National Guard, which forced Governor Wallace to allow passage to the African Americans. The following day June 11th both of the students were able to gain entrance to the university and register for classes.
The Malone Hood plaza marker stands as a monument to the two people that withstood the pressure and pushed through to be allowed to obtain their degrees. James Hood was the first to desegregate the university when on June 11th he walked into the university and registered for classes.Vivian Malone became the first African American to graduate from the university when she graduated on May 30,1965. The monument that stands in honor of these two people who braved all the pressure was erected in 2010 by the University of Alabama itself. The tower itself Autherine Lucy Clock Tower was erected in honor of Autherine Lucy who actually was the first African American to enroll February 3,1956 but only lasted three days before being forced to leave.
Additional Information