The Eldred World War II Museum
Introduction
The Eldred World War II Museum is located in Eldred, Pennsylvania and offers a number of exhibits, events, and programs that preserve the history of Pennsylvania and Pennsylvanians during World War II. There was a munitions plant, the National Munitions Company, operated in Eldred during World War II that supplied bombs, grenades, and mortar shells for American armed forces. The World War II Museum was established May 1996 and has continually grown over the years from taking up one room to encompassing a three-story building
Images
The National Munitions Company opened prior to the Japanese attack on Pearl Harbor, producing munitions for the British prior to the America's entry into the war in December, 1941.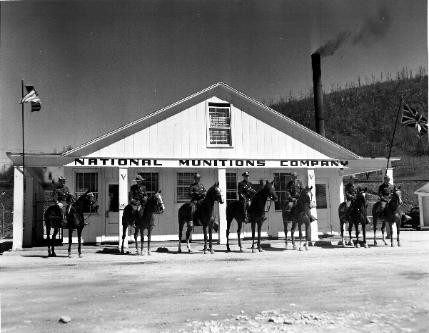 A replica WWII tank is featured outside the entrance to the museum.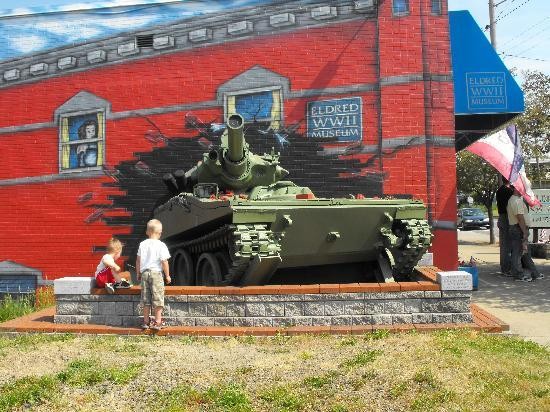 The Robert A. Anderson Library holds 8500 volumes related to World War II.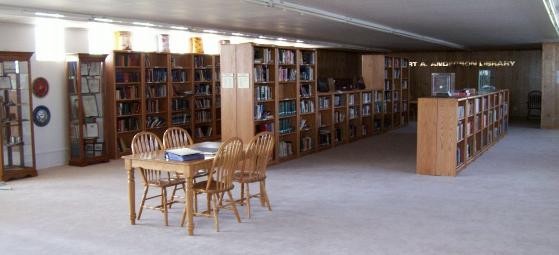 Backstory and Context
The National Munitions Company began its operations in 1941 and employed roughly 1,500 workers. After the beginning of World War II they began producing bombs, grenades, and mortar shells for the American armed forces. Once the male workers were sent off to fight in the war, 95% of the company's employees were women. The Eldred World War II Museum was created in order to preserve the region's history of World War II.

The museum operates a number of educational programs that focus on the history of women, the home front, Native Americans and other diverse soldiers, and local history. The museum also covers the military and political history of the war with their extensive library and permanent exhibits.The museum was largely funded by Thomas Rhoudebush, a Kansas businessman whose father owned the land on which the National Munitions Company operated. The museum welcomes around 8,000 visitors per year from Pennsylvania and its surrounding states. It is also free for schools to tour the museum.

Attractions within the museum include a library dedicated to World War II literature, various World War II mementos, hundreds of veterans' oral histories captured on digital video, and even exhibits targeted specifically towards children and their education. The museum also includes a monthly program that starts on the third Thursday of the month. Every month program begins at 7:00 pm. The museum also offers a library that offers over 8,500 volumes on World War II. The library also may have rare texts that most libraries do not have and make it easier for a researcher.
Sources
"About Us." Eldred World War II Museum. Accessed March 02, 2019. https://eldredpawwiimuseum.com/.
Pitz, Marylynne. "Road Trip: World War II Memories Preserved in McKean County Museum." Pittsburgh Post-Gazette. March 30, 2008. https://www.post-gazette.com/life/travel/2008/03/30/Road-Trip-World-War-II-memories-preserved-in-McKean-County-museum/stories/200803300268
"Eldred World War II Museum Reorganizes Board of Directors; Frederick Named Chairman." The Bradford Era. August 05, 2013. Accessed March 01, 2019. http://www.bradfordera.com/news/eldred-world-war-ii-museum-reorganizes-board-of-directors-frederick/article_96b0df4c-fd6e-11e2-9bd9-0019bb2963f4.html.

Additional Information