Cartland House
Introduction
This historic New Hampshire home dates back to 1727 and is best known for the actions of Moses Austin Cartland one, one of the home's antebellum owners. Cartland was a Quaker abolitionist and outspoken against slavery, and he also actively assisted enslaved persons who were fleeing from bondage. In 1848, Cartland provided sanctuary to Oliver Gilbert for around a year after he escaped from slave catchers who had tracked him to Boston. During that year, Oliver Gilbert helped cook for the students of Moses Cartland's school, and he later returned with family members to construct the stone wall that can still be viewed near the home.
Images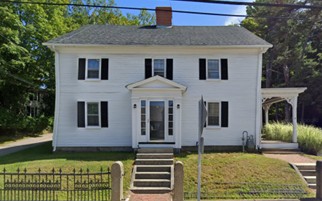 Backstory and Context
The home was constructed around 1780 by Marble Osborne. Hs son, Daniel Osborne inherited the property and lived there with his wife while serving as president of the local bank. The home then passed to the family of William's widow which is how it was later acquired by Cartland.
Following his stay at the Cartland House, Oliver Gilbert joined other formerly enslaved persons on a New England and mid-Atlantic lecture circuit, speaking to public audiences about the evils of slavery from his first-person experiences. The home is listed on the National Park Service's Underground Railroad Network to Freedom but is privately owned and not open to the public.
Sources
Fernald, Jody. Oliver Cromwell Gilbert: A Life, University of New Hampshire Scholars' Repository. January 1st 2014. Accessed June 8th 2021. https://scholars.unh.edu/cgi/viewcontent.cgi?article=1074&context=library_pub.
Reino, Roni. Going Back in Time: Years Later Woman Traces Steps of 1848 Slave Relative to Lee, Foster's Daily Democrat. May 12th 2011. Accessed June 8th 2021. https://www.fosters.com/article/20110505/gjnews_01/705059753.
Garvin, James L.. Notes on the Cartland House, New Hampshire Division of Historical Resources. June 24th 2007. Accessed June 8th 2021. https://www.nh.gov/nhdhr/publications/documents/cartlandhouse.pdf.
Image Sources
Image from Google Streetview, 2/26/2023

Additional Information