The Rankin House
Introduction
The Rankin House served as a station on the Underground Railroad. While some sources estimate that over 1000 fugitives took shelter at this home on their way to freedom, these estimates are difficult to substantiate although it is clear that the home and its inhabitants worked with local African American abolitionists who helped many enslaved people escape into central Ohio while others made it all the way to Canada where they were finally safe from slave catchers that operated throughout the region. The house was built in 1828 along the banks of the Ohio River overlooking the town of Ripley. Today, the house is a National Landmark and contains many of the original restored furnishings and artifacts that were owned by Reverend John Rankin, the house's original owner. From the house, visitors can also see the 30-foot-tall pole tipped with candles in town that may have served as a beacon for those escaping slavery on some occasions. It is important to remember that while this home and its people assisted many enslaved persons, their actions were usually more clandestine than placing a lantern on a pole as a beacon that would have soon attracted slave catchers. Assisting slaves was against the law, abolitionists that were active such as the Rankin family risked imprisonment and even death at the hands of armed slave catchers that had legal authority to detain any person of color they suspected of being a runaway according to the 1850 Fugitive Slave Act.
Images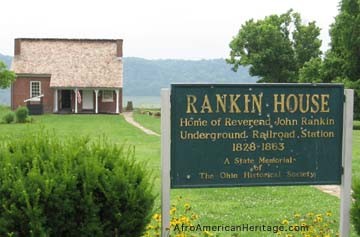 While it cannot be known how many enslaved persons found refuge on the Ranking property, Rankin's connections with white and Black abolitionists throughout Ohio helped many escape.
Backstory and Context
Reverend John Rankin was born in Tennessee in 1793. He grew up to be a Presbyterian minister and abolitionist in Carlisle, Kentucky, where he created an anti-slavery group. Because Kentucky was a slave state, he faced a great deal of opposition and threats there. He then decided to move across the river to Ohio, a free state, where his views received more support and he could do more to help enslaved African-Americans.
Rankin used his house in Ripley, Ohio as a station on the Underground Railroad. The house was linked with a network of other stops in southern Ohio and northern Kentucky. Oftentimes, it was free African-Americans or those still in slavery who helped escapees make it to Rankin's home. From there, fugitive slaves tried to make their way to Canada where they could not be recaptured and sent back to their "owners."
Rankin's other claims to fame include the nearby Ripley College, which fell apart when a large number of his white students (mainly from Kentucky) left the institution after he admitted a Black student. Rankin also established the Free Presbyterian Church of America, which did not allow slave owners to join. He would go on to help create anti-slavery societies in New York and the Ohio Anti-Slavery Society in 1835.
In her book, Uncle Tom's Cabin, Harriet Beecher Stowe praised the Reverend's efforts to bring freedom to the enslaved. Unfortunately, opposition to Rankin's views remained strong. He died in Ironton, Ohio in 1886 as a result of injuries sustained in an act of mob-violence by men who opposed his actions and views.
Sources
John Rankin House. Ohio History Connection. Accessed June 06, 2018. http://www.ohiohistory.org/museums-and-historic-sites/museum--historic-sites-by-name/rankin-house.
The Rankin House. Ripley Ohio. . Accessed June 06, 2018. http://www.ripleyohio.net/htm/rankin.htm.
Additional Information