Carole Weinstein International Center: Gabara Courtyard
Introduction
The Carole Weinstein International Center's Gabara Courtyard is a University of Richmond student favorite. Located in the middle of the International Center, the beautiful architecture of the courtyard often draws prospective students, businessmen, and students searching for a break from the library with its wide open spaces, beautiful views, and colorful decorations. This site is a representation of the work Dr. Uliana Gabara, founding Dean of International Education and an advocate for diversity and inclusion on the University of Richmond's campus.
Images
Dr. Gabara's open note to Richmond students after 9/11 that encouraged them to not place blame on minority groups but rather come together after this tragic event.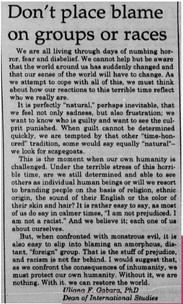 The plaque in the International Center Courtyard that dedicates the area to Dr. Gabara.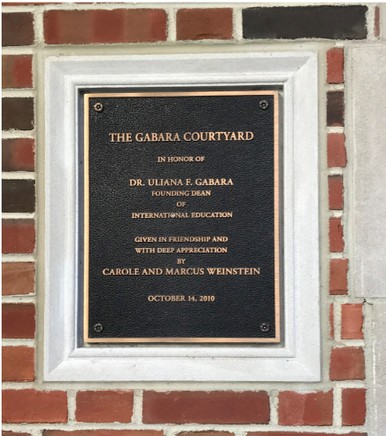 A photograph of Dr. Gabara in the courtyard that bears her name.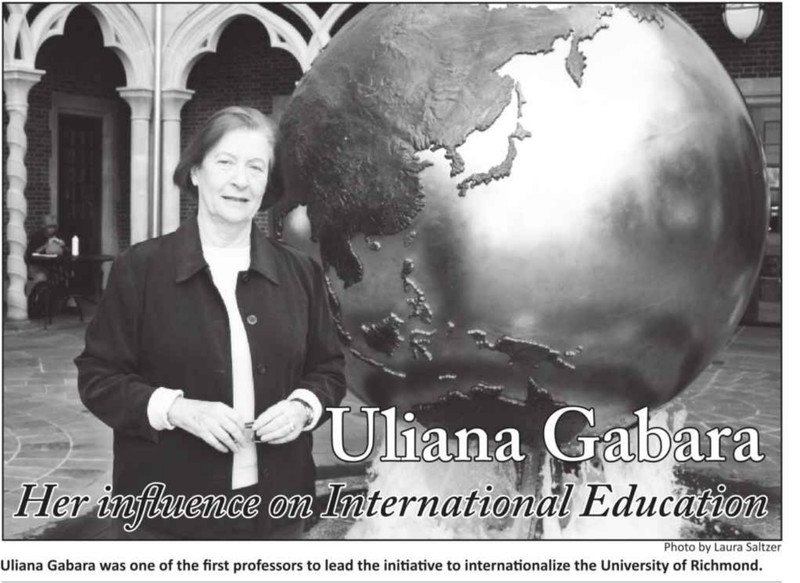 Dr. Gabara at her retirement celebration in 2013.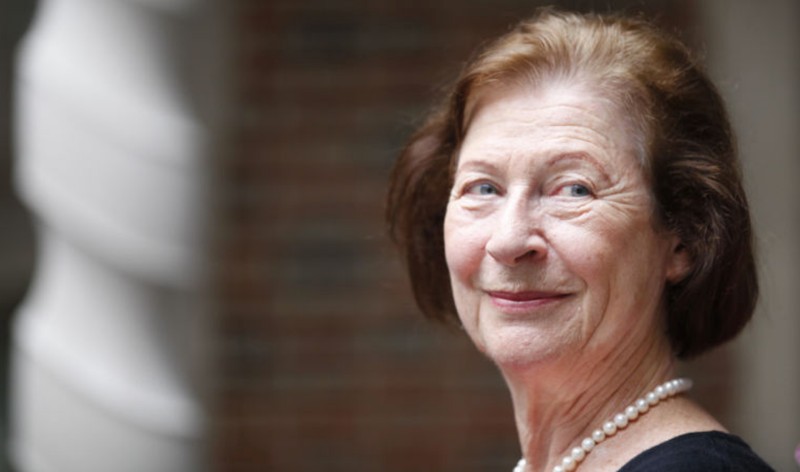 Backstory and Context
Welcome to the Carole Weinstein International Center, more specifically the Gabara Courtyard – named after Dr. Uliana Gabara. Dr. Gabara was the founding Dean of International Education, and frequently advocated for international students on our campus. She is honored here at the Carole Weinstein International Center with a courtyard in her name, but receives very little recognition for her attempts to build a more inclusive University community.
Dr. Gabara sought to advocate for international students in panel discussions, University forums, and in a timely letter to the editor in the University newspaper, The Collegian. On September 20, 2001 – nine days after the September 11 attacks – Dr. Gabara wrote a letter to the editor that encouraged students to not take out their anger and frustrations on fellow students who resembled those who orchestrated the attacks. She raised the question, "Under the terrible stress of this horrible time, are we still determined and able to see others as individual human beings or will we resort to branding people on the basis of religion, ethnic origin, the sound of their English or the color of their skin? This is stuff of prejudice, and racism is not far behind."1 Dr. Gabara sought to enact change on campus and help the University resist the hegemony of xenophobia.
Many of Dr. Gabara's actions went against the grain, but she was committed to ensuring that there is broader recognition that "everyone, including the city and the University of Richmond, lives in an interdependent world in which communications between nations and cultures is becoming more important all the time."2
While Dr. Gabara receives commemoration for the work she did for International Education here with a courtyard in her name, her contributions and activism at the University are tragically understated. Much of Dr. Gabara's advocacy was only recognized in occasional Collegian articles. David Leary, former dean of arts and sciences, said that Dr. Gabara "always found her way over or around" any hurdle in her way.3 She not only wanted to clear this hurdle but make it obsolete, because she saw immense value and benefits of diversity on Richmond's campus. She would encourage international students to immerse themselves in American culture, but also encouraged domestic students to immerse themselves in the various cultures that were brought to Richmond. She was a leader in bringing an international/intercultural studies major to the University of Richmond.4
What is more worth remembering: a title she held or the actions she made? Dr. Gabara hoped these four walls surrounding you can be a home for all at the University of Richmond.

Sources
1 Gabara, Uliana F. "Don't place blame on groups or races" The University of Richmond Collegian 88, no. 4, (September 20, 2001): 14. https://collegian.richmond.edu/?a=d&d=COL20010920.2.29&srpos=3&e=-------en-20--1--txt-txIN-international+racism------


2 Lewis, George P. "Gabara wins YWCA Outstanding Women award" The University of Richmond Collegian 80, no. 20, (March 10, 1994): 13. https://collegian.richmond.edu/?a=d&d=COL19940310.2.55&srpos=9&e=------199-en-20--1-byDA-txt-txIN-uliana+gabara-ARTICLE-----

3 Kloppenburg, Abby. "Uliana Gabara: Her Influence on International Education."The Collegian98, no. 14, (November 01, 2012): 7. https://collegian.richmond.edu/?a=d&d=COL20121101-01.2.19&srpos=1&e=------201-en-20--1--txt-txIN-gabara+and+leary------



4 Mayor, Alisa. "Int'l studies major to be offered." The Collegian74, no. 1 (September 03, 1987): 17. https://collegian.richmond.edu/?a=d&d=COL19870903.2.46&srpos=4&e=-------en-20--1--txt-txIN-gabara------


Additional Information