Memphis Court Square
Introduction
Court Square is the only one of four parks designed by city planners to retain its original size and shape. One of the city's founders, John McLemore, donated the property to the city. The original plan for the site was to build a courthouse but that never transpired. The city's first schoolhouse was built here, however. The park features statues, a gazebo, and the Hebe Fountain, which is 22 feet high and 35 feet wide. It is a copy of the original created by Italian artist Antonio Canova.
Images
Installed in 1876, the Hebe Fountain is at the center of Court Square.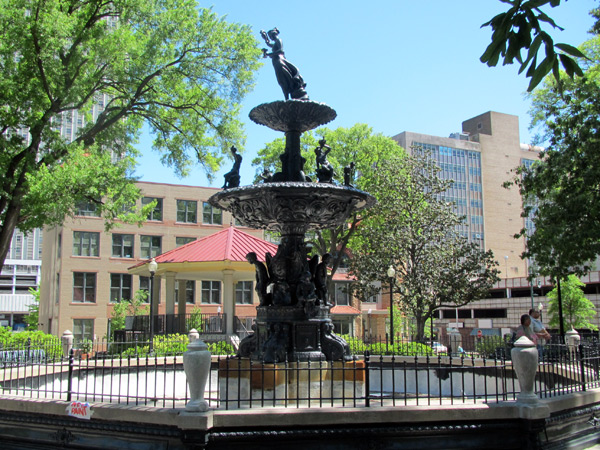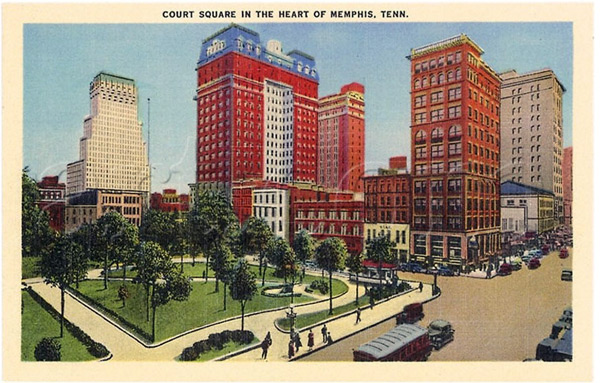 Backstory and Context
The Hebe Fountain was erected in 1876, although it has been altered from its original state. It depicts Hebe, the cupbearer to the Greek gods, who is nude from the waist up. At first, the basin was 6.5 feet deep and had catfish and turtles and no fence. These features made it dangerous, especially for children. In 1884, a 10-year old boy named Claude Pugh fell in and couldn't get out because of the algae on the sloped edges of the side. There were plenty of people in the park but no one made an attempt to save him. Eventually, he tired and drowned. The fountain underwent a full renovation in 1980; the basin is no longer very deep and there is a cast-iron fence on the edge.
Sources
"Memphis Court Square." Historic Memphis. Accessed September 22, 2014. http://historic-memphis.com/memphis-historic/courtsquare/courtsquare.html.