Cold Springs Log Cabin School
Introduction
Cold Springs Log Cabin/School was originally established by William L. Holder in the 1850s as temporary housing. Later, the building served as a school house for children in the Grayson County region. The cabin now holds a historical marker as part of the Grayson County Frontier Village.
Images
Photo of the Cold Springs Log Cabin/School at its resting place after being awarded as a Texas Historical Site in 1977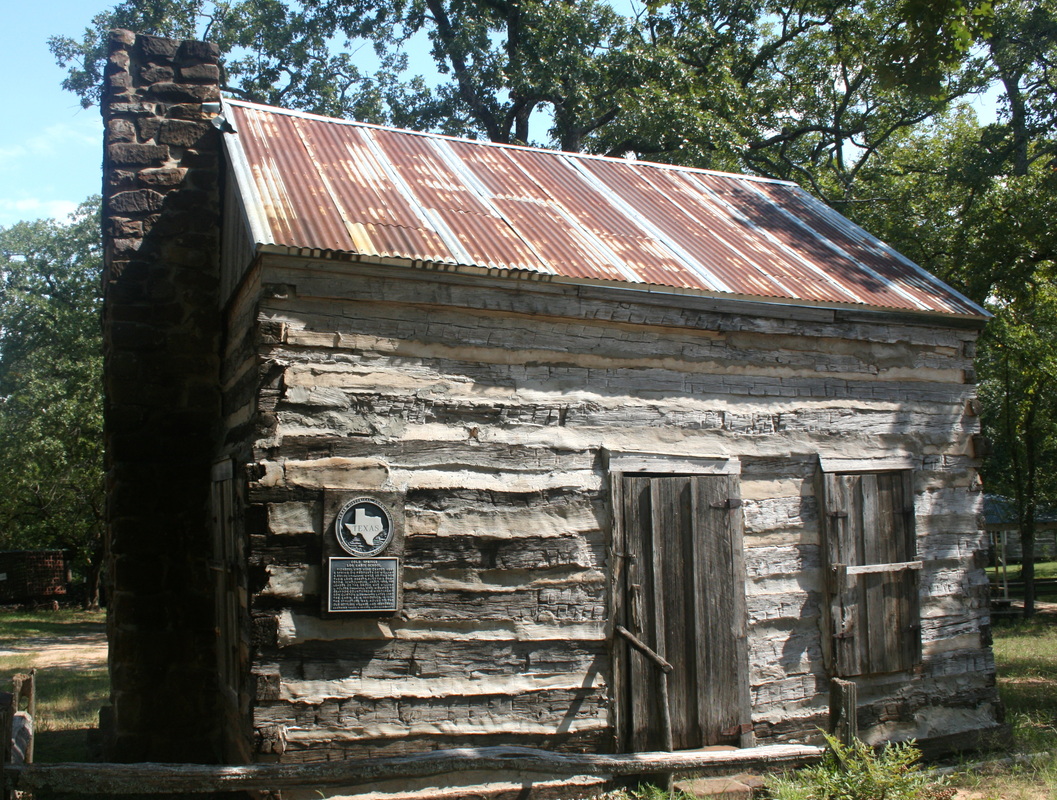 Texas Historical Marker Plaque commemorating Cold Springs Log Cabin. First erected in the 1850s.
Backstory and Context
The Cold Springs School (originally known as the W.L Holder Cabin) is a one room log cabin built around 1850 by a group of pioneers led by William L. Holder. The cabin was built on land owned at the time by William S. Reeves for the purpose of being a place to stay while the group waited for their land grants to settle in the area. Originally the cabin was built at the intersection of Crawford Road St. and Harvey Lane in Denison, Texas.
After the Holder family moved onto their own land, the cabin was converted to a school house with the purpose of providing the children in the area an education. It is believed to have been the first school in the county. The first teacher of the school, Miss Maudie Mangrum, roomed and ate with the students of the school and their parents. The building was furnished by the citizens of the area and students, who also paid for their tuition and books.
The holes in the log walls for shelves used to serve as desks for the school children are still visible. All students were taught in the same room, and the classrooms were separated into two sides, boys and girls.
The cabin was converted back to a residence in 1876 to house one of the sons of the original family, Clifton L. Holder, and his family. The cabin was later moved to Preston Road and donated to the Grayson County Frontier Village after Clifton's death. The cabin was donated by Mr. And Mrs. Henry Soy of Sherman in 1974, and was then given a Texas Historical Medal in 1977 to mark its service as a school house.

Sources
i Grayson County, Marker 75- The Cold Springs Log Cabin School, 2018, http://www.co.grayson.tx.us/upload/common/Historical/Markers/Mark075.htm
ii Donna Hunt, History of Grayson County Frontier Village, 2015, http://www.graysoncofrontiervillage.us/village- history.html
iii Elaine Nall Bay, Cold Springs School, 2016, http://usgenwebsites.org/TXGrayson/ANewLand/Places/FrontierVillage/ColdSpgs_school/ColdSpringsSchool...
Additional Information