Burial Ground: Unearthing Lives
Introduction
Twice in University of Richmond history, human remains have been uncovered near this location. According to a number of historical sources, both discoveries revealed portions of the burial ground for individuals enslaved by Benjamin "B.W." Green between 1843 and 1865: men, women, and children who labored here, whose numbers exceeded 130 in 1860. Their stories are partially illuminated by archival evidence: trial records, newspaper items, the Federal Census Slave Schedule of 1850 and 1860, and the sale record for a woman named Anaca.
Images
Detail from 1864 photograph of Smith's Map, Henrico County (1853). (Source: Library of Congress). Benjamin "B.W." Green's residence, also indicated, still stands on Three Chopt Road.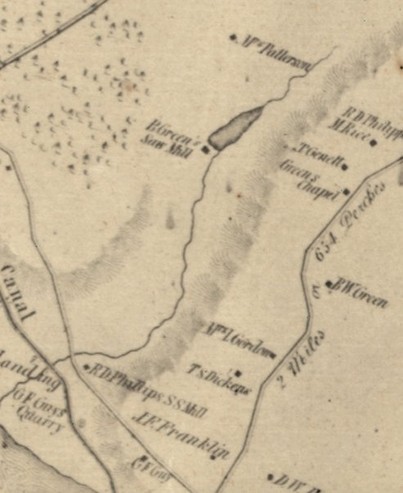 Detail of "List, 1847, of African-American slaves of the estate of John Wickham, of Richmond, VA, 3. (Source: Unknown No Longer)

Account of the trial of Washington, a man enslaved by Benjamin "B.W." Green, who owned the property that is now the site of the University of Richmond (Source: Daily Dispatch, 17 August 1854)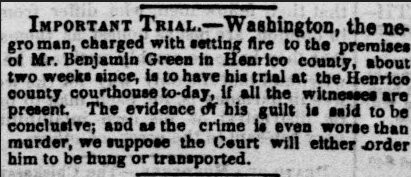 Known names of those in bondage who worked and lived on the property that is now the home of the University of Richmond, from documents and archival newspapers (Collage: Shelby Driskill)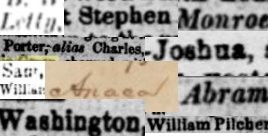 A portion of the dialogue between John Hutcheson and Washington, the enslaved man accused of setting fire to B.W. Green's barn and straw rick (from "Execution of Washington." Daily Dispatch (Richmond, VA), November 18, 1855)

Backstory and Context
In the early part of the 20th Century, a discovery was made near this spot. During a university construction project, workers uncovered the remains of some of the people who were once enslaved on this property: "...bones and skulls that are considered to mark the site of the old burying ground for Ben Green's slaves."1 In the late 1940s, another portion of the burial ground was uncovered by university workers:
"A small pile of bones, believed to be the skeletons of slaves buried more than 100 years ago, were unearthed at about noon today by a crew of workmen on the University of Richmond campus... The bones were reinterred almost immediately a few hundred yards away."2
While records have not yet revealed where the bodies were reburied, existing descriptions place their original location between the Physical Plant, Puryear Hall, and the spillway below Tyler Haynes Commons.
The remains discovered
here represent just a fraction of those who lived and worked in bondage on the Green property. Between 1850 and 1860, the number of enslaved people on the land from Three Chopt Road to River Road increased from 28 to 130. Thirty-one other men and women also lived here, leased from other slaveholders.3 In addition to a saw mill beside the dam, and numerous outbuildings, seventeen "slave buildings" housed those Green enslaved and those enslaved by others but were "employed" by Green.4

Among those who were held in bondage by Green was a woman named Anaca. He purchased her from an estate auction in 1847. Of the 113 people whose lives were transferred between slaveholders that day, only three were sold for less than 100.00: a man named Joe Tazwell and his wife Hannah, who together were purchased for 80.00, and Anaca, who B.W. Green purchased for five dollars. There are no further details of her life in the document.5

Here, too, lived Washington. In 1854, after being beaten by an overseer or Green himself, Washington was sent into the fields and away from his previous work with mules. Washington allegedly set fire to Green's barn and straw rick in retaliation.6 A news account of the trial describes a witness named Monroe testifying that, "Washington... was almost determined to go away and not return. Then hung his head and said he would have his revenge out of old Green yet."7


Washington was turned in by Stephen, an enslaved man who also worked on the Green property. Despite what is described as an "intimate" friendship, accounts of the arrest and trial indicate that Stephen was either forced to name Washington as the arsonist, or persuaded by what several witnesses described as Green's clear declaration that he would free whoever provided him the name of the guilty party, "even if it costs me a thousand dollars."
8
In court, however, Green claimed, "Do not remember having said any thing [sic] about setting any one free."
9
An account of Washington's execution that appeared in the
Richmond Dispatch
described Washington standing on the gallows and being questioned by Deputy Sheriff John Hutcheson, who said, "Tell me for my own satisfaction, whether you are guilty or innocent? Answer truly, for a lie will injure you in the sight of God."
10
Washington replied, "I am as innocent of the crime as you are; and from the bottom of my heart I declare it... I am not prepared to die, but do not mind it much. I know nothing of the commencement of the fire, nor does Stephen, for we slept together, side by side that night. I am as innocent of this crime with which I am charged, as this rope around my neck and in my hand... [Stephen] was made to do it by Mr. Anthony and Mr. Baughan, who locked him in the house and made him say that I did it. When they took him before the magistrate and he swore that I was guilty, I was never more surprised in my life -- he was forced to say what he did."
11
These are Washington's last recorded words. Despite the noted lack of evidence to corroborate Stephen's testimony,
12
Washington was executed at 11:05 A.M. on November 17, 1854.
13
There is no known record of Stephen being granted his freedom.
William, Porter, Joshua, Letty, Monroe, Abram, George, Peter, Stephen, Washington, Anaca. These are people whose names have been uncovered in recent archival research. The others who were enslaved by Green and other owners of this land, for now, remain nameless.

At the next stop, Ryland Hall, the exploration of untold narratives shifts to what is known of those whose enslavement intersected with the early days of the institution that would eventually be known as the University of Richmond.

Sources
1
Harlan, Howard H. Zion Town: A Study in Human Ecology. Charlottesville: University of Virginia, 1935, 14.

2
"Human Bones Unearthed at U of R."
Richmond News-Leader
(Richmond, VA) October 31, 1947.
3
"B.W. Green" in "US 7th Census, 1850 Slave Schedule, Henrico County, Virginia" National Archives, Washington DC (available online at ancestry.com); US 8th Census, 1860 Slave Schedule, Henrico County, Virginia" National Archives, Washington DC (available online at ancestry.com).
4
ibid.

5
Virginia Museum of History and Culture. Unknown No Longer, record 11339 (1847), https://unknownnolonger.Virginiahistory.org/record/11339.
6
"Important Trial." Daily Dispatch (Richmond, VA), August 17, 1854.

7
"Local Matters: Henrico County Court." Daily Dispatch (Richmond, VA), October 4, 1854.

8
ibid.
9
ibid.
10
"Execution of Washington." Daily Dispatch (Richmond, VA), November 18, 1855.
11
ibid.
12
Link, William A. Roots of Secession Slavery and Politics in Antebellum Virginia. Chapel Hill: University of North Carolina Press, 2003. 47.
13
"Execution of Washington." Daily Dispatch (Richmond, VA), November 18, 1855.
Additional Information