Clarenbach House
Introduction
The Clarenbach House, also known as the Benajah Warnes Rental House, was the home of many LGBTQ+ political activists during the late 1970s through the 1980s. There is currently a motion by the Clarenbach House Project in late 2017 to have the house deemed a historic landmark.
Images
The Clarenbach House; image from the Wisconsin Historical Society profile on the property.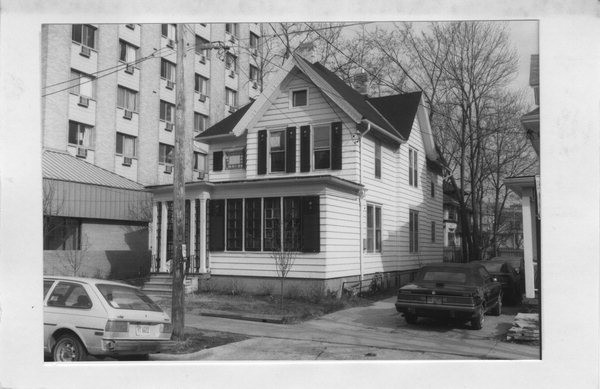 Backstory and Context
The story of the significance of this house starts in 1977, when David Clarenbach lived in the residence. Clarenbach (for whom the house is now named) was a Wisconsin state lawmaker who wrote and advocated for the country's first state-wide gay rights bill, called AB70, in the Wisconsin Legislature. This bill was passed in 1982. Jim Yeadon also lived in the house and was the first openly gay person to be elected to the Common Council in 1977.
Other notable figures that have lived there are Lynn Haanen and Earl Bricker. Then a Dance County Board member, Haanen lived in the Clarenbach House from 1982 to 1986 and helped pass a gay rights ordinance. Bricker would move into the house in 1983 and later became apart of the Governor's Council on Lesbian and Gay Issues under Governor Tony Earl. While she never lived there, U.S. Senator Tammy Baldwin had also held her first campaign event at the Clarenbach House on Dec. 6, 1985, when she had just been running for the Dane County Board.
In late 2017, there was a submitted application to the city to have the Clarenbach House given landmark status for its involvement in Wisconsin's LGBTQ+ history. This preservation was championed by the Clarenbach House Project. Steve Brown Apartments has owned the property since 1989, and since its failed attempt to move the house in 2014. This decision was made because the Clarenbach House happens to be in the Mansion Hill Historic District, which is a protected area.
As of June 2018, the CEO of Steve Brown Apartments, Margaret Watson, has offered to gift the house to the Madison Trust for Historic Preservation, the Clarenbach House Project, or a different but appropriate organization. The gift of the house includes Steve Brown moving the house to a different lot (113 w. Gorham St.), but it would still be in the Mansion Hill Historic District.
Sources
"123 W GILMAN ST | Property Record." Wisconsin Historical Society. 2018. Accessed October 29, 2018. https://www.wisconsinhistory.org/Records/Property/HI37062.
Brown, Steve. "Margaret Watson: Preservationists Can Have Clarenbach House as Gift." Wisconsin State Journal. June 10, 2018. Accessed October 29, 2018. https://madison.com/wsj/opinion/column/margaret-watson-preservationists-can-have-clarenbach-house-as-gift/article_49cb2d84-91d2-5927-8552-7e6c3cc1c3da.html.
"Clarenbach House Project Kick-Off." Isthmus | Madison, Wisconsin. November 29, 2017. Accessed October 29, 2018. https://isthmus.com/events/clarenbach-house-project-kick-off/.
Davidoff, Judith. "Preserving LGBT History." Isthmus | Madison, Wisconsin. December 13, 2017. Accessed October 29, 2018. https://isthmus.com/news/news/preserving-lgbt-history/.
Additional Information