Camp Atkinson, Spanish-American War
Introduction
Around this area stood Camp Atkinson, a short-lived military camp established during the Spanish-American War. This tent encampment was erected on the north bank of the Kanawha River in June 1898. It was named after Governor George Atkinson and replaced an earlier site in Kanawha City, Camp Lee, which had been unpopular with locals. Volunteers from communities such as Wheeling, Charleston, Point Pleasant, Hinton, and Williamson were brought to the camp over the summer and organized into the Second West Virginia Volunteer Infantry Regiment. Here they received their supplies and performed military drills for training. Camp Atkinson was dismantled in August 1898 when the regiment was transferred to Camp Meade in Pennsylvania, and nothing of the site remains today. Because of the war's short duration, the Second West Virginia was never deployed into combat. It was later mustered out of service in April, 1899.
Images
This July 22, 1898 article of the Clarksburg Telegram describes the "fighters" in Camp Atkinson. Image obtained from the Library of Congress, Chronicling America database.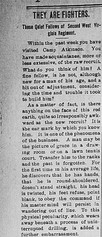 This July 6, 1898 article of the Wheeling Intelligencer describes life in Camp Atkinson. Image obtained from the Library of Congress, Chronicling American database.

The Spanish-American War was a relatively brief affair, lasting from April 1898 to August 1898. It had long lasting implications for the United States, giving it possession of Puerto Rico, Guam, and the Philippines. Image obtained from Wikimedia.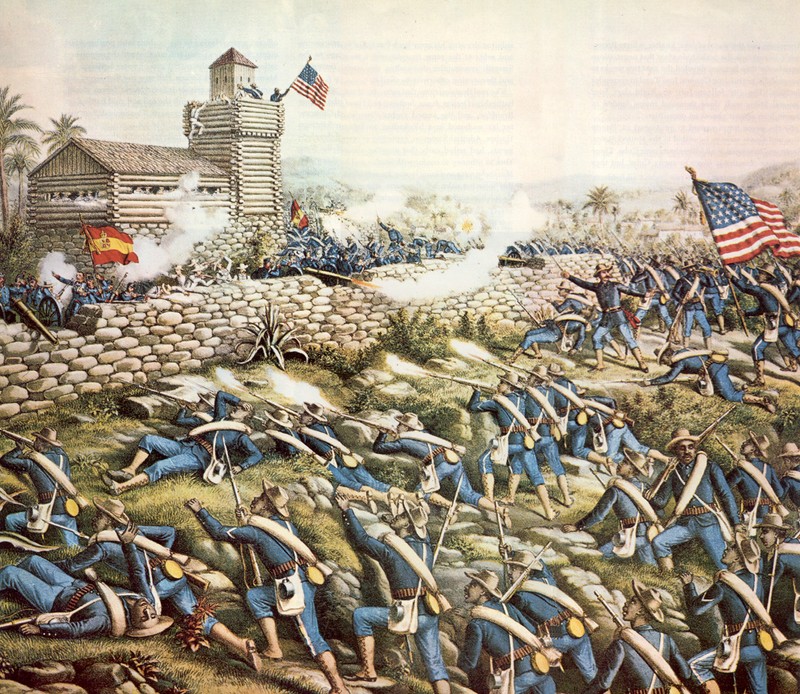 Backstory and Context
The Spanish-American War began in late April 1898 when both Spain and the United States declared war on each other. Tensions between the two had been building for several years due to American sympathies for rebels in Cuba, a Spanish colony. Relations deteriorated even further in February when the naval ship USS Maine exploded under mysterious circumstances while stationed in Cuba. The war was notably very short and ended in a decisive American victory. As a result of the war, Cuba gained its independence, and the United States gained control of Puerto Rico, Guam, and the Philippines from Spain.
Soon after the declaration of war in April, West Virginia National Guardsmen were organized into the 1st West Virginia Volunteer Infantry Regiment. They assembled at an encampment dubbed Camp Lee in Kanawha City near Charleston, and were quickly dispatched to Camp Thomas in Georgia. Reportedly Camp Lee was unpopular with locals due to significant disorganization and dysfunction at the site. In May 1898, President William McKinley sent a request to Governor George Atkinson requesting the formation of a second regiment for the war. It was decided to have this group assemble at a different place after several citizens of Kanawha City voiced their concerns to Adjutant General John Appleton of the West Virginia National Guard.
A new camp was officially established on June 27, 1898 to house what would become the Second West Virginia Volunteer Infantry Regiment. It was located on the north bank of the Kanawha River directly across from the small community of Elk, and about a half mile below the mouth of the Elk River. The encampment was named Camp Atkinson after the governor. Officials decided not to construct barracks on the site, and instead erected tents. An American flag and a small, three-inch cannon from the state Capitol grounds were displayed in front of the officers' tents.
Multiple companies were organized in communities across the state such as Charleston, Wheeling, Point Pleasant, Hinton, and Williamson and arrived in Camp Atkinson throughout the summer. These were combined to form the Second West Virginia Volunteer Infantry. At least one African American company was organized and brought to camp as well. Altogether the camp housed around 1,300 soldiers. Here soldiers received their uniforms and firearms, and spent most of their time training and practicing drills. Their day normally began at 5:20 a.m. and ended at 11:00 p.m. They were formally mustered into the federal service by Captain J. M. Burns of the 17th U.S. Infantry. Colonel D. T. E. Casteel served as commander of the regiment.
The soldiers of Camp Atkinson enjoyed generally good relations with the locals in nearby Charleston. Visitors to the site were frequent. Several people offered to provide the troops with free ice. Christian organizations gave them reading material, including New Testaments. A group of ladies in Charleston made flags for the regiment; these were presented in a large ceremony on August 8, during which Governor Atkinson addressed the troops. Activity at camp was generally quiet. There were very few cases of illness, and only two criminal incidents were known to be reported; a Private Rose was arrested for shooting at a Lieutenant Kuntz, and an African American referred to as Curry was arrested for selling alcohol in camp.
Camp Atkinson was swiftly dismantled on the morning of August 19, 1898 when the Second West Virginia boarded trains to Camp Meade in Middletown, Pennsylvania. The Spanish-American War had ended on August 12, so the soldiers would never see combat. In fact, the vast majority of West Virginians to enlist in the military during the war did not participate in any engagements. Later the Second West Virginia was transferred to Camp Wetherill in Greenville, South Carolina, where they were mustered out of service on April 10, 1899.
Sources
"At Camp Atkinson." Charleston Daily Gazette. July 12, 1898. Accessed December 2, 2018. http://www.wvculture.org/history/military/spanishamerican05.html
Cohen, Stan. "Spanish-American War." e-WV: The West Virginia Encyclopedia. October 29, 2010. Accessed December 2, 2018. https://www.wvencyclopedia.org/articles/527
"Flag Presentation." Charleston Daily Gazette. August 8, 1898. Accessed December 2, 2018. http://www.wvculture.org/history/military/spanishamerican06.html
"History of the Second Regiment West Virginia Infantry." Third Biennial Report Of the Department of Archives and History of the State of West Virginia. 1911. Accessed December 2, 2018. http://www.wvculture.org/history/military/spanishamerican01.html
"Postponed Again." Charleston Daily Gazette. August 18, 1898. Accessed December 2, 2018. http://www.wvculture.org/history/military/spanishamerican07.html
"Regiment Has Gone." Charleston Daily Gazette. August 20, 1898. Accessed December 2, 2018. http://www.wvculture.org/history/military/spanishamerican08.html
"Second Regiment." Charleston Daily Gazette. June 24, 1898. Accessed December 2, 2018. http://www.wvculture.org/history/military/spanishamerican02.html
"Spanish-American War." History.com. May 14, 2010. Accessed December 2, 2018. https://www.history.com/topics/early-20th-century-us/spanish-american-war
"The Mingo Company Is Now Part of The Second West Virginia Regiment." Charleston Daily Gazette. July 6, 1898. Accessed December 2, 2018. http://www.wvculture.org/history/military/spanishamerican04.html
"The Tents Arrive And Several Companies Have Already Gone Into Camp." Charleston Daily Gazette. June 28, 1898. Accessed December 2, 2018. http://www.wvculture.org/history/military/spanishamerican03.html
Image 1: https://chroniclingamerica.loc.gov/lccn/sn84037844/1898-07-22/ed-1/seq-2/#date1=1898&sort=date&rows=20&words=Atkinson+Camp&searchType=basic&sequence=0&index=14&state=West+Virginia&date2=1898&proxtext=Camp+Atkinson&y=0&x=0&dateFilterType=yearRange&page=2
Image 2: https://chroniclingamerica.loc.gov/lccn/sn84026844/1898-07-06/ed-1/seq-5/#date1=1898&sort=date&rows=20&words=ATKINSON+Atkinson+Camp+CAMP&searchType=basic&sequence=0&index=1&state=West+Virginia&date2=1898&proxtext=Camp+Atkinson&y=0&x=0&dateFilterType=yearRange&page=2
Image 3: https://en.wikipedia.org/wiki/Spanish–American_War#/media/File:San_Juan_Hill_by_Kurz_and_Allison.JPG
Additional Information