Grave of Primus Mason (Oak Grove Cemetery)
Introduction
Because of its reputation as an abolitionist enclave and a its role on the Underground Railroad, Springfield had a thriving African American community as far back as the early 1800s. In the 1830s, Primus Mason, a free man, settled in the city. Mason left for a time during the mid-1800s to pursue gold and California. When he returned, he was wealthy and proceeded to become even wealthier through his business dealings in Springfield. At his death, he bequeathed money for the establishment of a home for aged men, which continues today as Mason Wright Senior Living. Mason is buried in Oak Grove Cemetery.
Images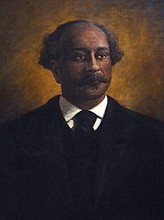 Backstory and Context
In the early 1800s, Springfield had a small but growing African American community. Many runaway slaves made their way to Springfield because the city was a station on the Underground Railroad. Many free Blacks made a home there as well, drawn by the city's reputation for tolerance.

Primus Mason was born to free Black parents in 1817. As a child, he was apprenticed to a farmer who physically abused the child. When he was twenty, Mason ran away to Springfield to escape the farmer's brutality. Mason had no formal education but possessed a keen business acumen and he made his first real estate purchase the same year that he arrived in Springfield. Over the years, Mason bought numerous parcels in the Hill area and sold them to developers at a profit.

On one occasion, Mason heard that the farmer who had beaten him was interested in buying a particular piece of property. Mason bought it first, then sold it to the farmer at a much higher price.

After hearing the news that gold was discovered in California, Mason made his way west, eventually returning to Springfield as a wealthy man. He bought numerous parcels in Springfield, including land at the junction of Wilbraham Road and State Street. He later sold that parcel to the city, which built a firehouse on the plot and later named it Mason Square.

Mason was married three times but outlived each of his wives, as well as his only child, a daughter. When he died, he left much of his estate for the establishment of a "home for aged men." The result was the Springfield Home for Aged Men, which opened in 1903 and continues operation as Mason Wright Senior Living.

Mason is buried in Oak Grove Cemetery.



Sources
Benefactors--Primus P. Mason. Mason Wright. . Accessed December 02, 2018. https://masonwright.org/about-us/history-of-mason-wright/benefactors/.

Resisting Slavery--Primus Mason. Our Plural History. . Accessed December 02, 2018. http://ourpluralhistory.stcc.edu/resistingslavery/primus.html.