The Great 1913 Flood Exhibit
Introduction
The Great 1913 Flood remains Ohio's worst natural disaster. Twenty-feet high waters rushed up to twenty-five miles per hour, destroying hundreds of homes, breaking gas lines, and killing approximately four hundred people statewide. This exhibit at the Carillon Historical Park touches upon the gravity of the disaster and pays respect to those who died because of it.
Images
The Great Flood of 1913 (photo from Dayton Daily News)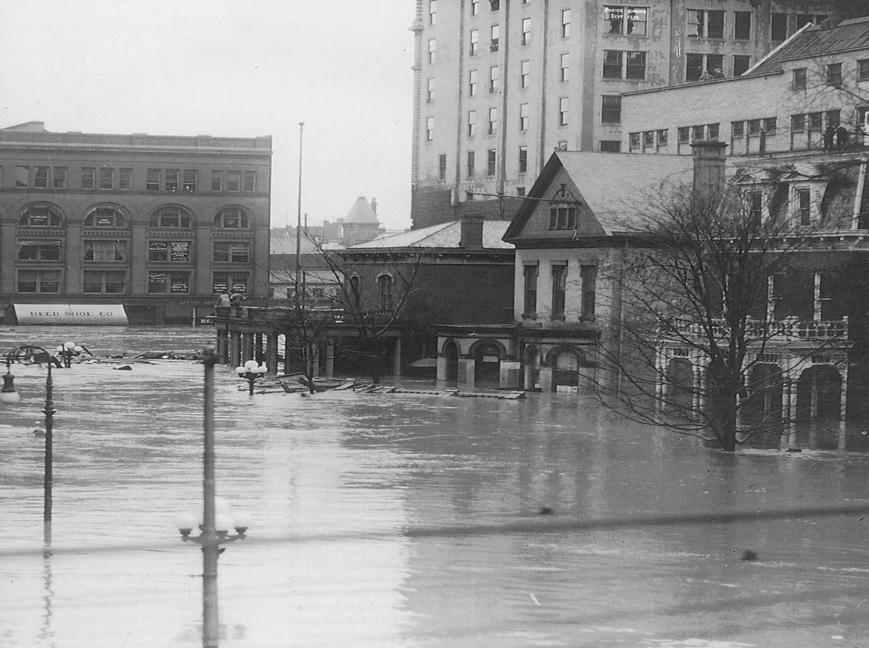 The destruction left from the flood (photo from Dayton Daily News)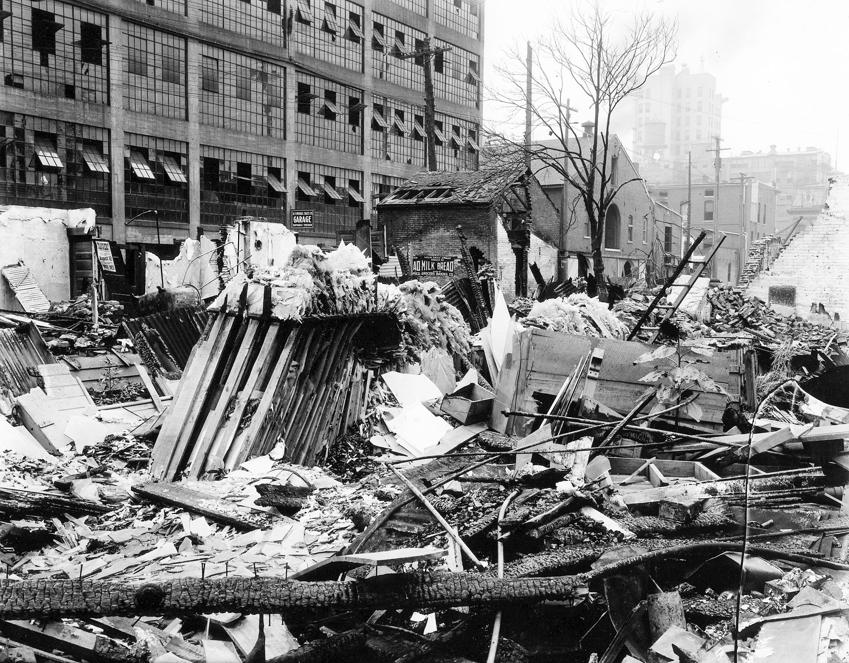 Backstory and Context
The storm that caused the Great 1913 Flood began on March 21. Two days later, on Easter Sunday, eight to eleven inches of rain started to fall daily. After a week, the Great Miami River was rising about two feet an hour. The levees, which had a capacity for 25,000 cubic feet, were no match for the 250,000 cubic feet of water per second that was rushing through the channel. It is estimated that between 98 and 123 people died in Dayton as a result of the flood. 65,000 were displaced from their homes. The town was left more than $100 million in damage.
To deal with the aftermath, the National Cash Register Company (NCR) turned a ten-story factory into a relief center that produced over two hundred rescue boats. It was also a place where locals could find shelter, eat, receive medical care, and even get a haircut. Temporarily, the NCR garage was used as a morgue. Another major project of the time was the creation of the Miami Conservancy District, a system of dams in the Miami Valley, spearhead by Carillon Historical Park founder Colonel Edward A. Deeds. On May 25 and 26, locals raised over two million dollars to fund the project.
Sources
The Great 1913 Flood Exhibit. Dayton History. Accessed November 29, 2018. https://www.daytonhistory.org/visit/things-to-see-do/the-great-1913-flood-exhibit/. Information and photo source.

Powell, Lisa. The Great Dayton Flood of 1913: 15 things to know about broken levees, rescue boats and lost lives. Dayton Daily News. March 20, 2017. Accessed November 29, 2018. https://www.mydaytondailynews.com/news/the-great-dayton-flood-1913-things-know-about-broken-levees-rescue-boats-and-lost-lives/6MzhsTtAysABc4pFACBjpL/.

PHOTOS: Devastating images from the Dayton flood of 1913. Dayton Daily News. Accessed November 29, 2018. https://www.mydaytondailynews.com/news/photos-devastating-images-from-the-dayton-flood-1913/Oeu7n0MGrR8UQ4UeKxPIEJ/#-3sFFJdzTpWZzgcqAm1JcQ. Photo source.


Additional Information