Floodwall Murals
Introduction
Along the Mississippi River is a 15-foot floodwall that features numerous murals on both sides depicting people and events of Cape Girardeau's history. Most have an accompanying interpretive sign in front providing a short description. Several artists have painted murals including Chicago resident Thomas Melvin painted several of the murals, including the Mississippi River Tales mural which portrays a Carolina parakeet and a hawthorne plant, the state's official flower.
Images
The floodwall features murals on both sides and many murals have interpretive signs explaining the person or event being depicted.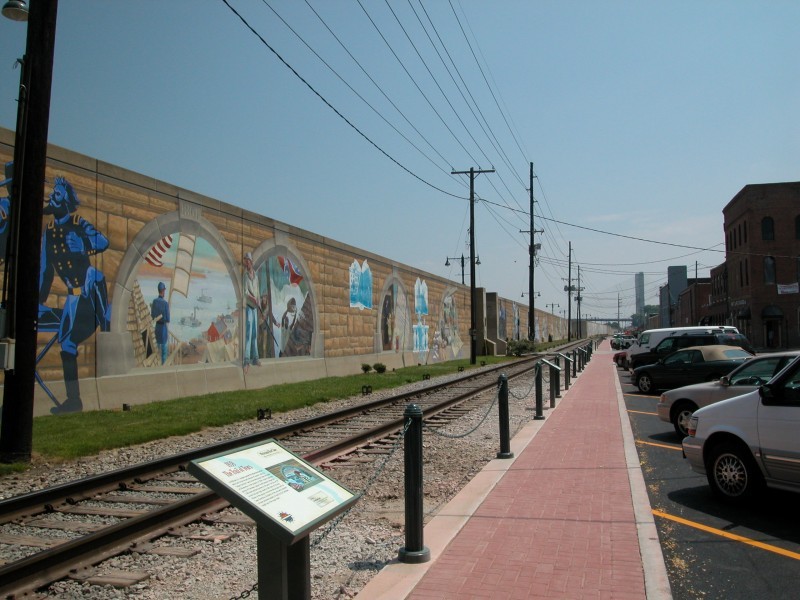 Backstory and Context
Cape Girardeau has always been known for its murals. But the floodwall, which was built in 1964 by the Army Corps of Engineers, did not have any murals until 1991 when the mural "Welcome to Cape Girardeau" was painted. The idea for murals on the floodwall was initiated by the River Heritage Association, which was established in 1987 to help reconnect the city with the river.
Sources
MacRobie, Barbara. "Wondrous Walls: Missouri's Mural Cities." September 2015. https://www.missouriartscouncil.org/graphics/assets/documents/8031b582b8c9.pdf.
"River Heritage Museum Association Merges with Old Town Cape." September 2, 2009. https://www.semissourian.com/story/1566983.html.
Photo:
Cape Girardeau - CVB
Additional Information