Red House Interpretive Center
Introduction
The Red House Interpretive Center is the recreated trading post of Louis Lorimier (1748–26 1812), the founder of Cape Girardeau. It commemorates his life and legacy and also the visit of the famous explorers Lewis and Clark, who stopped at the post in November 1803 to pick up supplies for their expedition to the Pacific Ocean. Inside, visitors will find three rooms: Lorimier's trading post, the Lorimier Room which replicates what his home may have looked liked, and the Girardeau Room which features interpretive panels with information about the area's history. Visitors will see authentic period items including tools, animal furs, clothing, and other items on display. There is also a historic garden that has plants and herbs typically grown in the early 1800s.
Images
The Red House Interpretive Center is a replica trading post of the city's founder, Louis Lorimier. It features exhibits about Lorimier's life and the visit of Lewis and Clark.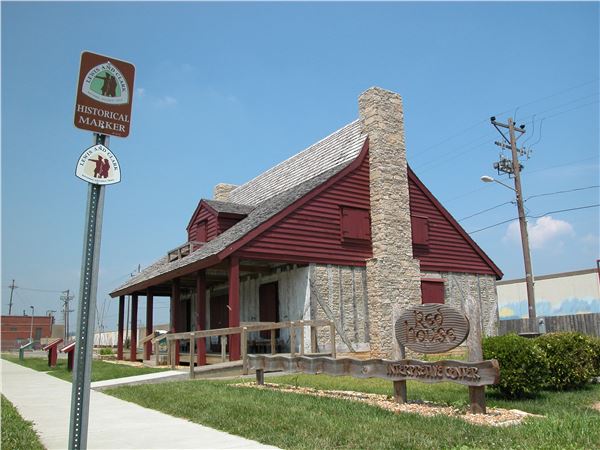 Backstory and Context
Louis Lorimier was born in Montreal, Canada. His father Claude-Nicolas de la Rivière de Lorimier, a French colonial officer and commander of Fort de la Présentation, which is located along Hudson River in Ogdensburg, N.Y. In 1769, he moved with his father to a Miami Indian village in Ohio called
Pickawillany. A British trading post was established next to the village in 1748.

When the American Revolution started in 1776, the British hired Lorimier marshal native support for Britain. He moved to present-day Shawnee County and established a trading post (under the British flag) to gain the support of the Shawnee Indians. Shawnee warriors and Lorimier participated in the attack on an American settlement in Kentucky called Boonesborough in September 1778. He continued to fight for the British for the duration of the war.

In 1783, Lorimier married a mixed French-Shawnee woman named Pemanpich; they had six surviving children. They moved to a location along the White River in 1785 in present-day Indiana to trade with the Delaware Indians. Two years later, they moved again, this time to Illinois. Not long after that, they moved once more to what is now St. Genevieve, Missouri, which at that time, was part of Spanish territory. Having learned of Lorimier's skill at establishing trading posts and settlements, and his ability to successfully interact with Indians (he became an interpreter), the Spanish hired him to found settlements along the Mississippi River (to strengthen their control on the river). He encouraged Shawnee and Delaware Indians as well as white settlers to settle in Missouri.
This is how Cape Girardeau started. By 1804, the settlement had about 1,400 settlers. The Spanish appointed him captain of militia and command of the district of Cape Girardeau. After the United States acquired the lands west of the Mississippi from the French (as a result of the Louisiana Purchase of 1803), Lorimier almost moved to Mexico where he could live under Spanish rule again. But U.S. officials, realizing talents, won over his loyalty by appointing him judge of the court of common pleas and allowed his son to enroll at West Point, despite having a half Indian mother. Lorimier married again after Penmantich died at the age of 50. He had a child with his new wife but it died as a baby. He did have a son with another unknown woman.

Lorimier was an interesting man, who wore both European and Indian clothing. He was well respected by Indians, the French and the English for his ability to live in both worlds. He remained in Cape Girardeau until his death in 1812.
Sources
Fasulo, Alexandra. "Louis Lorimier." Accessed November 27, 2018. https://www.stl.news/louis-lorimier.

Red House Interpretive Center. Accessed November 27, 2018. https://www.cityofcapegirardeau.org/departments/parks/Facilities/red_house_interpretive_center.

Sugden, John. "Lorimier, Louis." American National Biography." February 2000.
http://www.anb.org/view/10.1093/anb/9780198606697.001.0001/anb-9780198606697-e-2000605#.
Additional Information