The Neon Movies
Introduction
The Neon Movies, originally named the Dayton Movies, was built in 1986. It was the first theater to be built in downtown Dayton since 1922 and was the first downtown theater built in a major U. S. city in over twenty years. The Dayton Movies closed in 1988, but it reopened just a day later as the Neon Movies. Since then, the theater has changed ownership multiple times and has been renamed the New Neon Movies. The theater attracted national attention on two occasions: once in 1996 when it was fitted with Cinerama technology, and again when actress Allison Janney, a Dayton native, tweeted about it after winning an Oscar for her role in "I, Tonya."
Images
"Everything people liked about the movies, I tried to make into a movie central." - Larry Smith, former manager of the Neon Movies.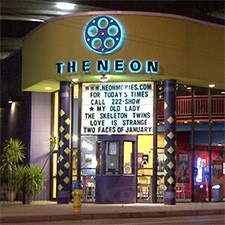 Backstory and Context
The Dayton Movies theater opened on August 22, 1986. Funds for the 300-seat theater came from City-Wide (a non-profit dedicated to the development of Dayton), a city grant, and developer Bill Chronis, totaling $483,000. It was operated by Larry Thomas, Phil Borack, and Norman Barron as a repertory theater that showed classic and independent movies. The opening night feature was a free screening of Gone With the Wind. After just two years, Dayton Movies closed on April 27, 1988. One day later, the theater reopened as the Neon Movies, owned by Bill Chronis and operated by former manager Larry Smith. It was Smith's idea to screen Martin Scorsese's controversial The Last Temptation of Christ, which garnered attention from the local press and become the theater's highest grossing film until it was replaced by The Rocky Horror Picture Show.
Also in the spring of 1988, FLICKS, or the Film Lovers Idolizing Klassics Society, was formed. The group chose a lineup of films that followed a particular theme, and the Neon Movies screened them during usually-slow time slots. As the society grew, attendance at the classic movie showings improved. The society also planned events such as costume and cooking contests to boost attendance even further. The series continued during Larry Smith's absence from 1990 to 1992 when he became the new president of Variety Cinemas, which then operated the theater. Upon his return, Smith started showing 3-D movies, and they became so popular, patrons had to be turned away. However, by 1995 business slowed and FLICKS disbanded.
Another of Smith's ideas brought the Neon Movies national attention and celebrity guests like Leonard Maltin and Quentin Tarantino: In 1996, the Neon Movies began exhibiting Cinerama films. Cinerama was a 35 mm film process that was achieved by using three cameras, one in front and two on either side, to film a movie's action. The three sets of films were then projected side-by-side to achieve a peripheral perspective that had six times as much area as a standard 35 mm film and was twenty-five times sharper in focus. John Harvey, a Dayton projectionist who first saw Cinerama in action in 1953, constructed a Cinerama theater in his house. Larry Smith brought film students from Wright State University to watch Cinerama films in Harvey's home. The two then began to formulate how they could bring Cinerama to the Neon.
Plans were being made in 1996 to split the theater's auditorium in two, so Smith had to prove quickly that audiences would support the installation of Cinerama technology. After receiving over 2,000 letters and encouraging words from critic Leonard Maltin and actor James Stewart, the project was greenlighted. After months of work, John Harvey set up the projection booth and enlisted the help of four other men to help him run it. Visitors from around the world lined up for what would be the first screening of This is Cinerama in over thirty-two years. Though it was intended to be a temporary exhibition, Cinerama was used in the Neon for another three years.
Larry Smith left the New Neon Movies in 1998 (it had been renamed after a change of ownership in 1993). Another employee then took over the managerial duties. Three years later, the theater changed ownership again and closed for a brief time for renovations that included updates and splitting the auditorium into two theaters. After another brief closure, the Neon reopened on September 23, 2016.
Sources
Walker, Tim. The Neon: Still Packing Them In. The Dayton Magazine. Accessed November 26, 2018. http://thedaytonmagazine.com/DM/Articles/The_Neon_Still_Packing_Them_In_5771.aspx.

Dalton, Curt. When Dayton Went to the Movies Chapter Three. Dayton History Books. Accessed November 26, 2018. http://www.daytonhistorybooks.com/page/page/1475811.htm.

The Neon Theater. Dayton.com. December 03, 2014. Accessed November 26, 2018. https://www.dayton.com/places/theater/the-neon-theater/AZ7pQKKPDs4WUPYbS1WPRL/.

$5.50 Movie Day at the Neon. Dayton Local. Accessed November 26, 2018. https://www.daytonlocal.com/things-to-do/movie-night-at-the-neon.asp. Photo source.


Additional Information