Hodgson-Aid Mill
Introduction
The Hodgson Mill company, which sells its products nationally and internationally, got its start right here at this historic grist mill. The first mill was built in 1861 by William Holeman. It was destroyed during the Civil War but was rebuilt sometime after the war (even as perhaps as the late 1890s) either by him or Alva Hodgson, who bought the mill around the mid-1880s. It stopped operating in 1976 and is today privately owned. There is a gravel parking area along the road so it is easy to stop by a view the old structure, though it is not clear if visitors are allowed inside. An image of the mill is the focal point of the company's logo.
Images
The Hodgson-Aid Mill is where the Hodgson Mill company got its start.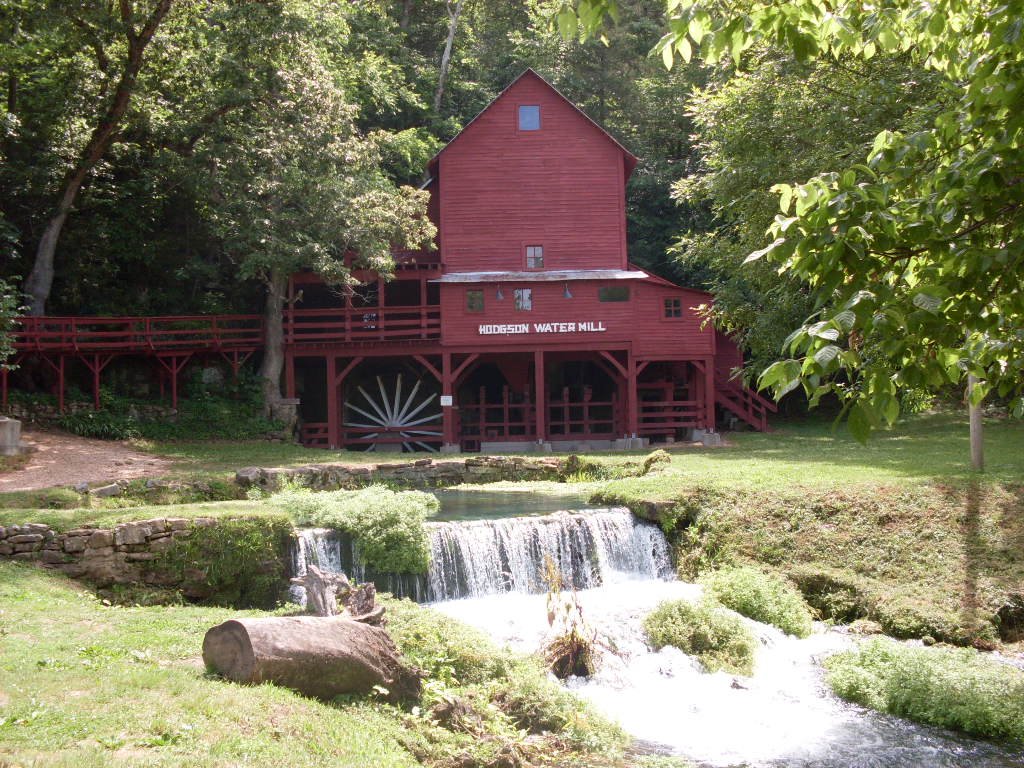 Backstory and Context
William Holeman operated the mill until he died in 1879. Alva Hodgson's father was a miller and Alva followed in his father's footsteps. The first known written record of a Hodgson ancestor operating a mill states that a man named William Hodgson operated a mill in North Carolina in 1787. Alva Hodgson passed the business onto his brother George in 1898, who managed to grow the business, taking advantage of the use of the water turbine that Alva had installed in the mill. Water turbines were more efficient and productive. The mill attracted increased business and thrived for many decades until the 1960s, when saftety concerns and the need for increased production prompted the company to move to Gainesville. Today, the company is located in Ephraim, Illinois.
Sources
Goodwin, Juliana. "Hodgson Mill, known for non-GMO products, got its start in the Ozarks." Sprinfield News-Leader. February 12, 2016.
https://www.news-leader.com/story/news/business/2016/02/12/hodgson-mill-known-non-gmo-products-got-its-start-ozarks/80266004.

"Our Story." Hodgson Mills. Accessed November 21, 2018. https://www.hodgsonmill.com/pages/our-story.

Snider, Becky L. "Hodgson-Aid Mill." National Park Service - National Register of Historic Places Nomination Form. February 12, 2002.
https://dnr.mo.gov/shpo/nps-nr/02000015.pdf.

Photo: Wikimedia Commons
Additional Information