Berry Cemetery
Introduction
Located just north of Farm Road 74 is a small but significant historic African American cemetery called Berry Cemetery (it is also known as Holy Ressurection Cemetery). It was established by local African-American farmer William H. Berry on his land in 1875 because former slaves were not allowed to be buried in the cemetery in Ash Grove. There are 50 marked graves, which date from 1875 until 1948, and likely many more unmarked ones. The cemetery, which was also for Indians and paupers, is a reminder of the African American community that once prospered here during the late 19th and early 20th centuries.
Images
William H. Berry as a young man.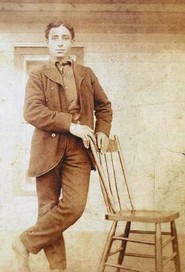 Rev. Moses Berry owns the cemetery and is the pastor at his church, which is not far from the cemetery.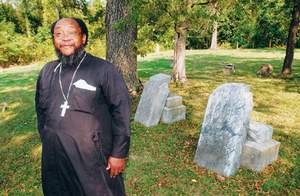 Backstory and Context
Before the Civil War, few people lived in Ash Grove. It wasn't incorporated until 1871 and railroads didn't arrive until the mid- to late 1870s. The town soon became an important economic link for surrounding counties to Springfield. This increased prosperity attracted new industries and job seekers, including African Americans, who were among the earliest settlers in the area.

Unfortunately, there are few written records of the African Americans who lived here. What is known is that there were African American churches and schools and, in terms of jobs, many African American men worked on farms or at the Ash Grove Lime and Portland Cement Company, which operated a quarry and lime kilns for many decades. The company moved to another town in 1910 and the African American population began to steadily decline, as most moved elsewhere to find work.

Several African Americans owned farms as well. One of these was William H. Berry, who is recorded in the county census in 1870 when he was 21 years old. Apparently, he came from Arkansas and had $150 to his name, which was a substantial sum at that time. He married Caroline Boone (daughter of a slave named Maria Boone, whose owner was Nathaniel Boone) in 1872. Eventually, Berry bought the deed for his property in 1881 from the St. Louis and San Francisco Railway. Family descendants have continuously owned the property. Today, it is owned by Father Moses Berry, who is the pastor at the nearby Theotokos Unexpected Joy Orthodox Church.

Sources
"Berry Family Cemetery." Look to the Past. Accessed November 20, 2018. http://www.looktothepast.com/berry.html.

Emrie, Gail. "Berry Cemetery." National Park Service - National Register of Historic Places Nomination Form. November 13, 2004. https://dnr.mo.gov/shpo/nps-nr/04001224.pdf.
Johnson, Doug. "Missouri man opens his family album for slavery museum."
The Journal Times
. July 16, 2000.
https://journaltimes.com/news/national/missouri-man-opens-his-family-album-for-slavery-museum/article_1d46bb6e-5f02-5224-b952-d7831ea8778b.html.
McCarty, Jim. "Keeping the Old Time Faith." Rural Missouri. Accessed November 20, 2018. http://www.ruralmissouri.org/02pages/Feb02Moses.html.
Photos: Looktothepast.com
Additional Information