Howard Medical College
Introduction
Howard Medical College dates back to November 9, 1868, when the Medical Department of Howard University held its first classes with five faculty members and eight students. Seven of the eight students were African Americans, and as the department grew along with the university, a rising number of Black physicians joined the ranks of Howard graduates. The founding faculty members included four white and one African American professor, Dr. Alexandra Augusta. Augusta was the forebearer of many African American physicians whose career served African American communities at a time when they were denied service in many doctor's offices and hospitals. And like Augusta, these graduates became leaders in the military, civil service, business, and community organizations.
Images
Dr. Augusta (pictured on the far left with his colleagues) taught at Howard Medical School after retiring from the service and worked to help cofound the racially inclusive National Medical Society of the District of Columbia.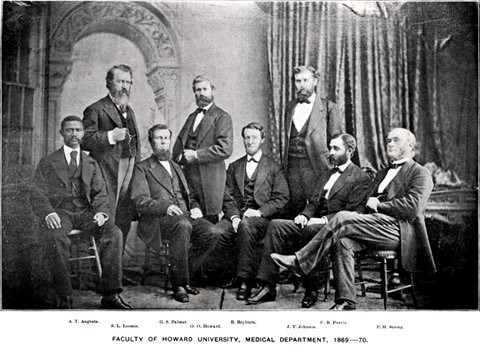 The original Howard Medical College's first graduating class was comprised of eight students and 5 five professors including Dr. Augusta.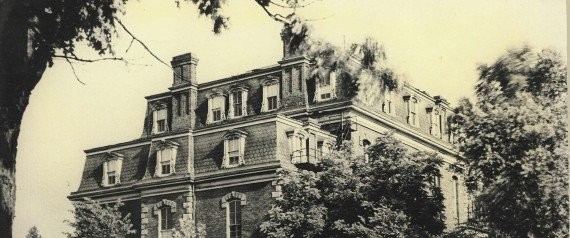 After his death on December 21, 1890, Dr. Augusta became the first African American to be layed to rest at Arlington National Cemetery.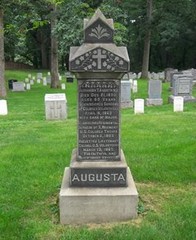 Backstory and Context
Since its founding in 1867, Howard University has offered the most advanced degree opportunities to African American students, including the medical programs. The original campus, located in a one-room building, grew to become an institution that served the people of DC and trained thousands of Black physicians. The first graduating class of Howard Medical College was comprised of one white student and seven African American students, a reflection of the university's commitment to have an acceptance policy that did not require a high school diploma and only required students to be of good moral character. Howard University has expanded since its founding to included Howard Hospital, a law school, and 13 satellite campuses.
Dr. Augusta, the first professor of color at Howard's Medical Department, was born in Norfolk, Virginia on March 8, 1885. He later moved to Baltimore, where he pursued a career as a barber and received private tutoring in the field of medicine. Augusta was rejected from each college in the United States but persisted until he was able to receive formal training outside of his home country. Augusta, under the guidance of Professor William Gibson from the University of Pennsylvania, applied for admission to the University of Toronto. Rejected from American colleges owing to his race, Augusta was accepted to the university and graduated with a bachelors in medicine from Toronto's Trinity Medical College.
Augusta became the Toronto region's first African American physician. Augusta used this status to become a role model and leader of the community, and often donated his services to the poor of Toronto. He also founded literary organizations that donated books to African American students and authored several antislavery articles. In 1863 he returned to the states to support the Union cause and help people of color escape the bonds of slavery.
Augusta wrote to President Lincoln on January 7, 1863, shortly after the Emancipation Proclamation went into effect. Augusta requested that he be placed as a surgeon in the African American unit in the Union Army which started his military career as the first African American regimental surgeon of the 7th Regiment of U.S. Colored Troops. After this appointment, Augusta rose to the rank of Brevent Lieutenant Colonel and was later placed in charge of an army hospital in Savannah, Georgia. This opportunity allowed Dr. Augusta to rise to the rank of Major on April 4, 1863 which made him the first African American to achieve that rank in the army.
While Dr. Augusta broke down barriers within the segregated armed forces, but in the first part of his service, he was only paid the salary of an enlisted man. However, he successfully petitioned the army and received pay based off his rank. After winning this battle, Augusta was the victim of a brutal hate crime. When coming off a train in Baltimore, Maryland Augusta was attacked by white passengers who were offended by the sight of an African American in an officers uniform. Augusta responded by publicizing the details of his horrific ordeal despite the likelihood of reprisals. He also led efforts to desegregate the railway system in DC.
Augusta resigned his commission on October 13, 1866. After his military service, he taught human anatomy at Howard University while serving as a private physician from 1866 to 1877 when he retired. Dr. Augusta passed away on December 21, 1890, and became the first African American officer to be buried in Arlington Cemetery.
Sources
"Alexander Augusta, a Pioneering Doctor." AAREG. Accessed 0ctober 30, 2018. https://aaregistry.org/story/alexander-augusta-a-pioneering-doctor/

"Alexander T. Augusta, Major United States Army." Arlington National Cemetery Website. Last Modified August 6, 2006. http://www.arlingtoncemetery.net/ataugust.htm.

Henig, Gerald S. "The Indomitable Dr. Augusta: The First Black Physician in the U.S. Army." Army History, no. 87 (2013): 22-31. http://www.jstor.org.marshall.idm.oclc.org/stable/26298851.

"History." Howard University. Accessed November 1, 2018. https://www2.howard.edu/about/history.

Taylor, Alice. "Doctor of Courage Rejected by American universities, Alexander T. Augusta completed his medical degree at Trinity Medical College then used his skills to fight for civil rights in his homeland." University of Toronto Magazine. Last modified February 3, 2015. https://magazine.utoronto.ca/campus/history/doctor-of-courage-alexander-augusta-civil-rights-hero/

"This Day in History: Howard Medical University School of Medicine Opens." HuffPost. Last modified November 9, 2013.https://www.huffingtonpost.com/2013/11/09/howard-university-medical_n_4242268.html.


"Trinity College: 1850-to the Present" Trinity College University of Toronto. Accessed October 24, 2018. https://www.trinity.utoronto.ca/about/trinitycollegetimeline.html.
Additional Information