Everett Russell Fluharty Gravesite
Introduction
Music, family, harmony, and community; these were the four that Everett "Russ" Fluharty sought to unite through his performances and education. Russ Fluharty, (December 13, 1906-March 29, 1989), was a popular local musician known simply as "The Dulcimer Man," he was a well-known local conservator and ambassador of Appalachian culture to the surrounding communities. He not only got to play for prestigious national institutions, but also through sheer perseverance and passion preserved the instrument and local folk music for our enjoyment today.
Images
Russel Lies Buried Next to his wife and traveling companion, Margie Fluharty. Russel was known to play with his beloved family members, including his grandson Rodger Bryant. Photo taken by author at "Mannington Memorial Cemetery" on Dec 06, 2018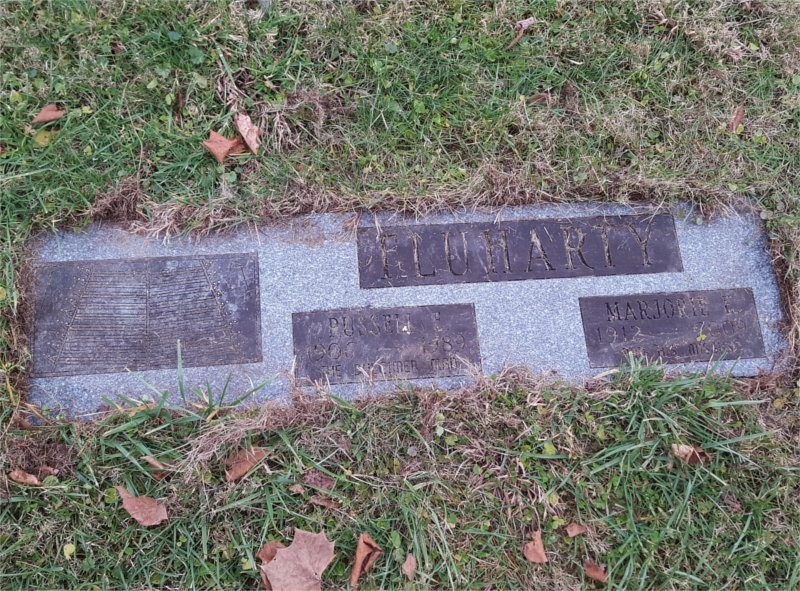 Backstory and Context
Russ Fluharty was born on December 19, 1906 and grew up a small farm on Mohan's run near Mannington, West Virginia. A lifetime resident of Mannington, his musical talents were deeply ingrained in the local farming community, one with a rich musical history. Russ, came from a tightknit family who were, per local tradition, musically inclined. His Uncle Ezra Fluharty gifted him his first antique Dulcimer but only on the condition that Russ would fix it and learn to play. Russ was reluctant at first, having not previously known how to do so, but this gift proved to be the start of his career in music, which lasted until he died in March, 1989.
Russ' career in music began informally, sometime in the early 30's, and lasted until shortly before his death in 1989. His early career was a bit patchy, because he lived in a poor farming community in the Great Depression. He started small, with local performances being scheduled around his family and his job he held at the Mannington (Bowers) Pottery Co. He performed at local venues like fairs, schools, churches, and alike. Some of his bigger venues were the Southern States Feed Company Talent Show, in Fairmont and Kingwood, and even performed in the national country music championship. In 1949, shortly after his brother returned home from active service, Russ experimented for a brief time in a band called the "Rhythm Rascals." They got their first bit of spotlight on KDKA in the "Wilkins Amateur Hour."
The biggest challenge in his career was his first speed bump, the very gift that wet his appetite for musical preservation, and later won him the prestigious Vandalia Award. This artifact, his first Dulcimer, was found to be an interesting puzzle. For starters, he had to research the instrument himself, because it is a virtually unknown instrument, which, according to local lore, was brought over from the middle east to Appalachia by 'a band of traveling gypsies' who traded it out to local farmers in exchange for goods. It is an ancient design with deep roots, being a precursor to the guitar and the piano-and it had widespread use in the 1600s. It primarily exists on a very local level in pockets of West Virginia and Randolph and Guilford Counties in North Carolina. The Hammered Dulcimer is typically associated with "Old Time" music and Appalachian folk tunes. Old Time music is traditionally a very folksy experience, typically consisting of a rural string band which plays the traditional local ballads, hymns, and psalms. Old Time music, is commonly tied into the Appalachian musical pedigree, the foundations of bluegrass, and has since evolved to include other forms of 'traditional' local music as well. The Hammered Dulcimer is associated with dance and designed to be interacted with-not simply listened to. If you were listening to an 'Old Time' tune-you were dancing to it! Russ found out through inquiry that the instrument was generally played by itself and was not accompanied by music. Russ repaired and tuned the instrument himself.
The ties to the Old Time music would have been forgotten if it weren't for Russ persistence in learning a 'dead instrument'. The instrument underwent a series of ups and downs in popularity with the resurgence and availability of guitars and pianos-until the 'folk music revival'. By the time Russ got his first in the early 20s, hammered dulcimers were so rare that some communities had forgotten how to integrate them into their performances. Russ himself had never come across another Dulcimer player in his later tours. Because of how old the dulcimer is, being virtually unknown by sometime in the early 1900s-not much information exists about the instrument in Appalachian culture. It is likely, that Russ realized the significance of the loss of the instrument when he realized that the old folks of his day didn't even know how to play!
Russ career began in earnest after he retired, sometime in the late 60s. The Folk Music Revival by this time was in full swing, and demand for his performances was high. He continued to tour wherever people asked him to play, appearing in major events along-side major artist such as Arlo Guthrie! His travels during this time took him all over the region, from North Carolina to Maryland, Pennsylvania, New York, and Washington D.C. Some of the Venues which he played were major regional Festivals, such as The Harper's Ferry Festival, Newport Folk Festival, the Philadelphia Folk Festival, The Smithsonian Folklife Festival and even appeared on radio and television. He even appeared on the David Frost Show! Russ by this time had developed a distinct musical style, as a simple country man, in his signature Black suit and 100-year-old clean, brushed and felted hat, as old as the hammered dulcimer he played. Johnny cash reportedly said that he inspired his manner of dress after him!
"Well sir, there was this old time dulcimer player from West Virginia, and I liked his music and the way he dressed."[1]
Russ' lifetime of dedication to promoting the regional culture of music and bringing back the dulcimer from the dead was the very thing that won him the Vandalia Award in 1989. Most of his travels appeared to be conducted for the Commerce Department of West Virginia, outside of eagerly providing lessons for the curious. His performance is 'quaint' and low-key: with his own signature flair being singing to the instrument.
For all his travels, the one he continued to do was promote music, education and participation. And his Legacy lives on in his students.

"I played from the heart to bring people together, not impress them."[2]
Russ' love for the instrument and desire to teach inspired him to create the Mountaineer Dulcimer Club. The Club was met with overwhelming response in April 12, 1971. The club's members included notable figures such as the famous regional Patty Looman who taught many other students such as Lynette Swiger. "Pattyfest", named after Patty Looman, is a statewide music festival in honor of Patty Looman, who eagerly promoted music lessons, and continued practicing the West Virginia folklore traditions by writing down the Appalachian oral tunes we enjoy today. Lynette Swiger said,

"I heard Russ play and I patterned myself after Russ for many years…Then to find out that Patty (Looman) learned from Russ. So, my music style goes back from me to Patty, to Russ…"[3].
His love for music and desire to keep the Dulcimer going was what won him the Vandalia award in 1986. Without him, the dulcimer as we know it wouldn't have been nearly as popular and might very well have gone extinct. You can visit his gravesite at the Mannington Memorial Cemetery in his hometown of Mannington, West Virginia.

PattyFest celebrates Appalachian dulcimer music
[1] Twila Dawn Fluharty, The Dulcimer Man: The Russel Fluharty Story, (Fairmont, W. Va.: Fairmont State Press, 2004). pg 113
[2] Dawn, The Dulcimer Man: The Russel Fluharty Story, pg 127
Sources
Burnside, Mary Wade. "PattyFest Celebrates Appalachian Dulcimer Music." WV News. May 14, 2015. Accessed November 11, 2018. https://www.wvnews.com/theet/lifestyles/pulse/pattyfest-celebrates-appalachian-dulcimer-music/article_e96f54ba-03af-561c-8d4b-a102133dafee.html.
Fluharty, Twila Dawn. The Dulcimer Man: The Russell Fluharty Story. Fairmont,, W. Va.: Fairmont State Press, 2004.
Leffler, Susan, Charles Wolfe, Bobby Taylor, Michael Kline, Nancy Mcclellan, Wilson Douglas, and Teresa Hamm. Mountains of Music: West Virginia Traditional Music from
Goldenseal. Edited by John Lilly. Urbana: University of Illinois Press, 1999.
Powell, Bob. "March 29, 1989: Musician Russ Fluharty Dies" WVpublic.org
http://www.wvpublic.org/post/march-29-1989-musician-russ-fluharty-dies#stream/0
(accessed October 17, 2018)
WILSON, JOHN S. "NEWPORT IS HIS JUST FOR A SONG: Arlo Guthrie Festival Hero With 'Alice's Restaurant'" New York Times (1923-Current file); Jul 18, 1967; ProQuest Historical Newspapers: The New York Times pg. 30
WOOD, MICHAEL ALAN, D.M.A. The Hammered Dulcimer in the Southern Appalachian Old Time String Band Music of North Carolina, Southwest Virginia, and West Virginia. (2012) Directed by Dr. Randy Kohlenberg and Dr. Revell Carr. 89 pp.
VanderWijst, Kelsie. "Pick up That Instrument Pattyfest Helps Keep Appalachian Heritage Music Alive." TimesWV.com. May 26, 2016. Accessed November 11, 2018.https://www.timeswv.com/news/pattyfest-helps-keep-appalachian-heritage-music-alive/article_059ce8e2-22f6-11e6-bb49-c7555c887bdb.html.

Additional Information