Edward Durell Stone House
Introduction
On a quiet Upper East Side street, amongst the gilded manors squished six or seven stories into the sky, sits the Edward Durell Stone House. The mid-century masterpiece was extensively renovated into its present form by its namesake in 1956. Stone, who is known for combining modernism and formalism in buildings like MoMA and the US Embassy in India, lived in the house until 1964. Zen-like in its simplicity, Stone House is recognizable by its sheared facade designed to bring light into the building's four stories.
Images
An early Photograph of Stone House making its unwelcome arrival on E. 64th St.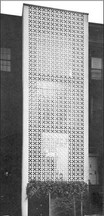 A bedroom with both privacy and natural lighting in Stone House.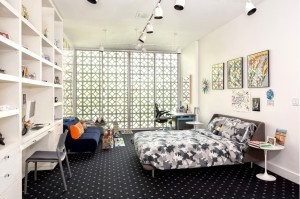 A private patio beneath a skylight.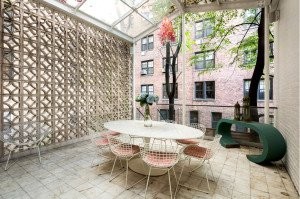 Floorplan. Stone knocked down all the walls on the first floor to create the open-style parlor.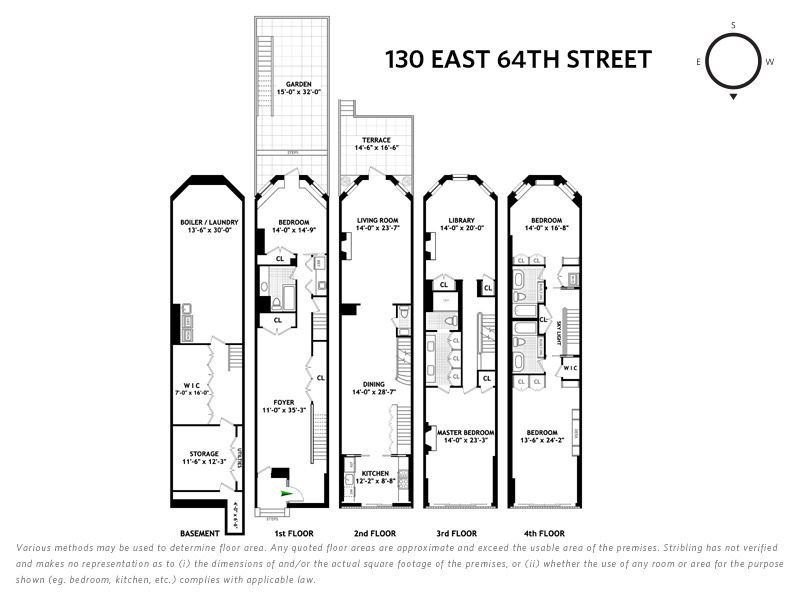 Stone House in all its glory.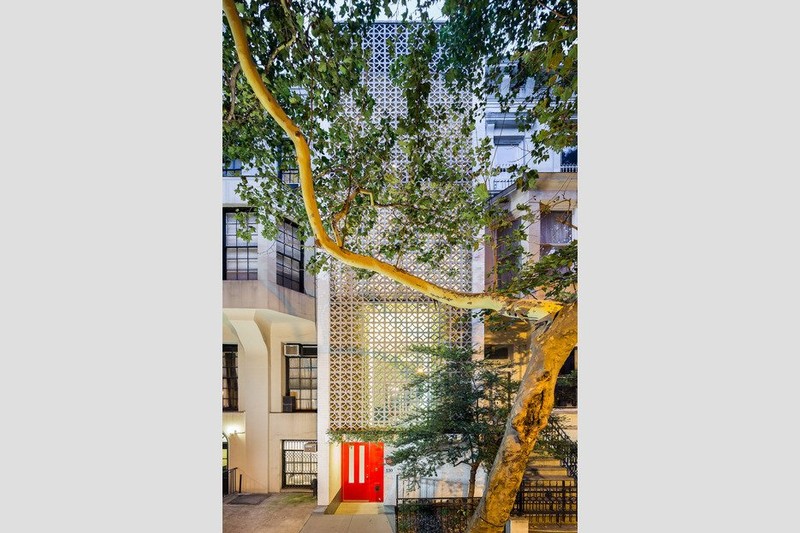 Backstory and Context
Getting off the subway uptown on the way to Central Park or its string of east-side museums means a lot of options for longitudinal cross streets. It is worth walking a little out of the way to find one of the leafier residential blocks like 63rd St where Manhattan's old money dwells in stone, carved cornices, and spiraling entrance ways. While these monuments to generational wealth are exciting to glimpse into when a door is left open or a window's blinds are up, it is also a welcome surprise to come across a monotony-busting address like the Edward Durell Stone House. The building's power comes from the simplicity that Stone was known for: one sheet of patterned concrete and a wide red-door in the midst of the street's over-the-top opulence.

Stone (1902-1978) helped bring European modern architecture to the United States, eventually putting an American mark on modernism through a combination of romanticism (ie. the red door) and formalism (classical proportions). Originally from Arkansas, Stone began studying architecture in Boston before traveling abroad on a fellowship. Returning from Europe with a sketchpad full of buildings by Le Corbusier and other well-known creators of the International Style of modernism, Stone settled in New York where he practiced for the next 49 years. He worked on plans for Radio City Hall (1932) and was later tapped as the associate architect for the Museum of Modern Art (1937). In the 1950s Stone gained widespread recognition for infusing classical architectural forms with a rare combination of warmth and a modern aesthetic. In the midst of his success on projects like the Stanford University Medical Center (1955) and Busch Memorial Stadium (1966), Stone completely gutted and rebuilt an 1878 brick townhouse as his base in New York.

Stone House caused an uproar in the neighborhood from the start because of its non-traditional appearance. Neighbors and critics slammed the house and even Stone's own son continued to push for a facelift until the dean of the Yale School of Architecture Robert A.M. Stern asked the New York City Landmarks Commissioner to "rise above the inevitably changing winds of fashion... and preserve an important architect's ingenious, if controversial, solution to the problem of town house design." While neighbors may shutter at the interruption of the street's chiseled brownstones, interior photographs reveal what Stern meant--the house's facade hides a modern glass cube that gives residents a light-filled haven while maintaining their privacy. Despite this rarity, when the property went on the market in 2013, its price had to be dropped from $10 million to $7.5 million a year later.

Sources
ArchiTakes. "Windowflage, part 2." Accessed November 18, 2018. http://www.architakes.com/?p=4906.

Budin, Jeremiah. "MoMA Architect's Modernist Townhouse Now 25% Cheaper." Curbed New York. September 04, 2014. Accessed November 18, 2018. https://ny.curbed.com/2014/9/4/10051466/moma-architects-modernist-townhouse-now-25-cheaper.

Finn, Robin. "Upper East Side: To Live in an Artwork." New York Times. November 08, 2013. Accessed November 18, 2018. https://www.nytimes.com/2013/11/10/realestate/upper-east-side-to-live-in-an-artwork.html.

Miller, Kristin. "Edward Durell Stone House." New York Architecture. Accessed November 18, 2018. http://www.nyc-architecture.com/UES/UES034.htm.

Stark, Erika. "22 Must-Visit Places in the Upper East Side, NYC: An Untapped Cities Guide." Untapped Cities. July 17, 2017. Accessed November 18, 2018. https://untappedcities.com/2017/07/17/22-must-visit-places-in-the-upper-east-side-nyc-an-untapped-cities-guide/3/.