Phoenix Carnegie Library and Library Park
Introduction
Opening in 1908 with 7,000 books, and in part funded by Andrew Carnegie, this historic site was added to the National Register of Historic Places in 1974. Built on land donated by David Neahr, and devised by W.R. Norton with help by W.H. Reeves, this magnificent building served as Phoenix's main public library until 1952. With a 1.3 million dollar restoration occurring in 1985, it has since been used as an administrative and museum space for the Arizona State Library.
Images
Side of Phoenix Carnegie Library. It stands on what was once known as Neahr's park.
The glorious main entrance, with its colossal columns.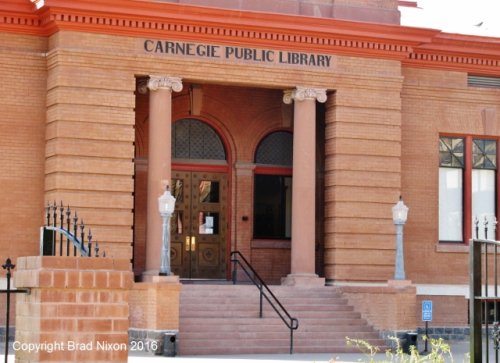 Front of Phoenix Carnegie Library, with its imposing red-brick 12 foot walls.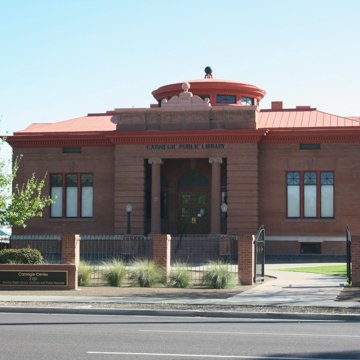 The beautiful, still-intact cast iron radiator. Built by the American Radiator Company.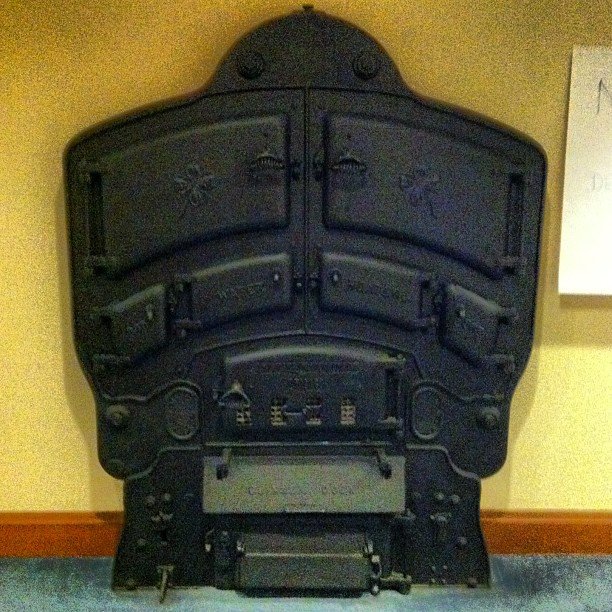 Phoenix Carnegie Library staff -- circa 1920.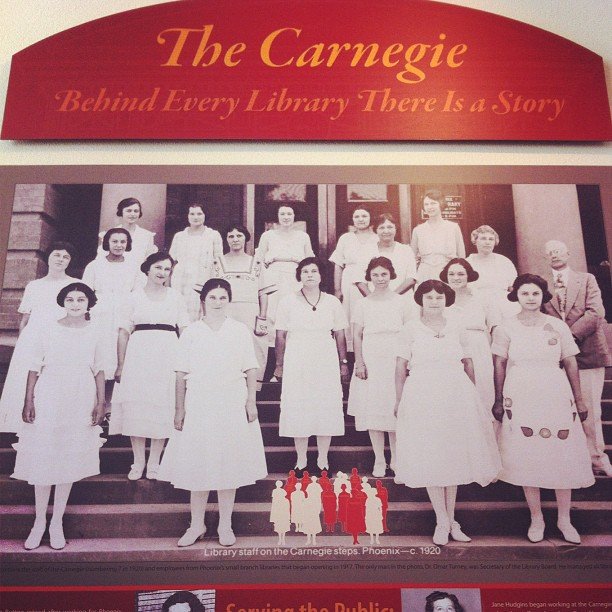 Backstory and Context
While not Phoenix's first library, it is perhaps the most storied. Famous philanthropist Andrew Carnegie had been spreading his generosity, providing grants to many American cities during this time. Since 1899, Phoenix's Library Association as well as the Woman's Club had been soliciting for a grant. By 1902, significant progress was being made. However, there would be several provisions Carnegie would require. After some disputes over Phoenix's population size, an agreement for $25,000 in 1904 was accepted. After David Neahr donated a generous parcel of land, plans were adopted by the Library Association in 1905. On February 14, 1908, Phoenix Carnegie Library was officially opened for business.

Created in the Beaux-Arts style, this building was reflective of the "City Beautiful Movement" philosophy at the turn of the century. It's no surprise the library was conveniently located near the houses of the city's elite. With its towering columns, large concrete steps, and fire-red bricks, architects Norton and Reeves would produce a magnificent building that would stand the test of time.

Widely not recognized by the general public, women's clubs during this era were extremely instrumental in bringing public libraries to the masses. These women were determined to bring knowledge and culture, as well as persuading their male counterparts to partake in activities other than bars and saloons. The women of Phoenix Carnegie Library were no exception. Working 10 hours a day, six days a week for little pay, and answering to an all male-dominated management, these women would shape how libraries would operate for decades to come.

After 44 years of dedicated service to the community, Phoenix Carnegie Library would cease to be Phoenix's main public library. The following decades would see the building used as an adult recreation center, storage facility, and social service center. After years of neglect, the state of Arizona would take control of the property in 1985. Architect Gerald A. Doyle would oversee the restoration of the building. With restoration complete in 1987, it was reopened as the Arizona Hall of Fame Museum with exhibits dedicated to various people of the state, as well as the Arizona Women's Hall of Fame.

Sources
Arizona State Library Archives and Public Records, "Carnegie Library Rehabilitation." Accessed December 07, 2018. https://azlibrary.gov/dazl/learners/research-topics/carnegie-library-rehabilitation.

Arizona Women's Heritage Trail, "Carnegie Library (1908 - 1953)." Accessed December 07, 2018. http://www.womensheritagetrail.org/women/CarnegieLibrary.php.

City-data.com, "Arizona Hall of Fame Museum." Accessed December 07, 2018. http://www.city-data.com/articles/Arizona-Hall-of-Fame-Museum.html

Downing, Andrew, "National Register of Historic Places Inventory-Nomination Form," November 19, 1974. Accessed December 07, 2018. https://focus.nps.gov/GetAsset?assetID=96837a7b-19b5-4010-808e-7d9ae7bfbd04.

McMahon, Heather N.,"Carnegie Center" [Phoenix, Arizona] SAH Archipedia, eds. Gabrielle Esperdy and Karen Kingsley, Charlottesville: University of Virginia Press, 2012, http://sah-archipedia.org/buildings/AZ-01-013-0018. Accessed December 07, 2018.



Additional Information