Aqua Building
Introduction
With its gentle flowy exterior, Chicago's Aqua building is one of its newest and popular buildings. The mixed-use high rise was designed and completed by Jeanne Gang in 2009, founder of Studio Gang Architects. Gang explained that her inspiration for the irregular, undulating exterior of the building is the striated limestone outcroppings common to the Great Lakes region. The Aqua building is the first building in downtown Chicago to combine condo, apartment, hotel, and retail space. The building stands at 82-stories tall and has received numerous awards and accolades.
Images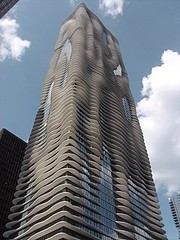 Aqua building facade design concept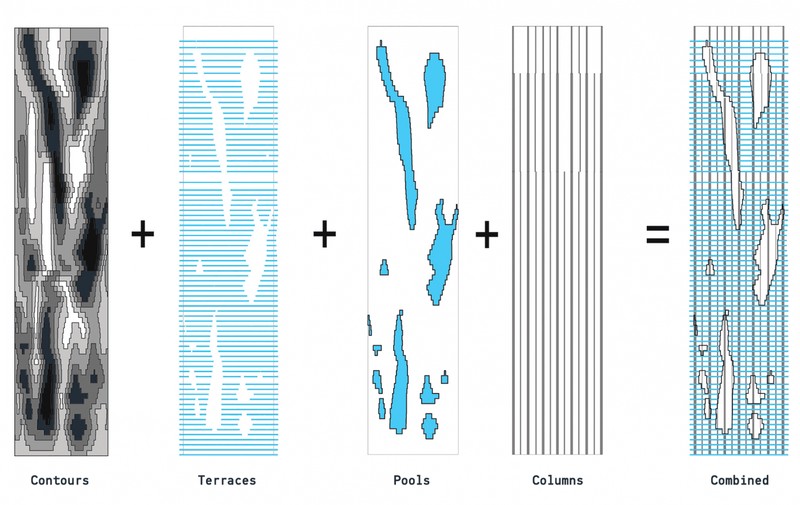 Backstory and Context
Relatively new to the Chicago skyline, the expertly designed Aqua Tower earned its rightful place amongst the city's iconic buildings and is one of the tallest buildings in the world designed by a woman. Studio Gang founder and lead architect Jeanne Gang sought to create a skyscraper that reflected the natural environment around Lake Michigan. Taking inspiration from the many striated limestone outcroppings surrounding the lake, Studio Gang Architects created a graceful design reminiscent of ripple patterns found in nature. Each floor of the 82-story Aqua Tower is constructed of poured of 82 individual concrete slabs precisely measured with GPS coordinates. Because of the irregularity of the building's floors, each balcony of the building is unique to that unit. But the building's undulating exterior was not created solely for aesthetic reasons. The irregular balconies surrounding the building help to break up wind vortices, minimize wind shear, shade neighboring units, and prevent birds from colliding with windows. Currently, floors 1-18 are occupied by the Aqua Radisson Hotel and floors 19-81 are residential.
Many architectural historians consider the Aqua Tower to be one of the most successful examples of an aesthetically mature design for a functional tall building. Since its completion in 2009, the Aqua Tower has received numerous awards from such organizations as AIA Illinois, AIA Chicago, Emporis, Architect Magazine, and even PETA.
Sources
Aqua Tower, Chicago. Council on Tall Buildings and Urban Habitat. December 2011. November 26, 2018. http://www.ctbuh.org/TallBuildings/FeaturedTallBuildings/Archive2010/AquaTowerChicago/tabid/2947/language/en-GB/Default.aspx.

Aqua Tower. Studio Gang. November 26, 2018. http://studiogang.com/project/aqua-tower.

Aqua. Chicago Architecture Center. 2018. November 26, 2018. http://www.architecture.org/learn/resources/buildings-of-chicago/building/aqua/.

Glancey, Jonathan. Aqua Tower – the tower that Jeanne Gang built. The Guardian. October 20, 2009. November 26, 2018. https://www.theguardian.com/artanddesign/2009/oct/20/aqua-tower-jeanne-gang.

Aqua Tower / Studio Gang. ArchDaily. December 2, 2009. November 26, 2018. https://www.archdaily.com/42694/aqua-tower-studio-gang-architects.