St. Petersburg Yacht Club
Introduction
The St. Petersburg Yacht Club was founded in 1909 with the goal of spurring tourism. The area had been home to Native tribes until 1875 when General John Williams purchased a parcel of land in 1875 that he believed had commercial potential given its location. Development was slow at first, and in 1903 St. Petersburg became a city with a name inspired by railroad leader Peter Demens who reportedly named the city after his birthplace in Russia. The railway helped improve the seafood shipping business and brought more people into the area.
Images
The St. Petersburg Yacht Club was founded in 1909 and erected this clubhouse in 1917.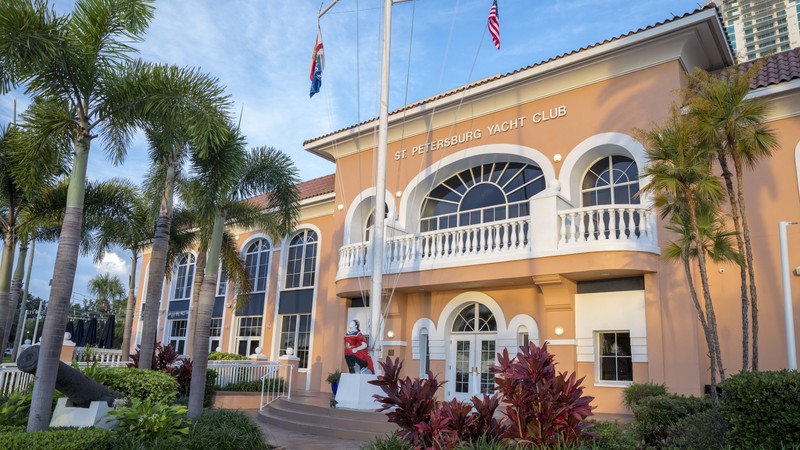 Backstory and Context
In the early 1900s, city leaders devised a plan to develop the commercial dock areas and it included creating waterfront parks and a yacht club. After years of work on the waterfront, the clubhouse was built and dedicated in 1917. Racing began in 1919 when the club purchased six Fish Class sailboats. The club continued to grow in the years that followed until the Grand Hurricane of October 1921 hit St. Petersburg, flooding the clubhouse. The Havana Race started in 1930, bringing greater attention to both St. Petersburg and Havana. A casualty of Cold War tensions, the race was canceled in 1959. In recent years, efforts were made to bring the race back as a reflection of improved relations between the U.S. and Cuba.
Sources
City of St. Petersburg. "History of St. Petersburg." http://www.stpete.org/history_and_preservation/index.php
Editors of Encyclopaedia Britannica. "Saint Petersburg." Encyclopaedia Britannica, https://www.britannica.com/place/Saint-Petersburg-Florida
Florida Boating Team. "The St. Petersburg Yacht Club History. "Florida Boating Magazine, August 4, 2015. http://floridaboatingmag.com/?p=386
Guzzo, Paul. "St. Pete yacht club working to restore annual race to Havana." Tampa Bay Times. http://www.tampabay.com/news/localgovernment/st-pete-yacht-club-working-to-resume-annual-race-to-havana/2279120
National Sailing Hall of Fame. "Stories from the St. Petersburg Yacht Club." National Sailing Hall of Fame. http://www.nshof.org/sailing-an-american-experience/23-stories/yacht-clubs/379-st-petersburg-yacht-club.html
"A Brief History of Our Club." St. Petersburg Yacht Club. http://www.spyc.org.
Image Sources
St. Petersburg Yacht Club

Additional Information