Merchandise Mart
Introduction
The colossus of a building that sits at the confluence of the North and South branches of the Chicago River is the city's Merchandise Mart. The Art Deco style building was designed and constructed by Alfred P. Shaw, chief architect of Graham, Anderson, Probst & White, for the retailer Marshall Field & Co. At the time of its completion in 1930, Merchandise Mart was the world's largest building at 4,200,000 sq. ft., 25 stories tall, and spanning two city blocks. Formally opening on May 5, 1930, Merchandise Mart was brainchild of James Simpson, president of Marshall Field & Co, who sought to consolidate the company's 13 warehouses into one central location while also contributing to the beautification of Chicago's waterfront. Throughout its life, Merchandise Mart has offered space for retail, wholesale, warehouse, office, and a variety of other uses.
Images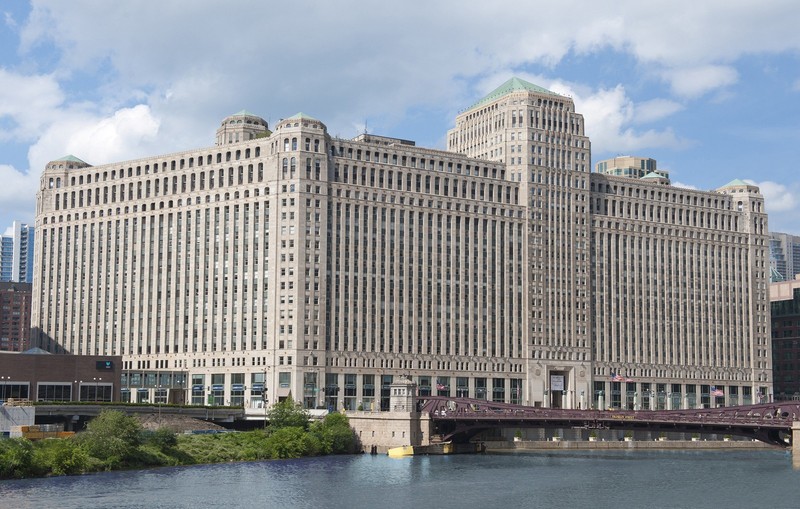 Merchandise Mart under construction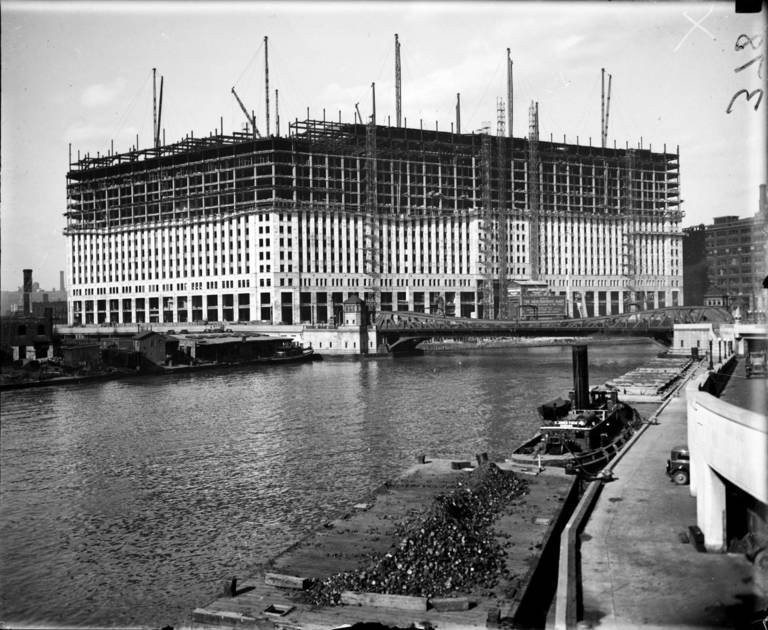 Merchandise Mart food court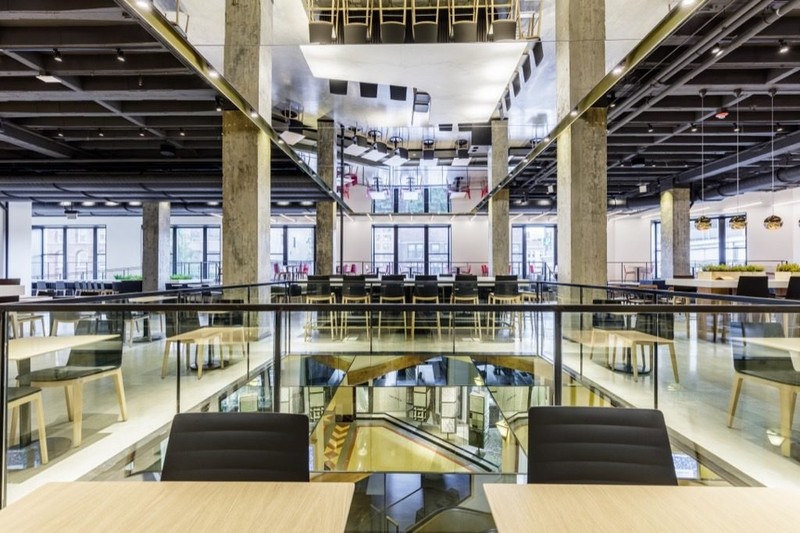 Backstory and Context
The economic boom of the 1920s resulted in a staggering number of new ambitious Art Deco buildings in Chicago's downtown, Merchandise Mart being one of them. During the mid-1920s, retailer Marshall Field & Co. sought to create a central marketplace for retailers, consolidating the city's wholesale enterprise. A site along the Chicago River bordered by Orleans, Kenzie and Wells Streets was chosen to be the new home for Marshall Field's building. The site also previously home to the Chicago and North Western Railroad's Wells Street Station, which included the railroad air-rights. Marshall Field commissioned architect Alfred P. Shaw, chief architect of Graham, Anderson, Probst & White, to design the largest building in the world.
In his design, Shaw combined architectural elements from the warehouse, department store, and skyscraper to create Marshall Field's Merchandise Mart. Construction began on the giant building in the summer of 1928; and for the next two years, construction continued tirelessly through the start of the Great Depression. When completed in 1930, the "Colossus of marketplaces" was officially the largest building in the world, boasting a footprint of four million square feet – the equivalent of two-and-a-half city blocks – and rises 25-stories. The building's limestone and terracotta exterior features traditional Art Deco designs such as chevron patterns and ornamental displays. Shaw designed the building in such a way as to visually minimize its sheer size by setting back the corners and upper stories.
While Marshall Field & Co. dreamt of creating the world's largest wholesale facility in the world, the economic decline of the Great Depression and World War II prevented any such long-term business. Marshall Fields & Co. left the wholesale market in 1945 when it sold Merchandise Mart to Joseph P. Kennedy. Joe Kennedy continued to use Merchandise Mart as a wholesale venue and he slowly permitted vendors to allow public access to the showrooms. The building remained in the Kennedy family until 1998 when it was sold to Vornado Realty Trust. Vornado modernized the building with more energy efficient measures in an effort to make it more appealing to vendors. Merchandise Mart continues to house designer showcases while offering office space to other forms of business such as Motorola, PayPal, Yelp, Kellogg, and Caterpillar.
Sources
History and Future. theMART. 2018. November 26, 2018. http://themart.com/about/history-and-future/.

Merchandise Mart. Chicago Architecture Center. 2018. November 26, 2018. http://www.architecture.org/learn/resources/buildings-of-chicago/building/merchandise-mart/.

Merchandise Mart. Encyclopedia of Chicago. 2005. November 26, 2018. http://www.encyclopedia.chicagohistory.org/pages/812.html.

Merchandise Mart. Chicagology. 2018. November 26, 2018. https://chicagology.com/skyscrapers/skyscrapers033/.


Additional Information