Ladd Army Airfield
Introduction
There was a fear expressed by Brigadier General Billy Mitchell in the early '30's, that whomever had control over Alaska would global denomination. So, the search began for an Alaskan airfield stronghold. This expedition eventually resulted in the creation of Fort Wainwright and the (now-called) Ladd Army Airfield. By the summer of 1940, the concrete for the runway had been poured and the foundations for 12 hangers and facilities were poured also. For the past 75 years, Ladd Army Field has been an active unit at Fort Wainwright. It was designated as a National Historic Landmark and placed on the National Register of Historic Places in 1985.
Images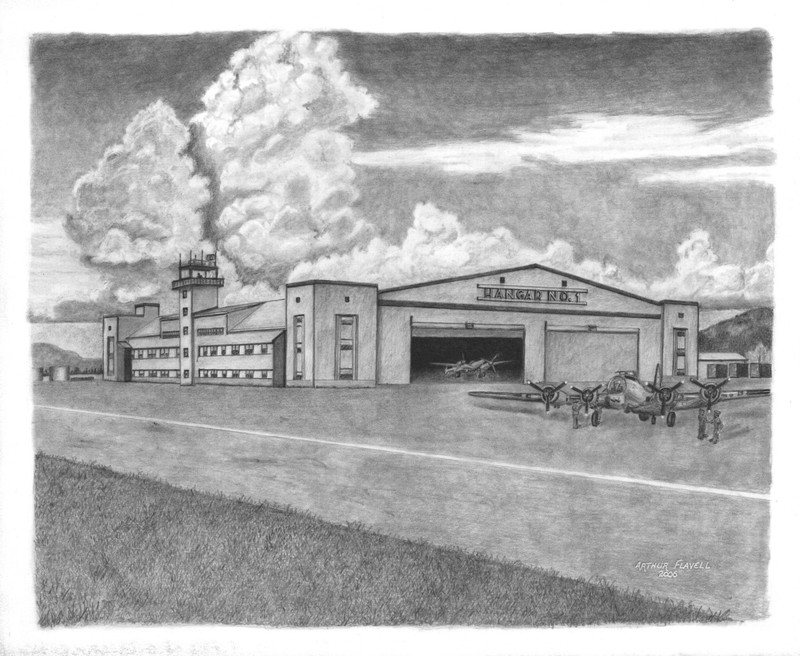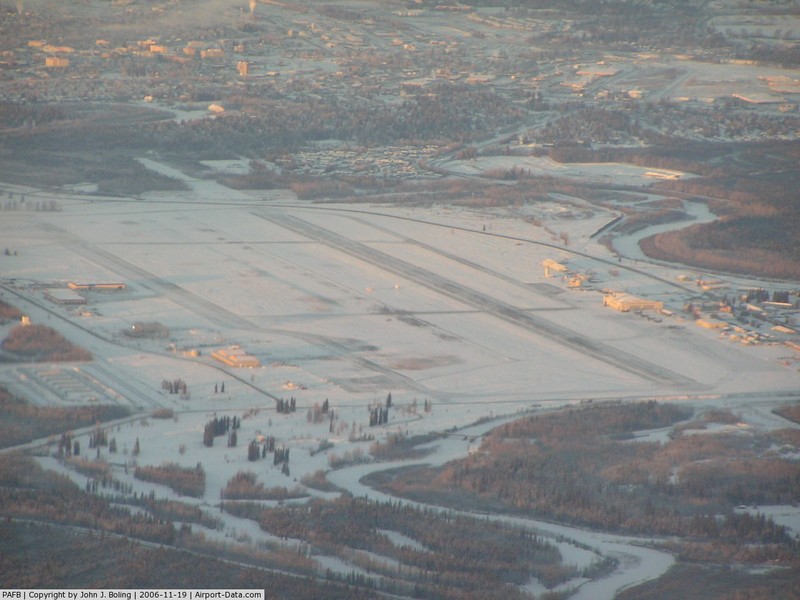 Backstory and Context

The Ladd Army Airfield earned its name from the first commander of the airfield, Major Dale V. Gaffney, who christened Ladd from an Major Arthur K. Ladd, who, in 1935 was killed in a plane crash2 Originally, the airfield was a cold weather experimental station funded by $4 million grant from Congress in 1939, military personnel began to arrive in April 1940 and somewhere between 1940-1942 in the midst of all of the construction of facilities, two B-17s flew to the airfield to be tested at the Cold Weather Test Detachment. Personnel tested the majority of aircraft models in the Army, such as fighters: P38 and P47, bombers: B17, B24, B25; and transport--C46, C47, C542. A beneficial result of all this cold weather testing was the creation of "electric underwear" which kept the pilots and personnel in the nonpressurized cabins to maintain a comfortable warm body temperature while in flight in "sub-arctic" Alaskan climate2.

In 1941, the first hanger, "Hanger No. 1" was completed with some two-story "leam-to" type offices for personnel on both sides. The hanger is surrounded on all sides by areas areas for planes to be inspected before they were flown to the Soviet Union1. Further from this parking stations--"hardstands"-- are two parallel runways, the first was constructed in 1941 and stretches to 9,000 ft after apaved extension on both ends, while the second was constructed in 1943 and measures 9,000 ft by 150 ft. Also built in 1943, additional taxiways, parking lots, and more hardstands1. Hangers 153 & 154 designated has Kodiak T-Type occupied the area east of Hanger No. 1's parking area1. In 1943, marked a time of expansion as Hangers No. 2, No. 3, and No. 6 were created. On the opposite side of the field sit two sets of double hangers for aircraft1. In 1985, according to the National Park Service Nomination form, these are some of the facilities and objects of historical significance: Hanger No. 1, The two Kodiak Hangers Nos. 1542 and 1543, three Birchward Hangers Nos. 2085, 3005, and 3008; two double hangers Nos. 2106 and 2077; Chapel No. 1043; Officers Quarters within the horseshoe 1047, 1049, and 1051 and the C.O. Quarters No. 1; Automobile Garage No. 10; and, the Nurses Quarters no. 10211.

With the Allied countries embroiled in World War !! with the Axis Powers, the Ladd Airfield shifted their function as a cold weather testing station to a fundamental part of the Lend-Lease Program. The Ladd field leased 8,000 aircraft that were flown into Alaska to the Soviets-- 300 man outfit stationed at the Ladd Field that would fly the planes back to the Soviet Union "via Galena and Nome" then to Germany for combat2. This leasing would occur over the span of three years starting in September 1942 and ending September 1945. Ladd Field's participation in this program would be its most prolific, that would brink Fairbanks into the spotlight domestically and globally2.

In 1947, with their role in WW2 finished because the war ended, Ladd Field would have the special recognition of being the first ever United States Unified Command after the "Alaskan Command" was created by the Joints Chief of Staff. This move allowed each branch of the military to work together with Alaska, and also gave Ladd Field a new name from Ladd Army Airfield to Ladd Air Force base.This change in title was the result of the U.S. Army dividing and christening a totally separate entity, the Air Force. In 1950s before the Cold War intensified more, Ladd was used as a testing center again and supplied an area for training during peacetime for troops spread over the United States and Canada3. However, the war effort would come calling again and Ladd Air Force base would be designated as the Yukon Command by the Army, which established Ladd as a resource for points of defense for U.S. bases and Northern Alaskan posts2, 3.

Sources
Thompsan, Erwin N. "National Register of Historic Places Inventory Nomination Form." National Park Service. United States Department of the Interior, 4 Feb. 1985. Web. 5 Aug. 2016. . Ferguson, Mike. "Ladd Army Airfield: A Brief History." LADD Army Airfield: Fort Wainwright, Alaska. United States Army, 2006. Web. 5 Aug. 2016. . "Fort Wainwright Ladd Airforce Base." Fairbanks-Alaska. Aurora Webmasters, 20 Dec. 2014. Web. 5 Aug. 2016. .
Additional Information