First Parish Cambridge
Introduction
Author-Uploaded Audio
According to the Cambridge Historical Society, the founders of First Parish Cambridge were highly trained, many of them Englishmen educated at Cambridge and Oxford University. The Parish's religious teachings evolved based on the minister in charge: although founded by English Puritans, the First Christ Church in Cambridge witnessed an unspoken transition to Calvinism under the guise of unitarianism throughout the early decades of its operations. Despite a history of flirting with branches of Christianity, the Cambridge First Church is presently encompassed under the Unitarian Universalist Association, a national religious organization comprised of Unitarian congregations and Universalist faith communities. For centuries, its functions have extended beyond the scope of community church, acting as a civic meetinghouse, repository for family history and center for social activism.
Images
The contemporary facade of First Parish Cambridge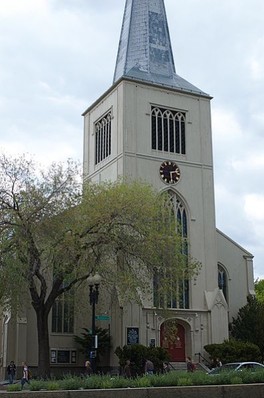 Illustration of a procession of Harvard alumni leaving the Meeting House of First Parish nearly two hundred years ago.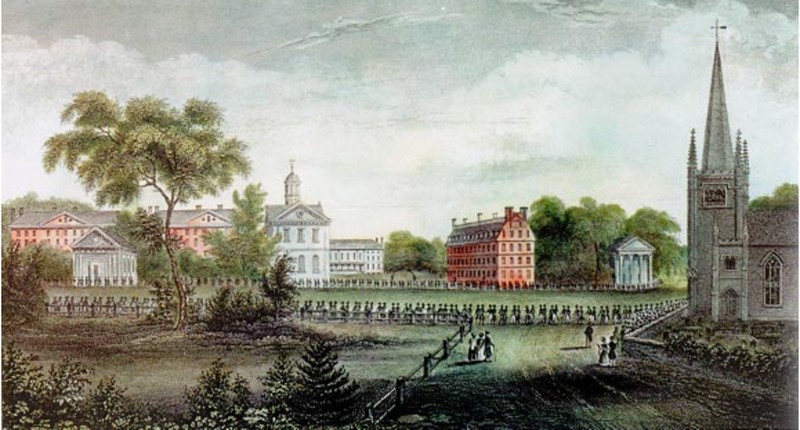 The Old Burying Ground in Cambridge is located on the property of First Parish Church.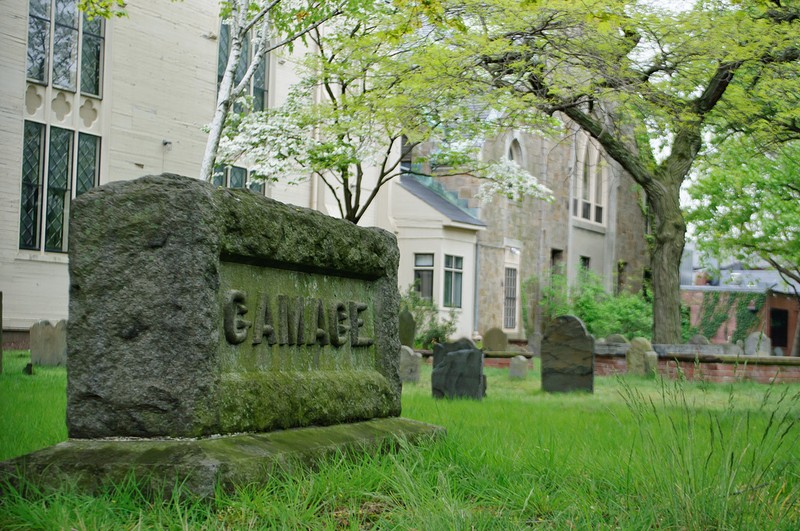 Backstory and Context
Author-Uploaded Audio
Throughout its lengthy history, First Parish Cambridge has primarily served as a space for Christian worship. Church leaders dually emphasized observing Christian principles while stressing the importance of civic engagement and literacy. In addition to holding sermons and prayer sessions, the Parish repurposed its own building as a town meeting house. For example, an 1850 sermon delivered at the church lauded the congregation as the "pulpit of the American Revolution," indicating churches were considered spaces for the cultivation of patriotism and civic responsibility. [1]
College, Parish, and Town records also detail inextricable centuries-long connections between Harvard College and the First Christ Church in Cambridge. Harvard College was founded in 1636, just four years after the Parish opened. According to Parish history, [2] the congregation's second minister, Thomas Shepard, influentially contributed to Harvard College being located in Cambridge (then known as Newtowne) in 1637, so that university students might benefit from his preachings. The College used the church's bell, and held its first Commencement in the church's meetinghouse. Moreover, the Parish's second, third, and fourth meeting houses stood in present-day Harvard Yard! In fact, in 1775, the future first POTUS worshipped in the fourth meeting house himself.
Furthermore, the parish played an integral role in preserving institutional and ancestral memory within Cambridge. Christ Church in Cambridge houses centuries records of baptisms, marriages, deaths, admission to covenant and Communion, dismissals and Church proceedings, thereby carrying a genealogical register [3] for the town. Such methodical record keeping continues to make the Parish church integral player in protecting historical and personal identities. Nevertheless, records also indicate congregation demography evolved and demonstrated an era of exclusivity across time. During the nineteenth century, Unitarian churches across Massachusetts increasingly catered to elitist social classes. The Religious Research Association, Inc. published a city acknowledging the "almost total absence of servants, laborers, and operatives" in Boston Unitarian parishes notwithstanding their high proportion within the general population and presence in the church prior to the late 1700s and early 1800s. [4]
Today, the Parish has made intentional efforts to become a multicultural and multiracial congregation. They have made a significant commitment to being socially responsible and anti-oppression, leading them to divest from companies that did business in apartheid South Africa. [5] Their website has a strong statement of purpose which acknowledges the Parish's troubled past which has "400-year-old roots" in colonization, enslaved African people, and Native inhabitants. [6] They recognize that their success as a Parish has come "at a great cost" and in response have dedicated themselves to becoming a source of community aid. As the Cambridge population had seen increasing numbers of immigrants, the Parish has created a "Transformation Team" dedicated to multicultural and multiracial education. [7] They pride themselves in being "On the forefront of Lesbian, Gay, Bisexual, Transgender, and Queer inclusion for more than 40 years." [8] The Parish is also home to Y2Y, a student run homeless shelter for young adults. Y2Y was founded by Harvard students and has served the Harvard community with the help of the Parish since 2015. [9] Overall, the Parish today has become a very progressive and inclusive space of worship.
Sources
 Thornton, John Wingate. "The Pulpit of the American Revolution: or, The Political Sermons of the Period of 1776. With a Historical Introduction, Notes, and Illustrations." Delivered 1850, Published by Boston, Gould and Lincoln; New York, Sheldon and Co. (1860).
"Our History." First Parish Cambridge. Accessed November 13, 2018. http://dev.firstparishcambridge.org/about-us/our-stories/history/.
First Church Cambridge, M. (1906). Records of the Church of Christ at Cambridge in New England: 1632-1830, Comprising the Ministerial Records of Baptisms, Marriages, Deaths, Admission to Covenant and Communion, Dismissals and Church Proceedings. Boston: E. Putnam.
Sykes, Richard E. "The Changing Class Structure of Unitarian Parishes in Massachusetts, 1780-1880." Review of Religious Research 12, no. 1 (1970): 26-34.
Scheer, R. (2004, Sep). MONEY MATTERS: Having faith. E : The Environmental Magazine, 15, 46-47. Retrieved from http://search.proquest.com.ezp-prod1.hul.harvard.edu/docview/229056673accountid=11311
First Parish Cambridge. Accessed November 13, 2018. http://www.firstparishcambridge.org/.
"Opening the Doors to Diversity: First Parish Cambridge, MA." UUA.org. May 06, 2015. Accessed November 13, 2018. https://www.uua.org/racial-justice/stories/cambridge.
First Parish Cambridge.
Ibid.
Image Sources
Photo courtesy Tim Pierce, Wikimedia Commons. https://commons.wikimedia.org/wiki/File:First_Parish_Cambridge_MA.jpg

Photo by Eliza Susan Quincy, image in the public domain.

Photo marked for reuse, courtesy of Flickr user InSapphoWeTrust. https://www.flickr.com/photos/skinnylawyer/7180416886/

Additional Information