Hiram Campbell House
Introduction
This house was home to one of the founding fathers of Ironton, Ohio, Mr. Hiram Campbell. The house was built in the 1950s. Not only was Hiram one of the main minds behind the creation of Ironton but he was also the brother of John Campbell, the founder of Ironton. The house was one of the first homes built in Ironton. The house was also built from bricks and if seen today, has a gray paint over the bricks. Of interesting note, President Rutherford B. Hayes has been inside the house.
Images
The front of the Hiram Campbell house, the view from 5th Street. Shows the effort the city of Ironton has put into preserving the building all these years.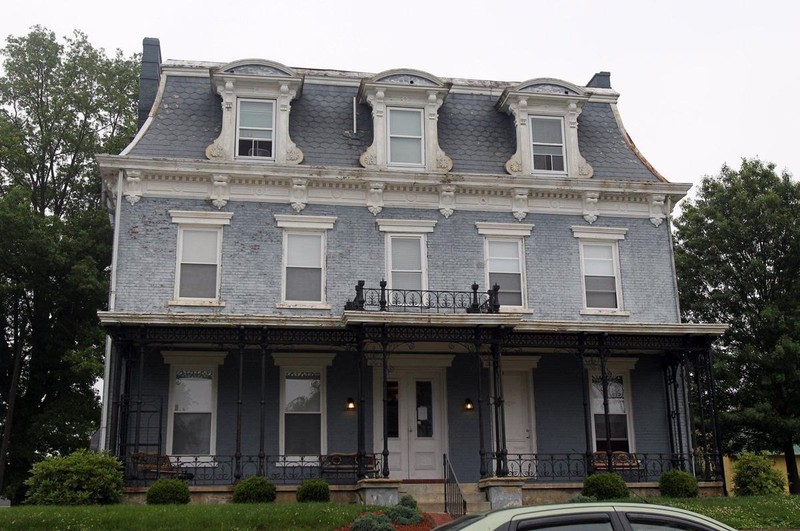 The burial site and headstone for Hiram and his second wife Sarah, in Woodland Cemetery. Which, Hiram happened to be one of the first trustees for.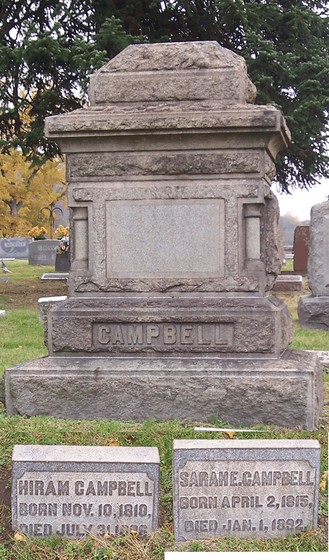 Backstory and Context
As previously mentioned, the house was home to Hiram Campbell, fore-father and a main influence in early Ironton. Hiram was born on November 18, 1810 in Kentucky. Previous to his arrival in Ironton, he also lived in Maysville, West Union, Georgetown, and Hillsboro, all in Ohio. He did not move to the Ironton area until after his first wife, Rachel, died. Once in Lawrence County, he met his second wife, Sarah Woodrow.
Once locating himself on what was then known Buckhorn street in Ironton, he began to make his mark in Southern Ohio. He had become the supervisor of the Ironton Foundry. Not only did he work at the foundry, but he was also a trustee at the Woodland Cemetery that connects Ironton and neighboring Coal Grove. He was the brother of Ironton founder, John Campbell, and just like John, Hiram was the director of many important businesses in Ironton. Some of these include the Old Iron Bank, Iron Railroad Company, and Ohio Iron and Coal Company. Aside from directing these major businesses in Ironton, he owned the Mt. Vernon furnace, and was so successful with the furnace that he built another furnace and named it after his wife, Sarah.
Hiram, after a long life of ownership and laying the foundation for Ironton, retired in 1873. He is remembered throughout Ironton history, from the Iron Bank, to his beautiful home that still to this day serves Ironton as an apartment building.
Sources
Hiram and Sarah Campbell. Briggs Library. . Accessed November 08, 2018. http://www.briggslibrary.com/hamner/Woodland/HiramCampbell.html.

Hiram Campbell House. Briggs Librbary. . Accessed November 09, 2018. http://www.briggslibrary.com/hamner/buildings/HiramCampbell.html.


Additional Information