Mutual Brewing Company (1912-1916)
Introduction
The Mutual Brewing Company existed for only a short time in Saint Louis, lasting from 1912 until 1916. During those years, the brewery was known for its "golden" bottles as well as the financial woes that lead to its demise. The brewery was located at what today is the intersection of Boyle and Forest Park Avenue in a building that soon became derelict following the demise of the brewery. The former brewery was demolished in the mid-twentieth century.
Images
Mutual Brewing Company circa 1914. The company was only in operation for a few years and the buildings were all demolished by midcentury.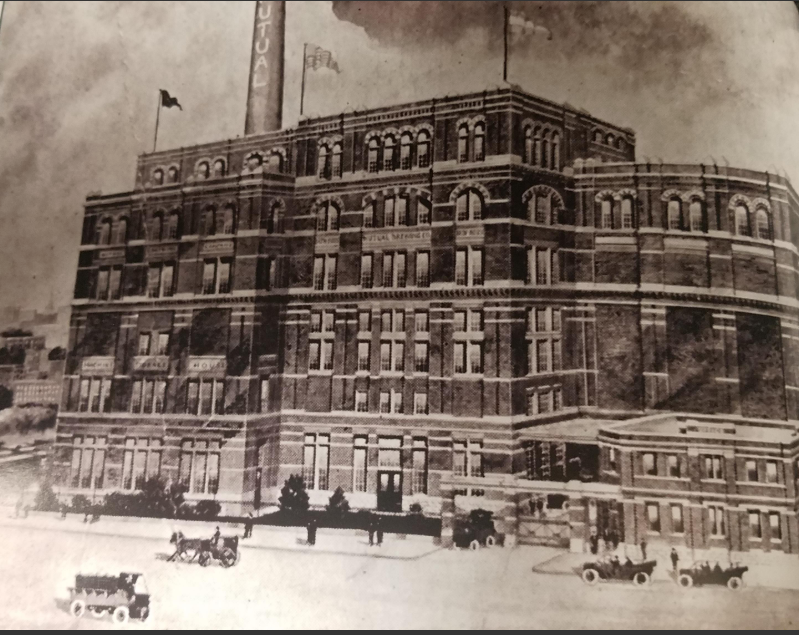 Backstory and Context
The Mutual Brewing Company began as an effort by the St. Louis Retail Liquor Dealers Association to brew their beer. The location of the brewery was 236 S. Boyle Ave which is today the corner of Boyle and Forest Ave near Saint Louis University. The brewery building itself was built during the summer of 1912. The designer of the brewery, Wilhelm Griesser, decided to include a system of his design which helped to keep beer cold during the brewing process while allowing production rooms to remain at a reasonable temperature for the health and safety of the brewery workers.

Despite the building and production of brewing and storage facilities, there were numerous issues that prevented the Mutual Brewing Company from success. One of the issues was purported to be financial trouble, but it is unclear as to whether this was the case. By the late summer of 1913, Mutual Brewing Company beer began to be distributed and manufactured consistently.
An interesting aspect of the history of the Mutual Brewing Company's early days was that a majority of the stockholders in the company were liquor store owners from St. Louis and the Metro East in Illinois. The beer that the Mutual Brewing Company produced was known for its golden bottles which also served as a main source of advertising.

Though initially successful, the fall of 1914 saw Mutual Brewing Company engaged in bankruptcy proceedings with the government. Those in charge of the brewery, it seemed, had not been truthful about what the company was earning. The proceedings were to include a certain P.H. Nolan who had been director of the American Brewers Association and a strong supporter of the Mutual Brewing Company. The pressure proved great enough that Nolan eventually committed suicide and left those in charge of the brewery to struggle with their debtors and the legal proceedings. By 1917, the brewery was required to use needed operating funds to satisfy debtors by court order, and the company eventually declared bankruptcy.


Sources
Mutual Brewing Co.. Old Breweries. December 02, 2013. Accessed November 12, 2018. http://www.oldbreweries.com/.

Herbst, Henry. Roussin, Don. St Louis Brews: The History of Brewing in the Gateway City. Edition 2nd. St. Louis, MO. Reedy Press, 2015.


Additional Information