Steam Railroading Institute
Introduction
The Steam Railroading Institute, in Owosso, Michigan, is home to the Pere Marquette 1225 steam locomotive, and some other locomotives and historic rail cars. Although 1225 was built in 1941 and served as a fast freight engine in Michigan and Indiana, it is most famous for its role in the book and movie "The Polar Express." They run excursions, including what they call the "North Pole Express."
Images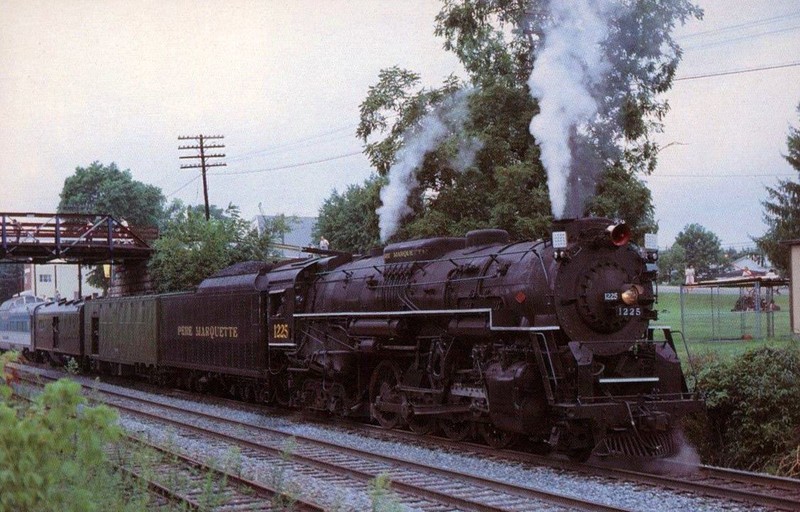 Backstory and Context
This is the locomotive made famous in the Chris Van Allsburg book and "The Polar Express" movie. The sounds of the Pere Marquette 1225 locomotive were used in the movie and integrated into the animated locomotive.
1225 was a Berkshire locomotive using a 2-8-4 wheel configuration. The pilot wheels are 2 - one for each side - 8 drive wheels (4 on each side) and 4 wheels under the cab (two for each side). It was built in 1941 by the Lima Locomotive Works in Lima, Ohio, and served in Michigan and Indiana, mostly hauling steel and wartime freight between those two states. This was done to supply the factories in Michigan with steel from Indiana's steel mills.
Today, it's one of the largest steam locomotives running in the Midwest, as the flag bearer of the Steam Railroading Institute.

1225 had a relatively short life on the rails. But it was saved from the scrap heap by some Michigan State University students who wanted an outdoor area to memorialize the era steam locomotives. First, it was restored as a non-moving locomotive, but then they made an attempt to get 1225 running again but ran out of funds. After moving 1225 to Owosso, they managed to get the locomotive operational again in 1988.

Excursions are run from October through December, including the "North Pole Express" during the Christmas holiday season.

Sources
Our Collection. Steam Railroading Institute. Accessed November 11, 2018. https://www.michigansteamtrain.com/collection.
The Book - The Polar Express. Accessed November 11, 2018. http://polarexpress.com/the-book/.
The Polar Express Comes to Michigan. Absolute Michigan. Accessed November 11, 2018. http://absolutemichigan.com/michigan/the-polar-express-comes-to-michigan/.
Additional Information