Parker–Hickman Farm
Introduction
The Parker-Hickman Farm is a historic homestead situated near the Erbie Campground in the Buffalo National River, the first river in the country designated a national river by the National Park Service. The farm is 195 acres in size and includes more than a dozen structures, including a house, the oldest log building still standing in the Buffalo National River. Other buildings include barns, sheds, a smokehouse, and privy. The farm, which constitutes a historic district that is listed on the National Register of Historic Places, has been well preserved and shows is a good representation as to what a typical 19th-century Ozark homestead looked like. The farm was operated until 1978 by the Hickman family.
Images
This is the oldest building in the Buffalo National River. It was built by the Parker brothers around the 1840s. It is one of several historic structures on the farm.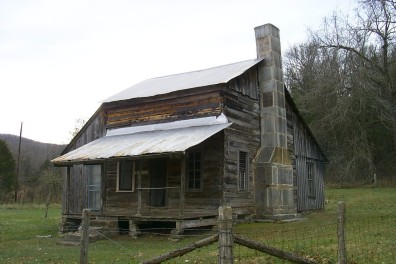 Backstory and Context
The farm was initially built by brothers William and Greenberry Parker, who moved here from Tennessee. Skilled carpenters, they built the house native using red cedar logs. Over time additions to the house and other structures were built. The Hickman family began to live at the farm in 1912.
Sources
Krakow, Jere L. "Parker-Hickman Farm Historic District." National Park Service - National Register of Historic Places Nomination Form. August 11, 1987. http://www.arkansaspreservation.com/National-Register-Listings/PDF/NW0070.nr.pdf.

"Parker-Hickman Farm Historic District." The Encyclopedia of Arkansas History & Culture. Accessed November 10, 2018.
http://www.encyclopediaofarkansas.net/encyclopedia/entry-detail.aspx?entryID=9128.

"Parker-Hickman Farmstead." National Park Service. March 27, 2015. https://www.nps.gov/experiences/exploring-the-historic-districts-of-buffalo-national-river.htm.

Photo: Wikimedia Commons