Arch Creek Memorial Park
Introduction
Home to Native civilizations long before contact with the Europeans, this area was home to the Tequesta tribe during the 16th century. The park spans eight acres and included a natural limestone bridge over the creek which flows from the Everglades to Biscayne Bay. The bridge was utilized by the military during the Seminole Wars and the existence of this natural bridge is noted in many works by officers and early Florida settlers. During the Florida land boom of the 1920s, portions of the community were subdivided and sold to northern tourists as residential lots.
Images
Until 1973, when it collapsed, the forty foot natural bridge of oolitic limestone that spanned Arch Creek was one of South Florida's earliest landmarks.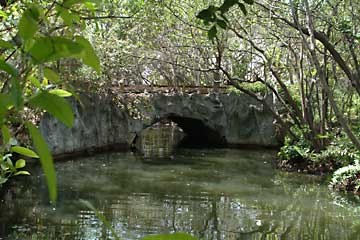 Backstory and Context
In 1957, the first of many threats against the future of the natural bridge materialized. The bridge was endangered by a plan to drain low lying areas as part of a flood prevention program. The Army Corps of Engineers wanted to blow up the bridge, or re-route the creek. During the 1970s, commercial developers also attempted to destroy the bridge. In both cases, the local chapter of the Audubon Society, the Historical Association of Southern Florida and the Dade Conservation Council prevented the destruction of the bridge or the waterway. Almost immediately after this group succeeded in blocking development plans, the bridge collapsed. The arch has been reconstructed and is the centerpiece of this park.
Additional Information