Boone Heritage Museum
Introduction
Located in the former Harrison High School building, the Boone Heritage Museum features three stories of exhibit space devoted to Boone County's history. Numerous items are on display dating from the time settlers first arrived in the area to today. Topics explored include the railroading, the Civil War, WWI and II, and Native American history. The museum also holds many records including genealogy collections, marriage records, and cemetery records. The museum opened in 1987 in the high school. It is operated by the Boone County Historical Society.
Images
The Boone Heritage Museum opened in the former Harrison High School in 1987.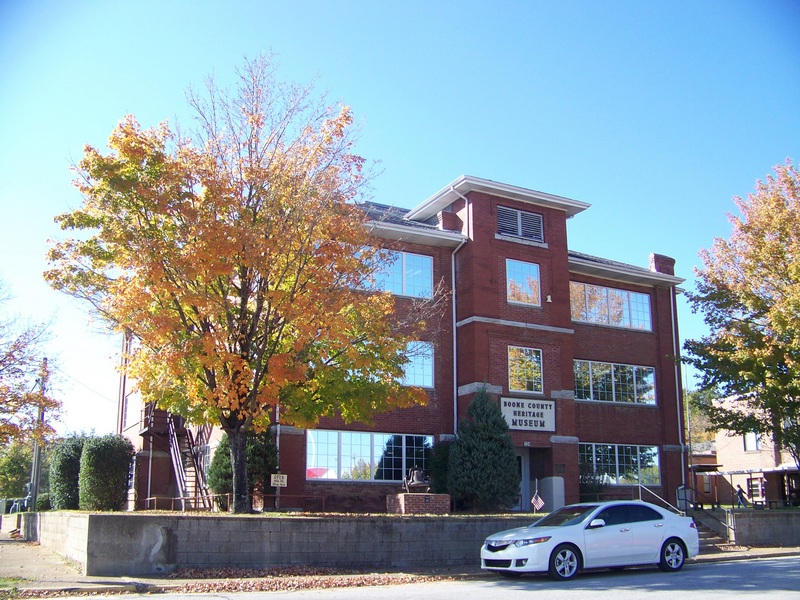 Backstory and Context
The Boone County Historical Society was established in 1978. From the beginning, its members wanted to open a museum. They got their chance in 1987 when they agreed to accept the assets of the Missouri and Arkansas (M&A) Railroad Museum, which could no longer continue operating by itself. Then, the high school closed that same year and the school board agreed to lease the building to the Society. The railroad museum and the Society eventually merged in 1989.

The building was constructed in 1912. During its last years, it operated as a junior high school. It was the first school in the county where students could earn a high school diploma for free. Listed on the National Register of Historic Places, it is the oldest public school building still standing in the county.
Sources
"About the Museum." Boone County Heritage Museum. Accessed November 8, 2018. http://www.bchrs.org/museum/information/index.html.

Gould, Nita. "Harrison High School." National Register of Historic Places Nomination Form. January 24, 2007.
http://www.arkansaspreservation.com/National-Register-Listings/PDF/BO0046.nr.pdf.

Photo: Wikimedia Commons
Additional Information