Fort Industry Square
Introduction
Fort Industry Square is a row of commercial buildings downtown, some of which date to the late Nineteenth/early Twentieth Centuries. It is named after the Fort Industry that existed in Toledo before Ohio was a state. While historians are unsure about the details of Fort Industry, it remains an important piece of Toledo history from before the city was founded. Recently, ProMedica Health Systems moved its headquarters into the neighborhood, though it sold many of the buildings to the Karp Associates developers in 2017. Karp Associates plan to renovate the spaces for residential and commercial use.
Images
Fort Industry Square was added to the National Register of Historic Places in 1973.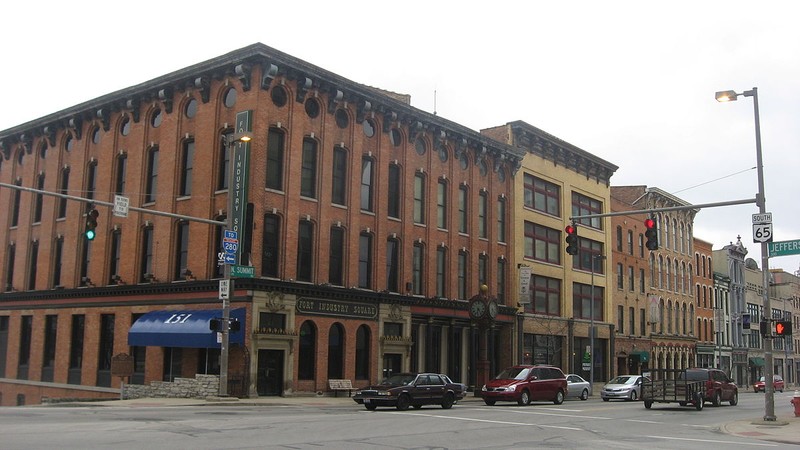 A historical marker with information about the Treaty of Fort Industry. Photo by Dale K. Bennington.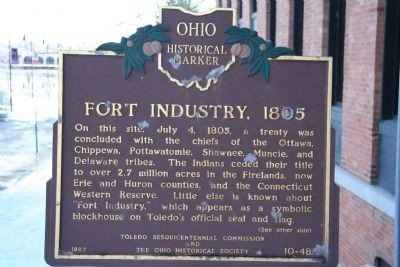 Backstory and Context
On July 4, 1805, the Treaty of Fort Industry Square transferred over 500,000 acres of land belonging to the Muncie, Delaware, Pottawatomie, Chippewa, Ottawa, and Shawnee tribes to the United States. This land later became parts of Huron and Erie counties in Ohio. The Native American tribes received $18,916.67 as compensation. Despite this treaty's existence today, much is unknown about Fort Industry, such as where it was located, what it looked like, and why it was named Fort Industry. Historians are not even sure that it was a fort; it was possibly just a stockade with a few cabins. However, this bit of history is embedded in Toledo: a rendition of Fort Industry appears on the city's seal and a collection of buildings downtown is known as Fort Industry Square. The Fort Industry Block was built by Richard Mott in 1843. It was renovated in 1874 when it was raised six feet, allowing for more commercial space. It was later demolished in 1962 to make way for more modern structures.
One building in the Fort Industry Square, or Fort Industry Complex, that survives is the Water Street Station, constructed in 1896. Businessman Norman B. Ream hired Daniel Burnham to design the plant, which was built to provide electricity for new trolley cars in Toledo. Burnham also designed the Flatiron Building in New York and Union Station in Washington D. C. The Toledo Traction Company, owner of the Water Street Station, merged with Toledo Railways and Light Company in 1901. Four years later, it merged with Toledo Gas, Electricity & Heating Company. When the demand for electricity in Toledo grew even larger, the company expanded into the Acme Power Station. The Water Street Station itself was expanded in 1910. In 1930, the plant converted to steam power and remained in operation until 1985. The building then sat empty for thirty years, despite its addition to the National Register of Historic Places in 2003.
Some of the other businesses to reside in Fort Industry include The Bagpiper restaurant, the jazz club Murphey's Place, and Mootz Candy Shop. For the most part, however, Fort Industry has been used for office space. Many of the buildings in Fort Industry Square were renovated in the 1980s at a cost of $14 million. In the 2010s, ProMedica Health System bought most of the buildings there, though they announced plans to sell some of them to Karp Associates in 2017. Karp Associates is a development company based out of Lansing, Michigan. The group plans to convert the buildings so that they can be used for residential and commercial purposes.
Sources
Downtown Headquarters. ProMedica. Accessed November 08, 2018. https://www.promedica.org/pages/about-us/downtownheadquarters.aspx.

Connecting to the Past for the Future: A Look Back at the Toledo Steam Plant. ProMedica. December 20, 2014. Accessed November 08, 2018. https://promedicahealthconnect.org/news-and-community/connecting-to-the-past-for-the-future-a-look-back-at-the-toledo-steam-plant/.

Fort Industry Square Through the Years. Downtown Toledo. October 20, 2016. Accessed November 08, 2018. https://www.downtowntoledo.org/news/posts/2016/october/fort-industry-square-through-the-years/.

Caruso, Malena. Promedica selling Fort Industry Square property to Lansing Developers. WTOL. December 07, 2017. Accessed November 08, 2018. http://www.wtol.com/story/37020539/promedica-selling-fort-industry-square-property-to-lansing-developers/.

Erb, Robin. 1805 Fort Industry treaty entices Toledo historians. Toledo Blade. November 16, 2003. Accessed November 08, 2018. http://www.toledoblade.com/local/2003/11/16/1805-Fort-Industry-treaty-entices-Toledo-historians/stories/200311160035.

Speck, William D. Toledo: A History in Architecture, 1835-1890. Chicago. Arcadia, 2002. Via Google Books.

Bennington, Dale K. Port Lawrence / Fort Industry, 1805. Historical Marker Database. December 29, 2009. Accessed November 08, 2018. https://www.hmdb.org/marker.asp?marker=25999. Photo source.


Additional Information