Tamarack
Introduction
This state of West Virginia arts and crafts center opened in 1996 with the goal of connecting residents and visitors to the work of artisans while also offering a place to display and market some of the best representations of West Virginia culture to travelers and tourists on the West Virginia Turnpike. The complex includes several exhibits related to the history and culture of the state in addition to resident studios for artists who offer demonstrations and craft classes. Tamarack is operated by the West Virginia Parkways and Economic Development Authority and offers thousands of specially-selected, handcrafted products from over 2,000 artists across the state. In addition to merchandise, the facility also includes a conference center, theater, food court, fine arts gallery, craft classes and live craft making demonstrations. While the cost to create this market and artisan venue was substantial, Tamarack has attracted over nine million visitors and generated over $80 million in revenue.
Images
The Tamarack center, with its curved shape and red peaks, was modeled after a traditional star-shaped quilting pattern. Image obtained from Wikipedia.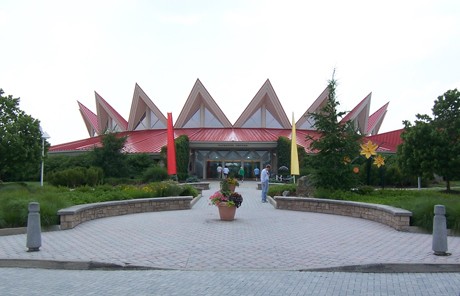 Governor Gaston Caperton, seen here at the 1994 groundbreaking ceremony, was instrumental in pushing for the creation of a facility to sell West Virginia-made products on a large scale. Image obtained from Tamarack.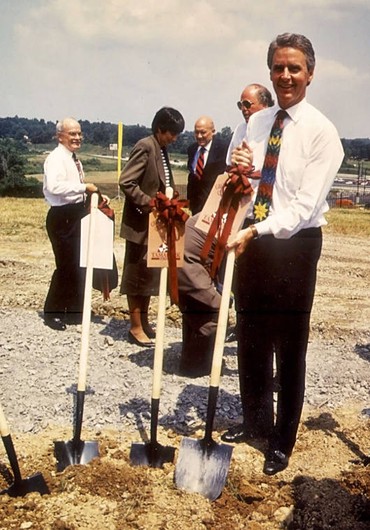 Tamarack currently markets over 20,000 products, including baskets, glass pieces, and jewelry, made by 2,000 artists across the state. Image obtained from the West Virginia Tourism Office.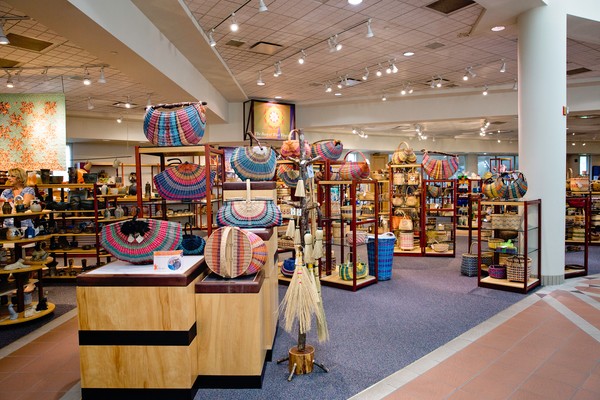 Backstory and Context
The origins of Tamarack date back to 1989 when the West Virginia Parkways and Economic Development Authority set aside a portion of a new $143 million bond to invest in economic development and tourism opportunities. Over the next few years, West Virginia-made products began being sold in rest stops and service plazas on the West Virginia Turnpike and were largely popular. Later Governor Gaston Caperton started promoting the idea of building a retail center specifically for state-made products. His idea was to create a place for travelers that would showcase the best products that West Virginia had to offer. The proposed center was named Tamarack, after the tamarack tree which grew in certain areas of West Virginia. An area near Beckley on the West Virginia Turnpike was selected for the location, and a groundbreaking ceremony was held on August 8, 1994.
The Tamarack center was designed by the architects Clint Bryan, Doug Bastian, and John Harris and was built by the Beckley construction firm Radford and Radford. The structure's distinct circular shape and red peaks were modeled after a traditional star pattern used in quilting. West Virginia artists also participated in the construction process, creating structural pieces such as the door pulls. Tamarack: The Best of West Virginia was completed and opened to the public on June 20, 1996. Construction for the center cost around $16.2 million; another roughly $16 million was spent on building a turnpike exit to Tamarack, which drew some controversy. The center was largely considered a success, and within two years it had had one million visitors. In 2003 it expanded with the addition of a new conference center. By 2018 Tamarack had had nine million visitors.
Tamarack offers a wide variety of handmade arts and crafts, food, and other West Virginia-produced merchandise. The products to be sold are chosen by a panel of jurists who examine thousands of submissions each year for their quality, uniqueness, and authenticity. Around one-third of items submitted are approved for retail sale at Tamarack. Currently, over 2,000 artisans have products marketed at the center. There are also resident studios for artists who offer demonstrations and craft classes. Tamarack contains a food court, A Taste of West Virginia, featuring West Virginia-inspired dishes; it is popular for its signature fried green tomato. In addition, Tamarack includes a conference center for group events; a performing arts theater; and a rotating fine arts gallery.
Sources
"All about Tamarack." Visit Southern West Virginia. February 29, 2012. Accessed November 5, 2018. https://www.visitwv.com/all-about-tamarack/
Casto, James E. "Tamarack." e-WV: The West Virginia Encyclopedia. August 11, 2014. Accessed November 5, 2018. https://www.wvencyclopedia.org/articles/681
"History." Tamarack: The Best of West Virginia. Accessed November 5, 2018. https://www.tamarackwv.com/about-us/history/
James, Michelle. "Celebrating 20 years of Tamarack; The Best of West Virginia." Beckley Register-Herald. June 12, 2016. Accessed November 6, 2018. https://www.register-herald.com/news/life/celebrating-years-of-tamarack-the-best-of-west-Virginia/article_4b22abf9-9b95-5d5f-89bc-8486a76d2256.html
McCullough, Mike. "Tamarack celebrates its 9 millionth visitor." West Virginia MetroNews Network. December 21, 2017. Accessed November 5, 2018. http://www.wvmetronews.com/2017/12/21/tamarack-celebrates-its-9-millionth-customer/
"Tamarack highlights West Virginia artisans." Parkersburg News and Sentinel. August 25, 2016. Accessed November 5, 2018. http://www.newsandsentinel.com/news/community-news/2016/08/tamarack-highlights-west-Virginia-artisans/
Image 1: https://en.wikipedia.org/wiki/Tamarack:_The_Best_of_West_Virginia
Image 2: https://www.tamarackwv.com/about-us/history/
Image 3: https://wvtourism.com/5-best-places-to-pick-up-west-Virginia-made-goods/tamarack-3-7-3-18/
Additional Information