Joseph Warren Statue (Roxbury Latin School)
Introduction
The Joseph Warren statue at Roxbury Latin School in West Roxbury, Massachusetts depicts and commemorates American Revolutionary War hero Dr. Joseph Warren (1741 – 1775). Born himself in Roxbury, this statue was originally built in 1904 and dedicated in Warren Square, Roxbury, Massachusetts. It was moved to its current location in 1968 after being placed in storage due to remodeling in Warren Square. Despite restoration by Roxbury Latin School, the statue has been a subject of controversy ever since the removal, as it was never returned to its original location. Dr. Warren is most known today for his sacrifice in the Battle of Bunker Hill and sending William Dawes and Paul Revere on their "midnight rides."
Images
The statue of Joseph Warren as it is today on Roxbury Latin School's West Roxbury campus.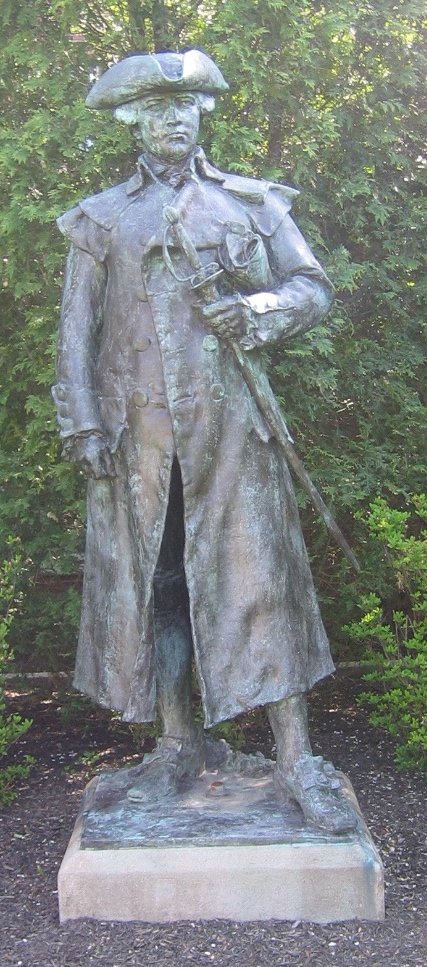 A photo from 1904 of the former Joseph Warren monument in Warren Square. Behind it is the Hotel Warren, which was also taken down along with the statue.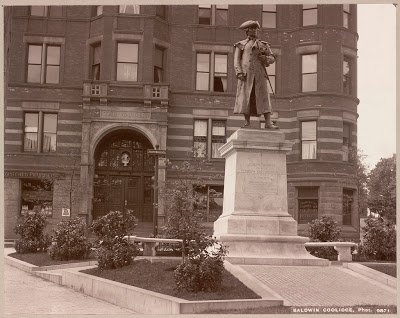 A photo circa 1940s. Exactly what is being celebrated is unknown, but it may be navy-related based on the two soldiers standing behind the statue. Note that a large tree had grown in front of the monument. It seems the ceremony adjusted for this.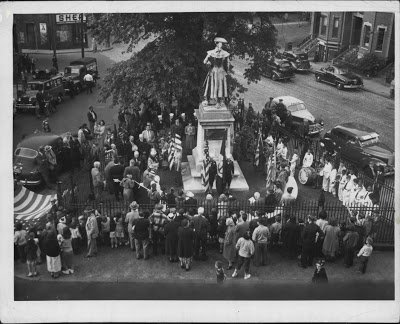 The Joseph Warren statue unveiled in 2016 at Forest Hill Cemetery is based on Bartlett's 1904 design.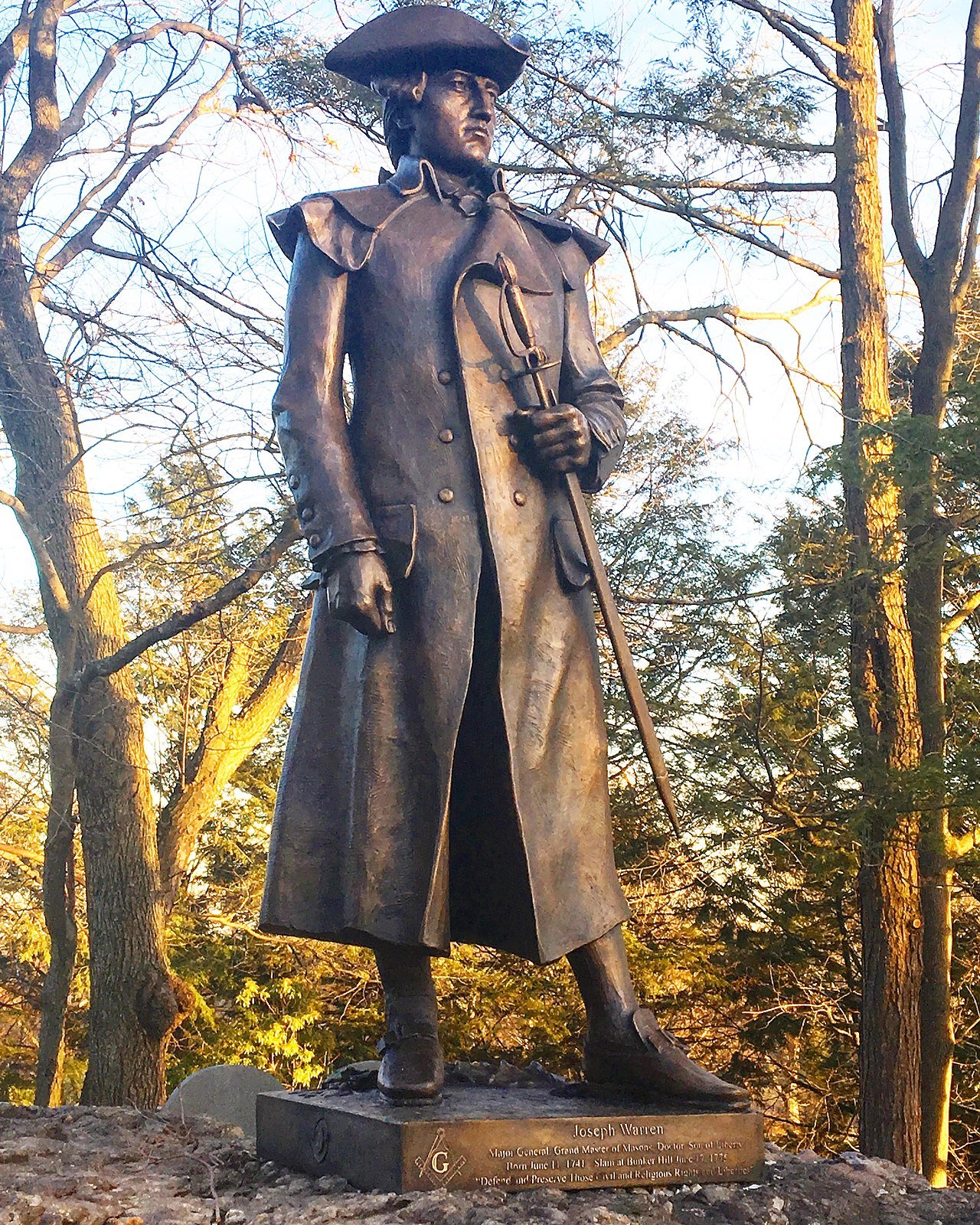 Backstory and Context
Dr. Joseph Warren was born in Roxbury, the Province of Massachusetts Bay on June 11, 1741. He lived a decorated life that placed him among the most prestigious of the Sons of Liberty, many of whom would go on to found the United States of America. After attending Roxbury Latin School, he studied at Harvard College, where he graduated at the age of 18 and later became a practicing physician. After giving birth to four of their children his wife, Elizabeth Hooten, died in 1772. Like many of the Founding Fathers, Dr. Joseph Warren was a freemason, and achieved the rank of Provincial Grand Master of Massachusetts. Notably, John Hancock and Paul Revere were also members of his Lodge.
Dr. Warren was heavily active in rebellious activity against the British prior to and during the beginning of the American Revolution. Following the passing of the Townshend Acts, viewed as an encroachment upon liberty in the Province of Massachusetts Bay, he wrote protest articles under the pen name "True Patriot" in 1767. In February 1770, he performed the autopsy of Christopher Seider, an 11-year-old boy shot and killed during a mob demonstration at the house of a known British customs commissioner informant. Seider's death is viewed as one of the catalysts for the Boston Massacre, which occurred less than one month later. He delivered two orations on the Massacre, and in 1774 drafted the Suffolk Resolves, a declaration which, ratified by the First Continental Congress, helped solidify colonial opposition to continued colonial oppression under British rule.
Dr. Warren was one of the key figures of the Battles of Lexington and Concord. By this point, he had become President of the Massachusetts Provincial Government, achieving greater political power than General George Washington and all other future U.S. presidents at the time. Prior to the start of the battles on the night of April 18, 1775, Warren was notified of the potential arrests of Samuel Adams and John Hancock in Lexington, prompting him to send William Dawes and Paul Revere to warn them – these trips became known as the "midnight rides." On April 19th, he escaped Boston to Lexington and helped lead Patriot militia forces into battle; he was nearly killed in the process. Despite his near-death experience and being appointed to the position of Major General of the Massachusetts' colonial militia, Dr. Warren once again put himself in the heat of battle in the Battle of Bunker Hill on June 1, 1775, fighting alongside the militia's lowest ranking soldiers. He was ultimately killed in battle as the British overtook colonial forces.
Naturally a source of pride for Roxbury, his birthplace and place of upbringing, the town erected a complete monument to Joseph Warren in Warren Square (named in memory of him) in 1904. It was sculpted and cast by American sculptor Paul Wayland Bartlett (1865 – 1925), made partly from Civil War cannon scrap. Although the bronze statue itself was moved to Roxbury Latin School, the original pedestal was not, and possibly remains in storage. Though impossible to make out the inscription on the pedestal shown in a 1904 photograph, the Masonic Square and Compasses, heralding Warren's history as a devout freemason, are distinguishable in at least one photo. Another photo, circa 1940s, reveals a tree in front of the monument, likely obstructing a full-frontal view from a distance. In the 1960s, the triangular island surrounding the monument was removed, and by 1968 the statue itself was placed in city storage in Franklin Park. A physician from Boston City Hospital noticed the statue on a tour of City of Boston facilities. As an alumnus of Roxbury Latin School like Warren himself, the doctor negotiated with Franklin Park's Parks Department to move it to the school itself in West Roxbury. Despite promises of its return to Warren Square, this never occurred, and the statue remains at Roxbury Latin School through today.
Though Joseph Warren's legacy has faded from memory in Roxbury itself, one group in particular continues to commemorate him 243 years after his death: The Freemasons. Seeing that the statue would not be moved back to its original location, the Sixth District Freemasons of Massachusetts dedicated a statue, echoing the 1904 Bartlett design, to Joseph Warren on October 22, 2016. It is located at Joseph Warren's final grave site at Forest Hills Cemetery on top of a puddingstone rock, thousands of years old, reflecting Dr. Warren's lasting legacy.
Sources
1. Champagne, Jim. Boston Massacre. Boston Massacre Historical Society. November 2, 2018. http://www.bostonmassacre.net/academic/essay3.htm.
2. Famous Masons in History. Matawan Lodge No. 192 F&AM. November 3, 2018. http://www.matawanlodge.org/famous.htm.
3. Haywood, H.L.. "The House of the Temple." The Builder Magazine. The Builder Magazine. October 1918. http://www.phoenixmasonry.org/the_builder_1918_october.htm.
4. Honoring a Founding Father. The Boston Globe. February 21, 2011. November 2, 2018. http://archive.boston.com/bostonglobe/editorial_opinion/editorials/articles/2011/02/21/honoring_a_founding_father/.
5. The Disappearance of General Joseph Warren. And This Is Good Old Boston. November 2, 2018. http://goodoldboston.blogspot.com/2013/01/the-disappearance-of-general-joseph.html.

6. The Freemasons Rededicated the Statue of Major General Joseph Warren. Walk Boston History. November 2, 2018. https://www.walkbostonhistory.com/dr-joseph-warrens-dedication2.html.
7. Vartanian, Robert. Joseph Warren Project. Joseph Warren on the Web. November 2016. November 3, 2018. http://www.drjosephwarren.com/2016/09/joseph-warren-project-1st-of-4-stature-and-importance/.
Additional Information