William Lloyd Garrison Statue
Introduction
The William Lloyd Garrison statue found along Commonwealth Avenue between Exeter Street and Dartmouth Street was erected in 1885 and depicts the activist in a leather desk chair with crinkled papers in his right hand. The statue commemorates Garrison, who spent the bulk of his life's work as a relentless advocate for the emancipation of slaves and women's suffrage. His statue is inscribed with the powerful words, "I am in earnest – I will not equivocate – I will not excuse – I will not retreat a single inch – and I will be heard!" His determination enabled him to lead a successful campaign against slavery in the U.S.
Images
William Lloyd Garrison Statue (image from Wikimedia)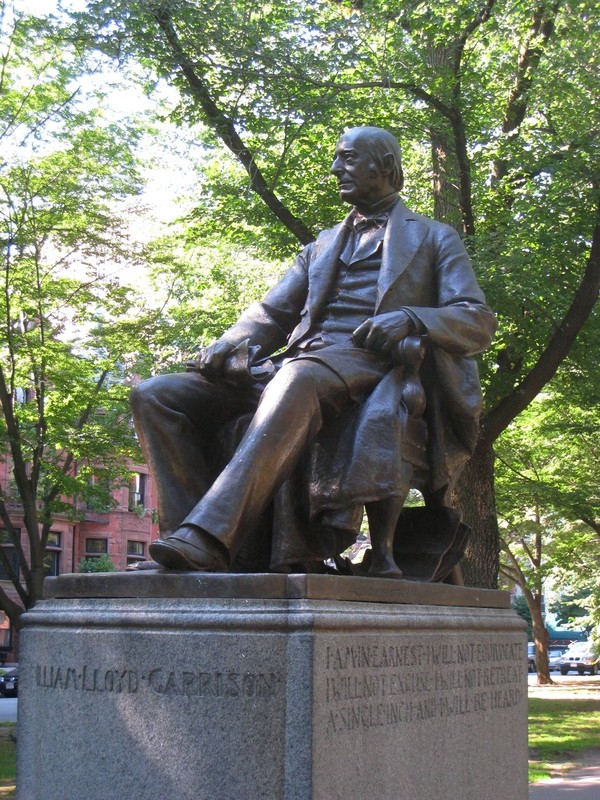 Backstory and Context
Born on December 10, 1805 in Newburyport, Massachusetts, William Lloyd Garrison was an American abolitionist, journalist, and suffragist. His career as a journalist began in 1818 when he worked as an apprentice compositor for the local newspaper, Newburyport Herald. In 1826, he bought his own newspaper, which allowed him to acquire the skills he would later use as a well-known writer, speaker, and newspaper publisher. His fight against slavery began in 1830 when he joined an antislavery movement. He later became associated with the American Colonization Society, an organization that promoted the resettlement of free Blacks to Liberia. He quickly left the organization and censured the people within it when he realized that the purpose of resettling free Blacks was to preserve the institution of slavery. He was a strong advocate for the complete abolition of slavery and, in 1831, co-founded a weekly anti-slavery newspaper known as The Liberator.
The Liberator was a very influential periodical that advocated the immediate emancipation of millions of slaves throughout the South. Garrison's weekly publications furthered the American antislavery movement by insisting that slavery would be solved through abolition and not African colonization. Although it only had a small circulation of three thousand subscribers, it reached a wider audience and sparked Nat Turner's slave rebellion seven months later in Virginia. This fueled an outcry in the South against the writer, who gradually received a large following in the Northern states. In the first issue of the newspaper, Garrison states, "I am in earnest – I will not equivocate – I will not excuse – I will not retreat a single inch – and I will be heard!" These words are inscribed in his statue located along Commonwealth Avenue, Boston.
In 1832, William Lloyd Garrison spearheaded the New England Anti-Slavery Society, which demanded the total abolition of slavery in the U.S. It was eventually renamed the Massachusetts Anti-Slavery Society and reorganized to incorporate other New England states and took a proactive role in advocating for new slave codes and laws that prohibited and penalized the owning of slaves. The threats posed by their antislavery activities drew violent reactions from slave owners in both the Southern and Northern states, and bounties were offered in Southern states for the capture of Garrison. On 1835, an angry mob of several thousand apprehended Garrison and pulled him through the streets of Boston using a rope that was tied around his waist. This, however, did not stop Garrison from continuing his fight for the complete abolition of slavery.
Garrison was also a strong advocate for women's rights. He argued that women should be allowed to be leaders within abolitionist organizations and fought for them to have a position within the Anti-Slavery Society. This caused a major controversy among the abolitionists as some of the men refused to admit or work alongside women within the movement. Nonetheless, Garrison continued to support women's right to a political voice and, in 1837, he declared that The Liberator would also support women's suffrage. With this, the newspaper became the leading advocate of women's rights during that time.
The statue that sits on the Commonwealth Avenue Mall was created in 1865 by sculptor and artist Olin Levi Warner. It commemorates William Lloyd Garrison's contribution to the abolition of slavery and women's suffrage. In his right hand are crinkled papers and beneath his seat are quills, books, and ink stands that serve as a remembrance to his renowned work as an activist. In 2005, the Garrison statue was restored by the Friends of the Public Garden and, in that same year, his descendants gathered in Boston to honor his 200th birthday.
Sources
Civil War Era. Teaching American History. Accessed November 28, 2018. http://teachingamericanhistory.org/library/garrison/.

https://commons.wikimedia.org/wiki/File:William_Lloyd_Garrison_on_Commonwealth_Avenue,_Boston.JPG.

https://fair-use.org/the-liberator/1831/01/01/the-liberator-01-01.pdf.

https://www.gilderlehrman.org/sites/default/files/inline-pdfs/Primary%20Documents%20on%20Slavery%2C%201830-1840.pdf.

United States History I. Lumen Learning. Accessed November 28, 2018. https://courses.lumenlearning.com/ushistory1os/chapter/primary-source-william-lloyd-garrison-introduces-the-liberator-1831/.

William Lloyd Garrison. Wikipedia. November 15, 2018. Accessed November 28, 2018. https://en.wikipedia.org/wiki/William_Lloyd_Garrison.