Embassy Theatre
Introduction
The Embassy Theatre opened in 1927 at the same location as a previous theater which was built in 1916 and partially demolished so that the Embassy could be built in its place. Like other theaters of its time during the "golden era" of movie palaces, the Embassy didn't just show films, it also hosted traveling vaudeville acts, musical performances, and other stage acts. A number of big names appeared at the theater including Gene Autry and Roy Rogers. The theater closed in 1981 and many feared that the building would be demolished despite its status as a significant landmark in Lewistown. Thanks to local citizens and preservationists, efforts are underway to restore the old theater. During these restoration efforts in 2017, a large mural by Ivan Leeper was found underneath layers of paint.
Images
The Embassy Theatre was built in 1927 and has been slowly undergoing restoration since the early 2000s.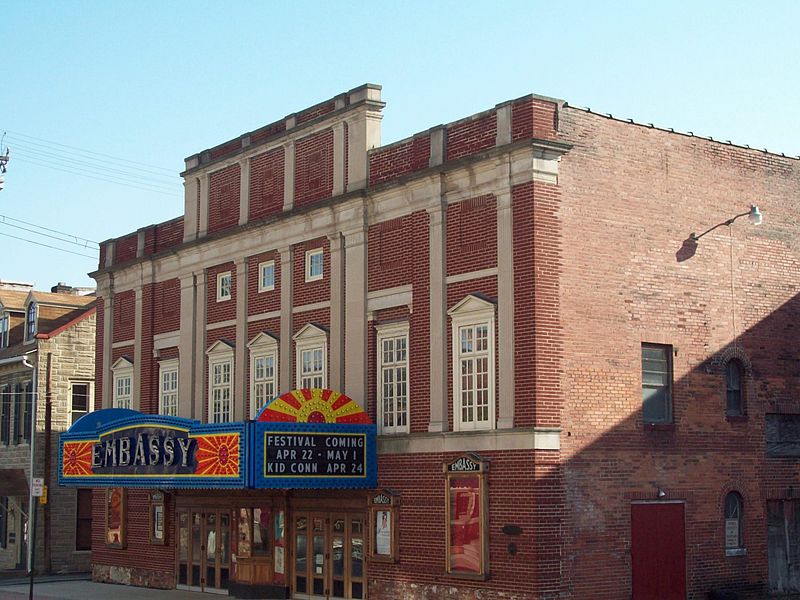 Backstory and Context
The Embassy was the leading theater in the region up to the 1950s, but business declined as television reduced the number of people who might regularly see two or more movies in the same week. By the 1970s, competing theaters with multiple screens and lower building maintenance costs were attracting most of the movie-going public and the Embassy responded by showing adult movies. The owner, Harold Cohen, retired in 1980 and the theater closed despite two attempts to keep the building open. The first attempt tried to make this a venue for rock concerts and the second tried once again to compete with newer multiplexes and show movies. Both businesses failed and for the next ten years, Cohen tried to sell the building.

After Cohen died, the theater was auctioned off to a group called the Friends of the Embassy Theatre. This group prevented the building's purchase by a developer who might demolish the building to create a parking lot other purpose and also began the process of raising money to restore the aging building. The front doors of the theater were renovated and a new marquee was installed. The organization continues to restore the theater with donations and preservation grants.
Sources
"Embassy Theatre." After the Final Curtain. Jun 13, 2011. https://afterthefinalcurtain.net/2011/06/13/embassy-theatre.

Fagley, Paul. "Embassy Theatre." National Park Service - National Register of Historic Places Nomination Form. July 23, 1998. http://www.dot7.state.pa.us/CRGIS_Attachments/SiteResource/H097915_01H.pdf.

Mort, Jane C. "Artwork discovered under paint layers." The Sentinel. November 4, 2017.
http://www.lewistownsentinel.com/news/local-news/2017/11/artwork-discovered-under-paint-layers.

Photo: Wikimedia Commons
Additional Information