Medina County District Library
Introduction
The Medina County District Library has a rich history which dates all the way back to 1877. A small group of local residents formed the Medina Circulating Library Association in which books were exchanged from one person to another. The library moved all over Medina and ended up at its current location, 210 S Broadway, in 1905.. Through various renovations, remodels, and expansions, the library you see today doesn't quite look the same as the one Franklin Sylvester built in 1905-1907.
Images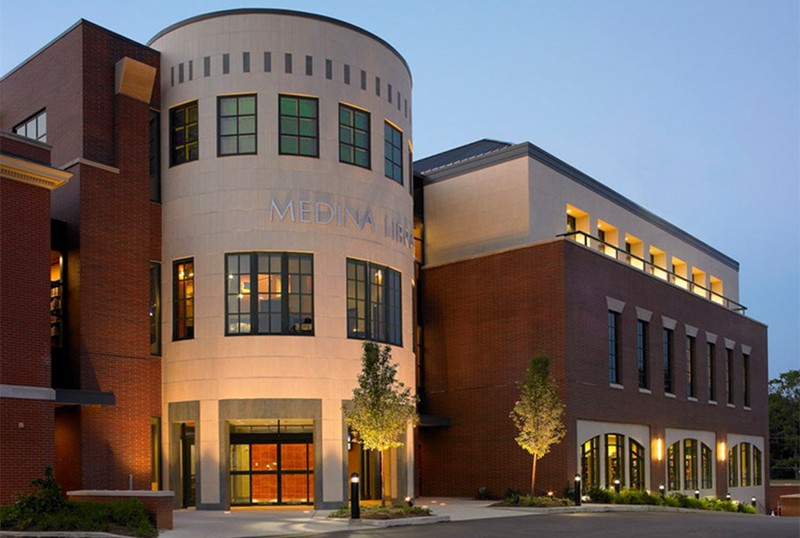 Backstory and Context
Starting in 1877, the first Medina Library began to take shape. Members of the community in Medina came together and formed the Circulating Library Association in which books moved from person to person in a trade-like fashion. Each member of the association would pay a small fee in order to participate in this community organization, and they would then have then ability to "check out" books from the Library.
In 1878, Herbert H. Brainard was elected the first official president of the Medina Circulating Library Association. It is speculated that this was due to Mr. Brainard agreeing to store all 70 library books in his jewelry store, and allow it to act as a library-type building, as well as housing his own business. Miss Meroa Andrews, an employee of Brainard's, took ownership of the Library books, and in doing so, acted as a librarian for the community. Community members would check out books directly from her, and she made a small yearly salary of $20 in the process.
In the following years, until 1905, community business owners took turns donating rooms in their buildings to the Library association to be used as reading rooms. From a small, rent-free second story room, to an annexed church, to a small building purchased by the Library Association, the Library lived on.
In 1905, a man by the name of Franklin Sylvester gave $10,000 to local trustees to build a proper library and demanded that it be made free for all to use. Construction on the new library began in 1905 at 210 Broadway Street, and the dedication of this new building was held on August 30th, 1907. Later, in 1933, the former Medina Public Library, under the guidance of Mr. Sylvester, extended its Library outreach to all inhabitants of Medina County.
From its creation in 1907, the Medina Library has seen many extensions and renovations over the years. The earliest occurred in 1958. In 1976, a home which sat adjacent to the library, owned by a local named Dr. Mansell, was bought and demolished to allow the overall size of the library to double. In 2005, a massive expansion project extended the size of the Medina County District Library to create the beautiful building you see today.

Sources
Beyond the Storefronts. Medina Square. . Accessed November 03, 2018. http://www.medinasquare.org/south-broadway-street#medina-library.

Medina County District Library. . . http://mcdl.info/m/libraries.htm. Picture of MCDL


Additional Information