Battle of Great Bridge, 1775
Introduction
On December 9, 1775, The Battle of Great Bridge resulted in a Patriot victory and inspired the Virginia Convention to adopt a public declaration expressing support for the cause of independence. The military troops and supplies of the British Colony of Virginia were slowly being funneled to reinforce British troops taking place in Revolutionary Battles. British commander Lord Dunmore removed a bridge here because of its strategic location as the only road connecting Norfolk to North Carolina to remind the colonists of "their sense of duty". The Virginians marched on Norfolk and defeated Dunmore, who fled to Naval ships off the coast. The site laid unaltered but in 1999 several investors began construction in the area. The residents of the town came together and formed the Great Bridge Battlefield and Waterways History Foundation who currently preserve the area.
Images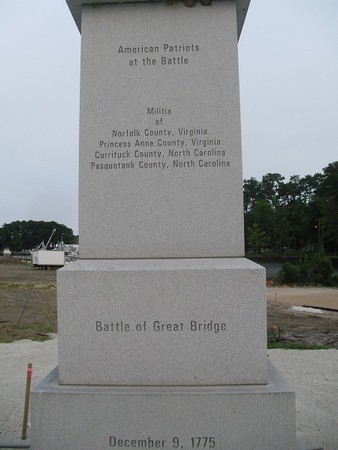 The Great Bridge Battlefield & Waterways History Foundation hopes to preserve the battlefield and build a visitor's center near Great Bridge Lock Park.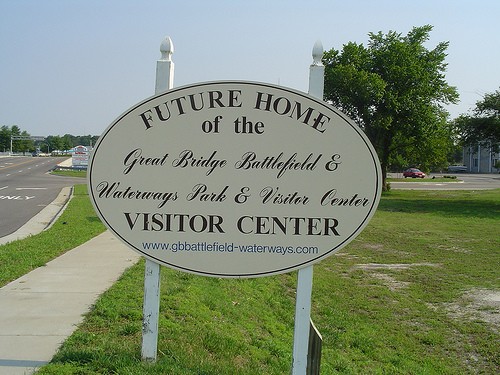 Backstory and Context
The British Colony of Virginia was initially removed from the Revolutionary Battles happening in Massachusetts Bay and Lexington and Concord. When things began to look more precarious for the British, Dunbar sought to move troops and supplies to reinforce them. He declared martial law and noted he would emancipate slaves who chose to join the Army. Lord Dunmore also took a strategic position on the bridge across the Elizabeth River. His men created a blockade and then destroyed the bridge leading to the fortification so it would be more difficult to reach.

When Dunmore proclaimed his intention to put down any support for the rebellion, William Woodford lead the Second Virginia Regiment toward the bridge and the British fort defending it. Woodford did not directly attack the British position because he lacked artillery but the Patriots successfully countered Dunmore's ill-conceived plan to attack the rebels. Believing he had a superior force, Dunmore ordered an attack but was soon overwhelmed. Recognizing that he was outnumbered, Dunmore ordered a retreat and his men fled to their ships in Norfolk Harbor.

The Great Bridge Battlefield and Waterways History Foundation currently preserve the areas around the Dismal Swamp Canal and the Great Bridge Battlefield. They are looking to create an educational center which will preserve the history of the Battle and the area. Once the information center is completed, they will form a hiking trail to enhance the understanding of their visitors.



Sources
The Great Bridge Battlefield & Waterways History Foundation www.gbbattlefield.org
Additional Information